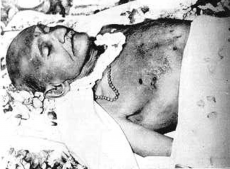 Documents and Archival Materials Exploding Myths Behind the Assassination
Paul Divakar, founder of the National Campaign for Dalit Human Rights (NCDHR) speaks to Teesta Setalvad. Co-editor,...
A senior officer of the Indian Police Service (IPS), VN Rai,has tracked, documented and now written about India...
#Caste is not a rumour: The online diary of Rohith Vemula is a collection of Mr. Vemula's online writing. The book, which is over 40,000 words, includes most of his Facebook posts. The books carries his views on a gamut of issues including politics and academics. His online account is a scathing critique of both the Right and the Left wing political formations in India. His account points a finger at the ruling Bharatiya Janata Party and its leader Narendra Modi.