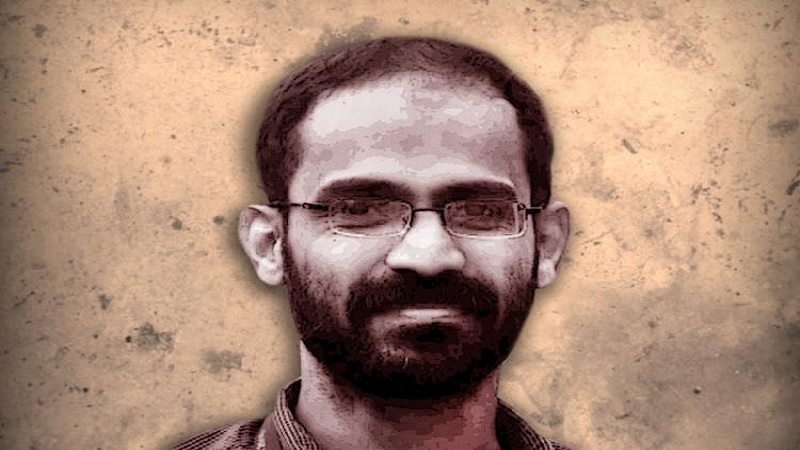 Image Courtesy:thenewsminute.com
Kerala based journalist Siddique Kappan has been lodged in Mathura Jail for over 300 days. The Uttar Pradesh Police have filed a 5,000-page chargesheet against him and 3 others who were arrested along with him, and have accused them of receiving Rs. 80 lakhs from financial institutions in Doha and Muscat to create unrest in the state.
Kappan, who is also the secretary of Kerala Union of Working Journalists Delhi unit (KUWJ), and a senior reporter had gone to cover the Hathras horror of the alleged gangrape, and murder of the 19-year-old Dalit woman that had made headlines all around the world. Soon after his arrest, the KUWJ issued a statement expressing that they could not get in touch with Siddique and that neither the Hathras Police Station nor the State Police department could provide any information on taking him into custody.
The Uttar Pradesh government submitted in its affidavit that they found "suspicious literature, one that could have an adverse impact on peace," from their electronic devices. Police have also claimed that the four including Kappan were linked to the Popular Front of India (PFI) and its student body Campus Front of India and that they were going to Hathras "under the garb of journalism with a very determined design to create a caste divide and disturb law and order situation."
Over these 10 months, he has reportedly been tortured and harassed by jail authorities, denied legal assistance and medicines (he is diabetic), taken a fall in the jail bathroom, contracted Covid-19, has been chained to a hospital bed preventing him from moving or even using the washroom, forced to urinate in a bottle, and has also lost his mother.
As per a BBC News report, Kappan was "dragged and beaten with sticks on thighs, slapped on face, forced to stay awake from 6pm to 6am on the pretext of questioning and subjected to serious mental torture". According to his wife Raihanath Kappan, the police repeatedly asked Siddique if he ate beef (many Hindus revere cows, and in recent years Muslims have been lynched for eating beef or transporting cattle), and also asked him why Muslims have an affinity to Dalits.
Proceedings before the Supreme Court
Subsequent to his arrest, KUWJ had moved a habeas corpus petition in the Supreme Court against his arrest, deeming it unconstitutional. An intervention application was also moved by the petitioner union seeking directions from the top court to permit Siddique to speak to his lawyers and family members. On November 16, a Bench headed by the then Chief Justice SA Bobde had also commented, "We are trying to discourage Article 32 petitions" while hearing his habeas corpus plea. However, he issued a notice to the Uttar Pradesh Government but told the petitioners that they might be directed to approach the High Court.
SG Tushar Mehta had submitted that the respondent State had no objection to Siddique meeting his lawyers. "There was no objection and there is no objection," he said. He outright denied the allegations that Siddique Kappan was denied access to a lawyer. SabrangIndia had reported that on November 19, he was finally allowed to speak to his lawyer for five minutes after 49 days in Mathura jail.
Earlier on October 29, KUWJ had filed an application before the Supreme Court for an interim direction on permission for regular interview over video conferencing of Siddique, with his family members and lawyers. The application also prayed for a direction to the District Magistrate Mathura or a High Court Judge to visit the New Mathura Jail to take note of the human rights violation in it, and the courts of Mathura and to submit a detailed report before the top court in order to take corrective steps.
The application claimed that, "There are no justifiable grounds to reject the application of the counsel for the petitioner to meet the accused, and the said order violates fundamental rights of the Detenu and is against the spirit of rule of law." The plea further stated that Kappan was not allowed to sign his Vakalatnama for authorising his counsel and when the said lawyer attempted to meet him in the Court during his production before the CJM, the Presiding Officer denied permission.
KUWJ denied that Kappan has any connection with Popular Front of India (PFI). In this regard, the KUWJ stated that the UP Government has taken inconsistent stances in two affidavits. While the first affidavit of UP Government filed on November 20 asserted that Kappan was the "office secretary" of PFI, the second affidavit filed by it on December 9 vaguely stated that Kappan was "in touch with the officials of PFI".
The rejoinder reads, "It is a matter of grave concern that, the respondents have again claimed that Mr. Kappan has committed very serious offences, despite there being materials to support any allegations in the FIR, or in the investigation, other than vague statements, thereby seriously prejudicing the faith of the common man in the legal system and the procedure established by law."
Interim bail to meet Kappan's ailing mother
In early January, KUWJ had moved an urgent application in the Supreme Court, seeking Kappan's immediate release from Mathura jail to meet his 90-year-old ailing mother, Kadija Kutty.
On February 15, the court granted him bail and said, "Mother is said to be in a critical situation and that she is likely not to survive for many days. In these circumstances, we consider it appropriate to permit the detenu to visit his mother and return to prison at the end of the 5th day."
However, the court imposed strict conditions on Kappan. He was not allowed to give any interview to media outlets including social media and was also directed to not meet "members of the public". He was entitled to meet his relatives and doctors only.
The Court also ordered that Kappan would be escorted by the Uttar Pradesh Police and his house will be guarded by the police from outside. Tushar Mehta vehemently opposed the bail plea on grounds of the serious charges against him but the former CJI intervened and said, "This is unfair Mr. Mehta. We are talking about the mother. We don't think a man, whatever he may be, will lie about his dying mother".
When his mother Khadija passed away in June, Kappan could not bid her goodbye or perform the last rites as he was lodged in Mathura jail.
Deteriorating health
When the country was reeling under the second wave, Kappan had collapsed in the bathroom with serious injuries and eventually tested positive for Covid-19. He was hospitalised in a Mathura hospital, when the KUWJ prayed for the top court to take cognisance of his deteriorating health condition and in the interest of justice, they sought for his transfer to New Delhi for treatment.
After taking the fall, his wife wrote to the former CJI complaining that Kappan was allegedly "chained to a hospital bed like an animal" and was not allowed to use the bathroom. Advocate Will Mathew told ThePrint that Raihanth found out about her husband's condition when she spoke with him over the phone after he was moved to the hospital. Mathew said, "Before he was admitted, Kappan had a fall in the jail bathroom due to weakness. He sustained injuries on his face and was unable to speak clearly. He simply told her, when she called, that he did not want to stay in the hospital, or else, he would die. He said he would prefer to remain in jail."
In an online event to pay tribute to the political prisoners, Raihanth had said, "Siddique called me from someone else's phone. He fears that his jawline is broken. He can't even eat properly; his face is paining. He was constantly asking to be discharged. After being hospitalised, he was not allowed to go to the bathroom. He is handcuffed to the bed. He is urinating in a plastic bottle lying on the bed itself. He said he cannot eat because of severe pain."
Eventually, the Supreme Court ordered his transfer to a hospital in Delhi for treatment. The order read, "We are of the view that owing to the apparent precarious health condition of the arrestee, it is necessary to provide adequate and effective medical assistance to him and to allay all apprehension relating to his health, it would be in the interest of justice to shift Sidhique Kappan – the arrestee, either to Ram Manohar Lohia Hospital or to All India Institute of Medical Sciences (AIIMS) or any other Government Hospital in Delhi for the proper medical treatment. The needful shall in this regard be done at the earliest. We state that the most precious fundamental 'right to life' unconditionally embraces even an undertrial."
The order may be read here:
In May, SabrangIndia reported that Siddique was "secretly discharged" from AIIMS and was taken to Mathura Jail. Raihanath told SabrangIndia, "I only learnt about it late last night that he may have been discharged. I did not know any updates nor was his lawyer informed and he was shifted secretly at night. He was brought to hospital and since May 1 when I came to Delhi, I had been trying to see him once."
In July, Kappan's bail plea was rejected by Additional Sessions Judge Anil Kumar Pandey who ruled that there was prima facie case that the journalist and other co-accused were trying to disturb the law and other situation when they were heading to cover the gang-rape incident in Uttar Pradesh. The Mathura court also observed that Kappan's financial transactions in his bank account revealed that he was provided with the funds to conduct "anti-national" and illegal activities. The judge ruled that they damaged the integrity of the nation by provoking a particular community.
The order dated July 6, 2021 may be read here:
Latest development
After the Mathura court rejected his bail plea, Kappan through his lawyer, moved an application before the Mathura court, on July 21 seeking a copy of the charge sheet for the purpose of filing a bail application and for initiating further legal proceedings. The court is to decide the matter on August 23, 2021.
As per some sources, Kappan has submitted that he is willing to undergo a lie detector test/Brain Mapping test/Narco Analysis Test to prove his innocence. The court has also rejected Uttar Pradesh Police's application seeking permission to conduct further probe against Kappan.
In June, the Mathura court also dropped the proceedings against Siddique Kappan and three other persons in connection with a case registered against them under charges related to apprehension of breach of peace while they were on their way to Hathras.
LiveLaw reported that The Sub Divisional Magistrate of Mant, Ram Datt Ram dropped the proceedings against them, as the police failed to complete the inquiry against them within the prescribed period of six months as stipulated under Section 116 (6) of CrPC. They have been discharged of the charges under Criminal Procedure Code (CrPc) sections 151(Arrest to prevent the commission of cognisable offences), 107 (Security for keeping the peace in other cases) and 116 (Inquiry as to truth of information).
Related:
UP Police arrest Muslim journalist, 3 others near Hathras for carrying 'suspicious literature'
Siddique Kappan "secretly" discharged from AIIMS, taken to Mathura jail
Shift Siddique Kappan to Delhi for medical treatment: SC to UP Gov't
Siddique Kappan 'chained like an animal in hospital': Wife writes to CJI Ramana
SC grants 5 days interim bail for Siddique Kappan to meet his ailing mother
Freedom of Press in UP: Journalists killed, attacked, arrested, not allowed to talk to lawyer
We are trying to discourage Article 32 petitions: Chief Justice of India
Hathras arrest: Union moves SC to allow journalist to talk to family, lawyers
No objection to Siddique meeting his lawyer: UP gov't to SC