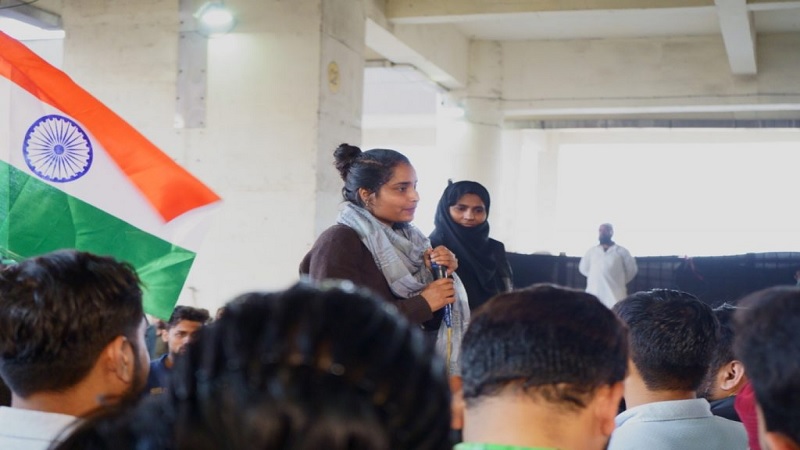 Image Courtesy:maktoobmedia.com
July 19 marked 100 days since MBA student Gulfisha Fatima, who is also a community educator from Seelampur, in North-East Delhi was arrested by the Delhi Police, and charged under the draconian UAPA law.
In an open letter to the authorities supporters of Gulfishan Fatima, an MBA student, teacher, and anti-Citizenship Amendment Act (CAA) activist have demanded her release from prison and have released an open letter and signature campaign. She was arrested on April 9, and has been denied bail since.
Fatima, says the letter, has been "falsely charged under the draconian UAPA law for daring to defend the Constitution, and for peacefully resisting the anti-people CAA-NRC-NPR. Just as she lit up the protest spaces with her warm smiles, compassion and innate intelligence, Gulfisha, lovingly known as Gul, continues to keep the flame of justice alive within her at Tihar Jail, as well as the urge to carry on the legacy of her ideals – Savitribai Phule and Fatima Sheikh – the foremost feminist educators of this land!"
The letter called the investigation into the North-East Delhi violence of February 2020, ''one-sided'. They alleged that the Delhi Police and the Home Ministry, are "using this pandemic as a convenient excuse to criminalise, interrogate and imprison peaceful anti CAA-NRC-NPR protesters, students and democratic activists, of which, many are Muslims. This spate of arrests, has sparked massive outrage from democratic voices across the country and the world, including the United Nations which has expressed grave concern at this ruthless stifling of 'dissent'."
They added that it was time to "speak out for the release of all political prisoners, including 27-year-old Gul, who was arrested on April 9, 2020, in the initial phases of the lockdown, when the Govt. imposed a thick curtain on information flow around detentions and arrests."
The letter states that reportedly, Gulfisha was "mentally tortured during police custody," even as her bail applications were repeatedly rejected by the Courts "on technicalities."
"At a time when decongestion of jails is a world-wide demand, like many other innocents, Gulfisha has been languishing in jail for 100 days now. That's 100 days too many!" The letter states that there are numerous accounts of Gul, running classes, educating children and women from the community, and empowering them with a vision of emancipation. "In that sense, Gul is an inheritor of the legacy of the legendary Savitribai Phule and Fatima Sheikh, who braved all odds to make education and emancipation for all girls and women a reality. Her efforts as a community educator while raising slogans about 'Hum Samvidhan Bachane Nikle Hain, Aao Hamare Saath Chalo' is a brave and poignant moment in today's times," it states.
#Gul at the local protest site, running classes, educating children & women, empowering them with a vision of emancipation. A true inheritor of the legacy of #Savitribai & #FatimaSheikh, who braved all odds to make education for all girls & women a reality. ❤✊?#FreeGulfisha pic.twitter.com/0JgiRO6oV2

— Meera Sanghamitra (@meeracomposes) July 19, 2020
They add that by jailing a promising student like Gulfisha who hails from a marginalized community, the "patriarchal State is sending out a chilling message intending to keep women students 'in-check' and out of educational institutions, tightening the bonds of servitude that women have long fought to break from."
Heard of young Gulfisha from many, who did not just fight against communal CAA-NRC, but also focused on building secularism & gender justice through her protest. Jailed an MBA student & young Muslim woman because she talked about UNITY, while others agendas DIVIDE!?#FreeGulfisha pic.twitter.com/hbayEzIRDT

— Jignesh Mevani (@jigneshmevani80) July 19, 2020
Activists say that the government's "so-called commitment to 'Beti Bachao, Beti Padhao' is no more than empty rhetoric for, when the 'betis' rise to learn and lead and 'bachao' the Constitution of this country, the regime crushes and cages their dreams and dissent mercilessly."
Gulfisha was granted bail in one FIR, only to be 're-arrested' in another FIR, under the UAPA. "The 'outlandishness' of the UAPA law can also be gleaned from the fact that even a 'first-time protestor' like young Gul can be charged and jailed arbitrarily for long periods!" state the campaigners, demanding a "repeal of the UAPA law that grants the government such sweeping powers or arrest and incarceration without any safety net of accountability. As we stand with Gul, we stand equally with all the other young activists, students and other leaders including Safoora Zargar, Ishrat Jahan, Devangana Kalita, Natasha Narwal, Meeran Haider, Sharjeel Imam, Sharjeel Usmani, Khalid Saifi, Akhil Gogoi, Dhairjya Konwar, Bittu Sonowal, Manash Konwar and countless others who are bearing the might of the fascist, masculinist, police State for daring to stand by values of democracy, secularism, equality and justice."
They have also demanded that the state drop all charges against Gulfisha and other activists, "May a Thousand Gulfishas Bloom! Free Gulfisha Fatima! Free All Political Prisoners".
It's been 100 days since Gulfisha Fatima is in jail. Booked under UAPA…
One more victim of the Muslim witch hunt the delhi police carried out with the excuse of the Delhi pogrom. We demand her immediate release#FreeGulfisha pic.twitter.com/C2zmLABAkg

— ️Ladeeda Farzana (@ladeedafarzana) July 19, 2020
As reported by HuffpostIndia, Fatima has been incarcerated for as long as Safoor Zargar, the 27-year-old sociology student, who, after three failed attempts, was granted bail on humanitarian grounds recently. They were both named in the FIR 59/2020, and booked under multiple sections of the Indian Penal Code, including for murder, Sedition, under the Arms Act, and also the anti-terror Unlawful Activities Prevention Act (UAPA). Fatima was granted bail on May 12 under FIR 48, but now remains incarcerated in Delhi's Tihar Jail under FIR 59. Fatima's lawyer, Mehmood Pracha had told HuffPost India that he now intended to move the Habeas Corpus petition in the Supreme Court.
Related:
Front Line Defenders condemns arrest of Pinjra Tod activists, demands immediate
European Parliament raises concerns about intimidation of activists in India
1100 feminists write to PM against targeting of anti-CAA women protesters