Revisiting demonetisation after 100 days.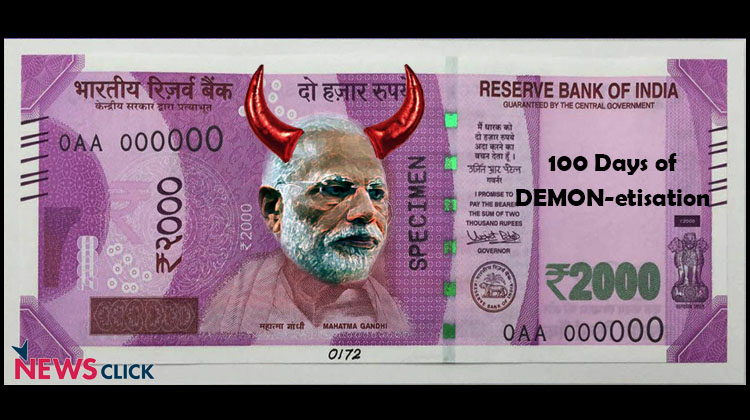 The Demon of Demonetisation
8th November, 2016: At the stroke of midnight hour, when the world slept, India woke to fright, gloom, and doom!
It has been 100 days since the day. The frightful day. The day which has been etched in the memory of this nation forever.
100 days later, let us revisit the 'historic' speech once. One needs to recall the proclamations made by Modi that day.
"Let me invite you to make your contribution to this grand sacrifice for cleansing our country, just as you cleaned up your surroundings during Diwali."
The nation certainly made a grand sacrifice. The mandatory grand sacrifice.
"Let us ignore the temporary hardship."
Absolutely. Losing livelihood, jobs, lives … just a temporary hardship. The people of this country were forced to face extreme cash crunch.
"Let us join this festival of integrity and credibility."
By being coerced to accept the decision of insanity and absurdity?
"Let us enable the coming generations to live their lives with dignity."
People from small and medium scale industries across the country lost their jobs and their livelihood. One doesn't know about dignity or lives, but the next generation would, for sure, be aware of the horror stories of their suffering parents due to demonetisation.
"Let us fight corruption and black money."
97% of the demonetised currency has come back to the banks. Where is the black money? And in what form is the black money really kept?
Corruption! Curtailing of corruption is easy. Just make sure the BJP cadres are supplied with a huge number of new notes while the rest of the nation is completely out of cash.
"Let us ensure that the nation's wealth benefits the poor."
By forcing a shutdown of thousands of factories. By rendering huge number of people jobless and penny-less. Peasants and farmers faced a huge brunt of demonetisation. Farmers were forced to sell their produce at extremely cheap price.
"Let us enable law-abiding citizens to get their due share."
By making it impossible for 'law-abiding citizens' to access their own money, and making the whole nation stand in unending queues.
"I am confident in the 125 crore people of India and I am sure the country will succeed."
Unfortunately, Modi Ji, you have failed the crores of people of India. You have pushed the nation to recession. You have caused inflation and price rise.
The nation did succeed. It succeeded in bearing the brunt of demonetisation. Alas! At what cost?
Courtesy: Newsclick.in