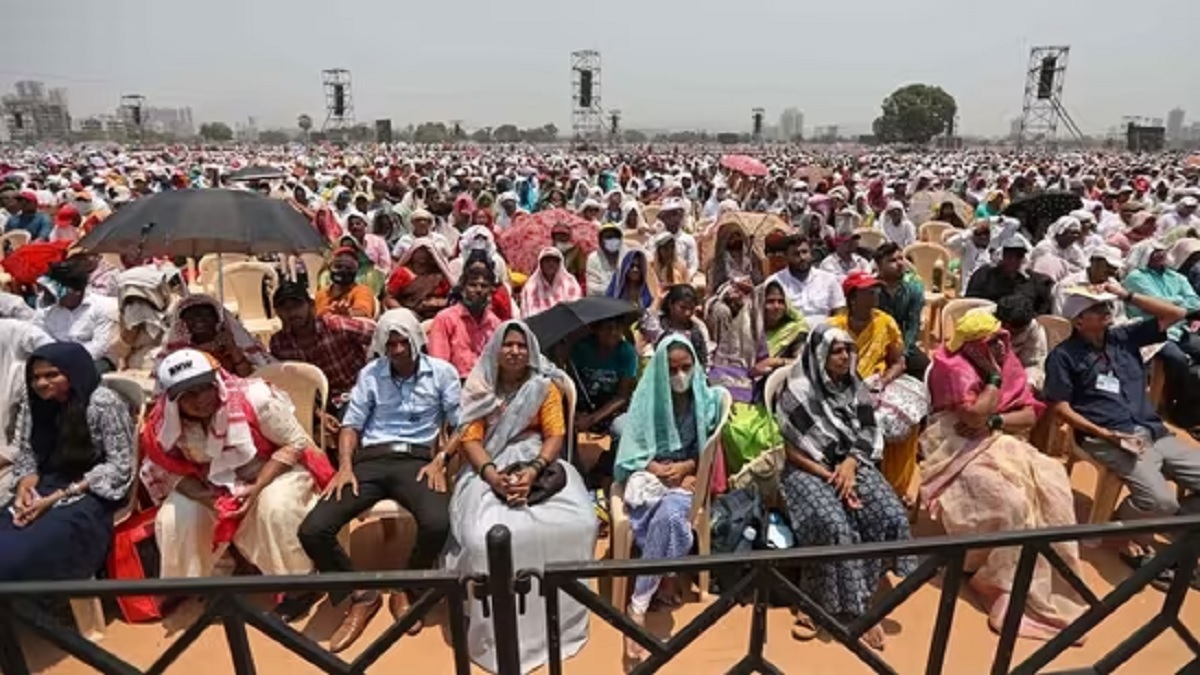 Maharashtra Bhushan award ceremony was held in Navi Mumbai's Kharghar on Sunday Kharghar International Corporate Park grounds where, reportedly, 10 lakh people had gathered. Even as alarms of heat waves have been raised in the northern parts of the country and the temperatures rising, like any other summer, there was no visible shed in sight for the audience.
A large stage with a shade was built for the privileged guests who would arrive in their air conditioned vehicles, give and receive awards, give speeches to those sitting in the sweltering heat. Clearly, it appears, little regard was given to the well-being of those present in the audience. social activist Dattatreya Narayan alias Appasaheb Dharmadhikari was going to be bestowed with Maharashtra Bhushan award in the presence of Union Home Minister Amit Shah as well as Maharashtra Chief Minister Eknath Shinde and Deputy Chief Minister Devendra Fadnavis.
Among those dead are eight women, mostly elderly and the casualties could increase since those still in the hospital are critical with cardiac problems. According to a Times of India (TOI) report, an official pointed out that the timing of the event went against he heat action plan proposed for each district. The event was scheduled for 8 am to 1pm but only started at 11 am.
The Maharashtra Chief Minister, Eknath Shinde called the incident "unfortunate" and declared a Rs 5 lakh compensation for the next of kin. The state's Cultural Affairs Ministry had organised the event and claimed that arrangements were made for a crowd of 20 lakh people. However, people have publicly complained of mismanagement. Taxpayers money was spent for organising the event and taxpayers money will now be spent on compensating the families of the deceased; the deaths caused by what appears to be the state government's negligence.
A Kharghar resident told TOI that some attendees who had come from other parts of the state as well as from Madhya Pradesh, Karnataka and Gujarat were on the grounds for two days straight!
A doctor present at the event said that people were complaining of dehydration, chest pain, rise in blood sugar level and so on.
As can be seen in this image, lakhs of people are sitting under direct sunlight.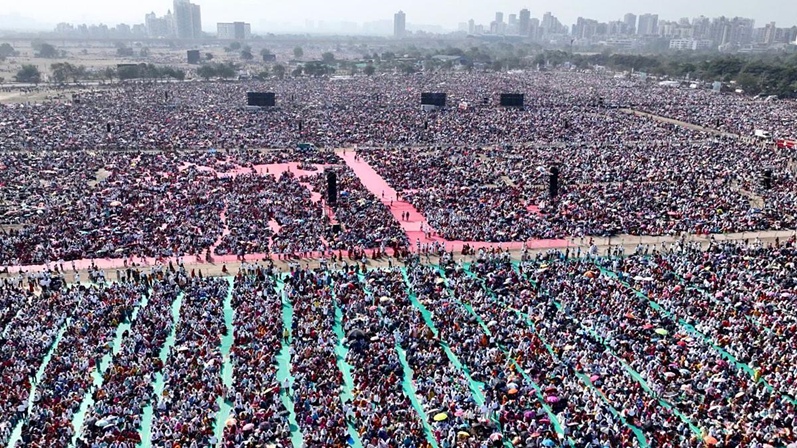 Image: ANI
According to the National Disaster Management Authority's advisory on heat waves, one is supposed to avoid going out in the sun completely between 12 pm and 3 pm. As per reports, the event began at 11am and lasted for 3 hours, the signalled most hazardous period.
While the Chief Minister has termed this incident to be "unfortunate" the reality is that it was a worse, a manmade disaster.
Around 55 medical booths were set up at the event where a crowd of 25 lakh people was expected and the turnout was indeed vast, people being provided bus transport and other incentives to attend, it was also reported.
Amit Shah, while addressing the crowd even highlighted the fact that lakhs of people were sitting in 42 degrees temperatures, while displaying pride in this fact that people were exposed to direct sunlight. This boastful claim turned got a macabre twist with the tragedy.
Home minister praising the crowd for sitting in the open in this scorching heat.
Atleast 12 dead, More than 500 people who attended this Maharashtra Bhushan program in heat are admitted
Imagine the outrage by Godi media if this was by oposition leaders. pic.twitter.com/unf0H0KvOv

— Mohammed Zubair (@zoo_bear) April 17, 2023
Related: