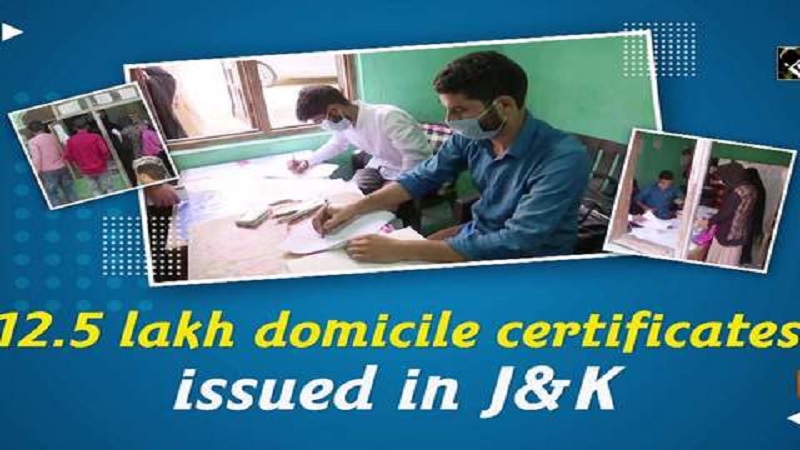 Image Courtesy:indiatvnews.com
Jammu and Kashmir's Principal Secretary for Information and Gov't spokesperson, Rohit Kansal, has said that issuance of Domicile Certificates in the Union Territory "has been accelerated" and is being "regularly monitored". On Tuesday, an official statement announced that over 12.5 lakh certificates had been issued so far. It added that 99 per cent of those certificates were issued to those who held the Permanent Resident Certificates (PRC).
Kansal told local news reporters that "Domicile certificate is now the basic eligibility condition for appointment to any post in the Union Territory. No additional documentation is required for erstwhile PRC holders (for procuring certificates). Over 12.5 lakh domicile certificates have already been issued. Out of the 12.5 lakh certificates issued so far, more than 99 per cent have been issued to erstwhile PRC holders."
Rohit Kansal, Principal Sec. Information & Govt. spokesperson, said that Issuance of Domicile Certificates has been accelerated & regularly monitored; 12.5 lakh Certificates issued so far with over 99% being erstwhile PRC holders.@manojsinha_ pic.twitter.com/ClZGcr0luu

— DIPR-J&K (@diprjk) September 1, 2020
He added that "as many as 11,398 West Pakistan refugees, 415 members of the Valmiki community and 10 members of the Gurkha community have been issued certificates. A total of 12,340 registered migrants have also been issued certificates."
According to a report in The Tribune, J&K's Principal Secretary and Financial Commissioner Revenue Pawan Kotwal has clarified that these certificates will only enable the new domiciles to apply for government jobs and did not entitle them to land rights. "This domicile certificate has nothing to do with land rights. It is only a device for a person to get employment under a particular act. If you have a domicile certificate, it does not entitle you to buy land here (in Jammu and Kashmir). This is a different subject altogether," the Tribute quoted Kotwal. The laws regarding buying land in the Union Territory are to be notified later.
Meanwhile, Congress leader, and Former Minister Saifuddin Soz asked the J&K government to "issue a white paper" on the domicile certificates being issued in the UT. "J&K has explained its position that of the 12.5 lakh domicile certificates issued by it, 99 percent of the beneficiaries happened to be permanent residents of the state. However, the people will like to know as to who constitutes the remaining 1 percent of the beneficiaries? I urge the UT Administration to issue a 'white paper' indicating particulars of those who are not state subjects, yet they got the certificates. That procedure alone can allay the fears of the people," Soz said in a media statement, reported The Tribune, alleging that the government had issued the certificates in "hot haste".
Till August 5, 2019, Article 370 and Article 35A secured certain privileges for local residents. This included complete reservation in local government jobs for permanent residents. On that day, along with the dilution of these Articles, the BJP-led Central government also scrapped the local special citizenship law. The new domicile law allows outsiders to apply for local jobs if they fulfil certain conditions.
According to Soz, "The people of the state are entitled to know the particulars of the persons who are not permanent residents, yet they got the domicile certificates. The UT Administration has explained further that these certificates have been issued for jobs only. It means that UT Administration has no objection in giving the domicile certificates to non-state subjects also. Since the UT Administration has issued the domicile certificates to such a large number of people in hot haste, the process must have involved recklessness of sorts. The perception of the people is that the UT Administration is a stop-gap arrangement and that the Centre should not have amended the Domicile Law in the absence of public support."
The entire process continues to face glitches due to the low internet speeds in J&K, and the fact that the officials are overburdened, performing multiple duties. According to a report in The Wire a few days ago, even as the government continues to pressure the revenue department to verify applications for domicile certificates in Jammu & Kashmir quickly, "insiders say slow 2G internet service speeds and overburdened revenue officers make the process difficult." Last month the J&K government last week made it mandatory for its officers to issue domicile certificates to permanent resident certificate (PRC) holders and migrants in just five days, against the earlier deadline of 15 days. The domicile law entitles PRC holders and non-permanent residents who have residency proof of at least 15 years in J&K to get domicile certificates.
Many political leaders from regional parties, including the National Conference, the Peoples Democratic Party, the People's Conference, and the Jammu and Kashmir People's Movement have objected and demanded the rollback of the domicile rules, alleging that the BJP-led Central government was "sneakily" speeding up new ordinances to redesign the region's demography, under the cloak of the Covid-19 pandemic, and the restrictions that were in place. The Wire quoted the Census 2011, to report that 68.3% of Jammu & Kashmir's population is Muslim, while Hindus constitute nearly 30% and Sikhs nearly 2%.
Recently, a delegation of non-migrant Kashmiri Pandits led by the Kashmiri Pandit Sangharsh Samiti (KPSS) met with Jammu and Kashmir Lt Governor Manoj Sinha to appeal to him to respond to a memorandum submitted by the group seeking urgent relief for Kashmiri Pandit families that are still living in the Valley. The KPSS delegation shared the plight of 808 Kashmiri Pandit families living in over 240 locations across the Valley, many still in refugee camps. These families had stayed behind during the mass exodus of Kashmiri Pandits in 1989-90. At least 150 of these families lead a hand-to-mouth existence as their income is below poverty line. Unemployment is the biggest obstacle faced by KP youth despite having educational qualifications. Though government employment schemes were announced after a struggle that saw the community move high court, most of the provisions of the schemes have been poorly, if at all implemented, pushing the community to the brink of economic ruin.
The Hindu had reported in June how Jammu & Kashmir administration kick-started an exercise to distribute domicile certificates among west Pakistan refugees, Valmiki Samaj members, and Gorkhas, who were denied the same due to J&K's special status till last year. Then around 50 domicile certificates were distributed by the Divisional Commissioner Jammu Sanjeev Verma at a special camp organised for the purpose.
The announcement and the eventual issuance of the 12.5 lakh certificate is being seen as a major milestone since the UT's newly appointed Lieutenant Governor Manoj Sinha took over. Sinha has been actively sharing his meetings and visits.
L G Manoj Sinha reviews developmental scenario in Pulwama. Interacts with scores of Public Delegations, assures timely redressal of genuine demands.e-Inaugrates 20 developmental projects worth Rs 40.86cr.Lays e-Foundation of 7 developmental projects worth Rs13.47cr.@manojsinha_ pic.twitter.com/myKsqY1IJX

— DIPR-J&K (@diprjk) September 2, 2020
Today paid obeisance at the holy Hazratbal Shrine; prayed for peace, progress & prosperity in J&K and well-being of its people.and urged religious leaders to spread awareness about COVID-19 containment SOPs. pic.twitter.com/AWV5orZlGa

— Manoj Sinha (@manojsinha_) September 1, 2020
"All pending applicants be provided domicile certificates within 15 days, and deadline of September 10 is being set, after which no long pendency shall be excused and action against the responsible, underperforming officers shall be taken," Sinha had said, chairing a meeting here to review ongoing development activities in Jammu district.
Related:
J&K LG assures action of demands of Kashmiri Pandits
Domicile certificate for others, no rehab plan yet for Kashmiri Pandits?
Here's why non-migrant Kashmiri Pandits feel betrayed
Teesta Setalvad in Conversation with Sanjay Tickoo
We are united against everything that they have done: Farooq Abdullah