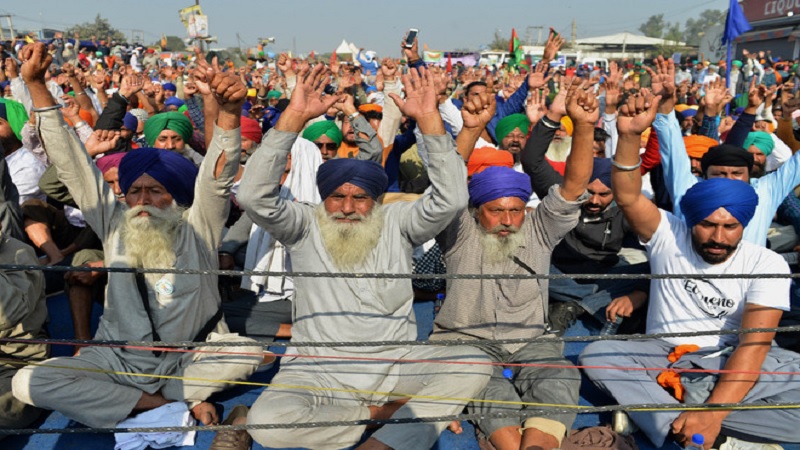 Image Courtesy:tribuneindia.com
At least 144 people died while participating in the farmers struggle, said the Human Cost of Farmers Protest blog on January 20, 2021.
Of the many people martyred while opposing the three farm laws forcibly passed by the central government, four people died on Wednesday while farmer leaders were engaged in talks with Union Ministers.
One of the farmers, Bhagwan Rana, from Paaksama village in Rohtak in Haryana died by suicide at the Tikri border. He left a suicide note blaming the central government and its three farm laws for his death
"The government says it is a matter of only two to three states, but farmers from all over the country are protesting against the laws. Sadly, it is not a movement now, but a fight of issues. The talks between the farmers and the Centre also remain deadlocked," he wrote in a letter written in the local language.
Rana was a small farmer. He was declared dead at the Sanjay Gandhi hospital during the course of treatment.
Such incidents have risen over days since the farmers struggle intensified. For those struggling during these troubled times help is available via calls by NGOs such as AASRA that offers a 24×7 helpline number, 91-9820466726 in both English and Hindi while another helpline available is 915298782. Similarly, Sumaitri offers assistance in Delhi 011-23389090.
Meanwhile, active members of Bharatiya Kisan Union (BKU) – Ugrahan Baldev Singh and Dhanna Singh died at the Tikri border on Wednesday. The two Punjabis were 65-year-old and 60-year-old respectively.
Dhanna Singh was found unconscious in his bed in the morning and declared dead in a hospital in Bahadurgarh, Haryana. He was protesting at the Delhi protest site since November 26 and is survived by an old mother, a wife and two daughters.
Similarly, arhtiya Sohan Lal died of a heart attack at the PGI Hospital Chandigarh at a Delhi protest site. Lal was from Chamkor Sahib district, Punjab and a member of Arthiya Association there. His daughter was supposed to be married on Wednesday.
Although predominantly listing deaths that occurred in Punjab, Haryana and Delhi borders, the blog also records the death of 60-year-old labourer G. Perumal who died by suicide on January 9, 2021 at Ashok Nagar in Chennai, Tamil Nadu.
Perumal left behind a two-page suicide note talking about the three farm laws and its effect on farmers. However, his death went largely unnoticed by mainstream and regional media. For those seeking professional help during these times, Sneha is available at 044-24640050 in Chennai.
Earlier on January 3, farmer Surinder Singh Sidhu from Maayna village in Gwalior District of Madhya Pradesh also died while participating in the farmers' protest. The 45-year-old died due to pneumonia at the Sri Gangaram Hospital in Delhi.
A farmer leader and member of the Kisan Mazdoor Mahasangh, he was cremated at the Palwal Protest site border.
In light of such incidents, BKU (Chaduni) has claimed financial help for families of the deceased. Kin of those listed on the blog and living in Haryana may contact Karnal District head Jagdeep Singh Aulakh at 9896409460 (Jagdeep Singh Aulakh.)
Similarly, farmers organisations said they will begin a separate list honouring those people who died before November 24 and use visual mapping for the entire data.
Related:
Three protesters die as farmers and Centre fail to break stalemate
Shivkumar Kakka apologises for "inappropriate" comments against BKU Chaduni
To be food secure, India must grow its own food grains: JNU professors
Sikh priest's suicide exposes double speak of the ruling BJP and its apologists
Canada will always be there to defend the right of peaceful protest: Justin Trudeau
Vigil for dead farmers held outside Indian Visa and Passport application center in Canada
Harvest 2020: Lessons farmers of India taught the world