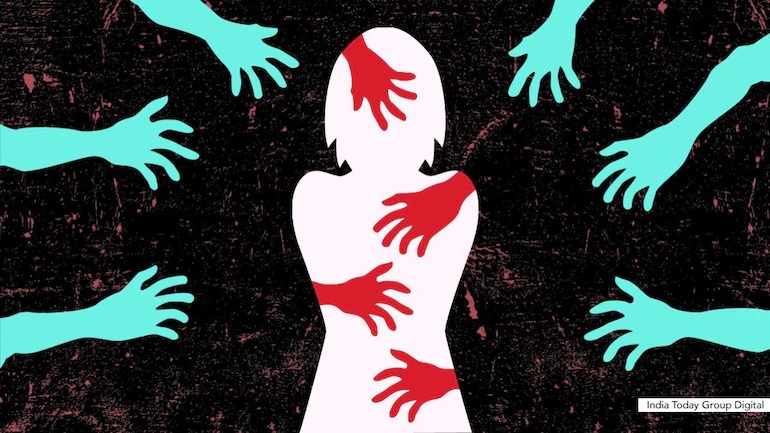 Another horrific crime against a woman has been reported from Madhya Pradesh on Sunday night. A 19-year-old woman was abducted, gangraped, and is reported to be in a critical condition. According to a report in the NDTV, a local leader of the Bharatiya Janata Party (BJP) is one of the four accused of the crime. The party later announced that the man was sacked from his position.
According to the initial news reports, the rape survivor's family has said that she was "kidnapped on February 18 when she had gone to buy groceries." However they didn't lodge a missing complaint assuming "she might have gone to her relative's house". However, they eventually filed a complaint, and a few hours after that she was found "in an unconscious state near her own house on February 20." The crime occured in the Shahdol district of Madhya Pradesh. The NDTV report stated that according to the area police, the woman was "kidnapped, kept captive at a farmhouse for two days and repeatedly gang raped by four people." It has been alleged that one of the accused is a local leader of the ruling BJP.
NDTV reported that the woman's family has alleged that "Jaitpur BJP chief Vijay Tripathi and his three accomplices – Rajesh Shukla, Munna Singh and Monu Maharaj – kidnapped her, kept her in captivity at a farmhouse and raped her."
A relative was quoted as saying, "They kidnapped her in a car after gagging her. When we lodged a complaint, they dumped her outside the house… we got to know of the crime only when the girl, at the hospital, narrated what took place." Shahdol Additional Superintendent of Police (ASP) Mukesh Vaishya told the media that a case of rape has been registered against the four accused, and that the police are searching for them.
Meanwhile India Today reported that the state BJP unit on Sunday said the party had removed the accused office-bearer from its primary membership. The BJP's district president Kamal Pratap Singh issued a statement to the media announcing that "Vijay Tripathi has been expelled from the party with immediate effect."
India Today reported details of the crime quoting Shahdol Additional Superintendent of Police (ASP) Mukesh Vaish who said the teenager was "allegedly abducted in a four-wheeler, forced to drink liquor in a farmhouse in Gadaghat area under Jaitpur police station limits and then gang-raped on February 18 and 19." The accused then "dumped the woman near her house on February 21 following which she approached the police". The rape survivor named BJP Jaitpur mandal chief Vijay Tripathi as the main accused, said the police adding that the three others were later identified as Rajesh Shukla, Munna Singh and Monu Maharaj. All of the men accused are said to be in the 35- 40 age group. So far, no arrests have been made.
Related:
Kerala court sentences priest to life imprisonment for raping step daughter
Patna school principal sentenced to death for raping 11-year-old girl
Uttar Pradesh: Where women live in fear