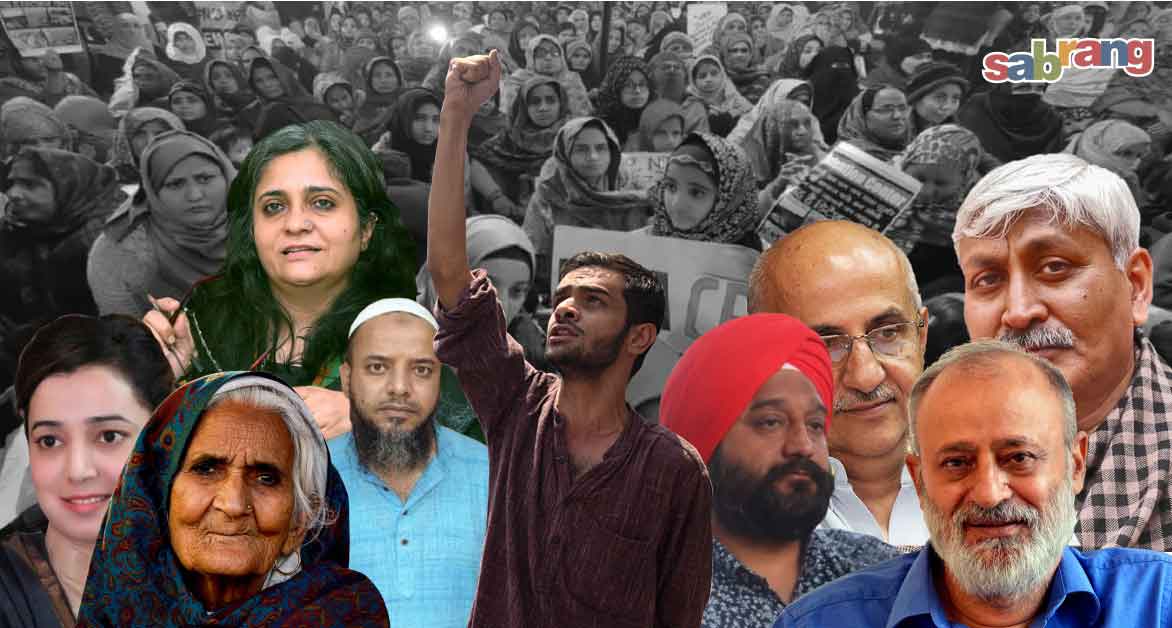 The massive citizen-led protests denouncing the Citizenship Amendment Act (CAA), National Register for Citizens (NRC) and National Population Register (NPR) continued till February 2020. As Covid-19 began to spread across urban India, all citizen-led protests were suspended, one by one, in the larger interest of public health.
Towards the end of February, communal riots blazed through North East Delhi, in which many Muslims, and a few Hindus, died, and thousands of Muslim families were displaced. Soon enough all public gatherings were officially banned, the Covid-19 lockdown was in place for citizens. However, the sarkari system was on overdrive.
One after another, activists who were involved in, or had spoken on public forums and said NO to CAA-NPR-NRC, were sought out by the system, trolled, abused, even arrested. The Delhi Police linked the protests to the communal riots, and their charge sheet, in the North East riot investigations, named a number of activists who were active in the anti CAA-NPR-NRC protests.
Here are some names we must not forget as a new year rolls in:
1. Umar Khalid: One of the most vilified, and targeted amongst those who protested the CAA and NRC is Dr Umar Khalid. The former JNU scholar-activist is now in jail and the Delhi Police in their massive supplementary chargesheet filed in the North East Delhi riots case have also alleged that Khalid has carried his "atheism as a pretence". Khalid, has been called a "veteran of sedition". Police stated that Khalid was the "convergence point of the twin lines of Pan-Islamica and Ultra-Left anarchism which had incubated, nurtured and propagated the common conspiracy, all squarely aimed at violent subjugation of the Government" and that he has two "mutually reinforcing lines of thought". Recently at a peace procession to mark the anniversary of the attack on Jamia Millia Islamia University, his mother and sister were allegedly detained by Delhi Police.
2. Prof Apoorvanand: He is a professor of Hindi at the Delhi University, and well known activist and prolific writer. The Delhi Police has his name on a supplementary chargesheet, a list of citizens they claim "provided support in organising the anti-CAA protests." Prof Apoorvanand was said to be among those 'continuously poisoning the minds of common people against the CAA/ NRC.' On August 3, Prof Apporvanand was called for questioning by the Special Cell of the Delhi Police in connection with the violence that broke out in North East Delhi in February 2020. He spent five hours there and the police seized his phone "for the purpose of investigation."
3. Bilquis Bano: On December 1, 2020, Delhi police detained Shaheen Bagh activist Bilkis Bano or 'Bilkis daadi' as she is better known, as she went to Singhu border to show her solidarity with the farmers protesting there. The 82-year-old woman was listed as one of the 100 most influential people of 2020 by Time Magazine. Bilkis said the peaceful anti-CAA-NPR-NRC protests were about love and equality and asked, "Why are our young people being put in jail because of it? This was not a battle I fought alone, it was a shared struggle." She added that there was "so much for the government to do – for the future of our country, for the farmers… Today Covid is the bigger disease. When that is overcome, then the disease of the CAA-NRC must be combated. The struggle for equal citizenship will continue."
4. Women of Shaheen Bagh: A large group of women, who were just regular Delhiites going about their lives fulfilling duties of being mothers, daughters, sisters, wives, attending to duties at home, few had jobs. Yet, hundreds of these Muslim women stepped out of their homes to protest the Citizenship Act, that questioned their very existence. As they sat in protest outside their residential colonies, for months, they endured more than the freezing Delhi winter. They were compared with prostitutes, called protestors on hire, tagged as 'bad mothers', 'shameless women', and were vilified even when they eventually suspended in public interest once Covid-19 pandemic set in. They inspired scores of similar women-led protests across the city, and the country. Those sites came to be known as mini-Shaheen Baghs.
5. Teesta Setalvad: Activist, and editor of SabrangIndia, Setalvad is a veteran survivor of targeted abuse by Right Wing inclined media. She was a guest speaker at anti-CAA-NPR-NRC rallies in Delhi, and elsewhere and was one of the first to seek that the NPR be withdrawn. Soon, Times Now targeted her, called her "Shaheen Bagh tutor" and the same was amplified by right wing blogs, fuelled by BJP IT cell head Amit Malviya who shared a video on Twitter when Teesta Setalvad was talking to women at Shaheen Bagh protest. Times Now channel has often dedicated airtime for the unwarranted labelling of Setalvad as a "Modi Baiter" to fuel its jingoism. On March 9, the digital edition wrongly and maliciously interpreted Setalvad's views on the National Population Register (NPR) to suggest she was against the conduct of the Census in the country. Setalvad had clearly said, "We do not want census work to stop, but our demand is that the census work should not begin until NPR is withdrawn." When all else fails, trolls and troll media starts talking about her personal life, falsely stating she is Muslim, because her spouse, well known activist Javed Anand is one, and that she married him in a Nikah ceremony. Setalvad's vilification continues.
6. Ishrat Jahan: A former Congress councillor, had spoken at anti-CAA-NPR-NRC protests, but was arrested in connection with the North East Delhi riots that followed, after a speech given by BJP's Kapil Mishra. She is in jail and has been charged under the stringent Unlawful Activities (Prevention) Act. Her vilification continues in Jail. Recently a court has had to intervene and tell jail authorities to take immediate steps to ensure Ishrat Jahan's security, after she alleged she was "beaten and abused" by inmates, in her cell in Mandoli jail. Her family has alleged that her clothes have been torn, her head smashed against the wall several times and she is constantly abused and threatened. Jahan told the court she had been assaulted, and was under "immense stress due to the continuous physical and verbal harassment" she said, addin that the other inmates "keep calling me a terrorist".
7. Harsh Mander: Activist, and former civil servant has also been put under the scanner by the Delhi Police as they suspect he was a part of the 'conspiracy', they believe was birthed during the anti-CAA protests, and this incited North East Delhi's communal violence. Mander has often said this was the Police's attempt to "criminalise, punish and crush" one of the largest non-violent movements in Independent India, that the anti-CAA protests became. Clips of Mander's speech outside the Jamia Millia Islamia University (JMIU) were used to accuse him of 'denigrating the Supreme Court of India and inciting violence'. A case was filed against him with the Solicitor General of India, Tushar Mehta, presenting clipped versions of his speech to the SC.
8. Gauhar Raza: The well known scientist, poet and filmmaker, is also a civil rights activist. And that, probably pre-qualified him to be placed onto Delhi Police's 'the list'. After Raza's name was added in September, he issued a strong statement addressing the Delhi Police. He stated, "I maintain that disagreement with the policies of the Government and dissent is a constitutionally guaranteed right. I have always protested against injustices and against the anti people policies and draconian laws including the CAA, NRC and NPR and I will continue to raise my voice against those actions which I find anti-democratic and anti-people. This is what scientific temper demands from me. I demand that the government stop criminalizing dissent."
9. Khalid Saifi: One of the founders of social activism group United Against Hate, was active during the anti-CAA protests, and the public campaign against NRC and NPR. The other founders include activists Nadeem Khan, Banojyotsna and Umar Khalid. Saifi was among those who were arrested from a protest site at Khureji Khas in February. Initially charged under Section 307 (attempt to murder), he remains in jail for over 300 days now as he is also charged under UAPA. Union Home Minister Amit Shah had spoken in Lok Sabha mentioning that 'a WhatsApp group called "United Against Hate" was created on February 17 and some leaders delivered inflammatory speeches on February 19, which led to protests that "culminated into riots". He said such groups had indulged in "fear mongering" that the Citizenship Amendment Act would take away their citizenship.
10. Lawyer DS Bindra: The devout Sikh had spent most of Delhi's freezing winter months cooking, and feeding hundreds who gathered at Shaheen Bagh during the historic protests. He was inspired by the Sikh farmers' group that had come from Punjab to support the protest at Shaheen Bagh. Bindra set up an open kitchen near the protest site, and began serving fresh vegetarian meals to whoever wanted a plate. Bindra also organised langar at the Chand Bagh sit-in protest site in Mustafabad and also in Khureji for around five days, helping feed hundreds of protesters. Bindra's langar closed down with the protests. However, his name was added to 'the list' mentioned in a chargesheet filed by the Delhi Police in the matter of the killing head constable Ratan Lal. He was mentioned 'as one of the organisers of the sit-in protest at Chand Bagh', called in for lengthy questioning; it was also alleged that Bindra called CAA as being anti-minorities. He said all he did was feed the hungry.
(Compiled by Karuna John)
Related:
A 2020 Report of 10 Worst Victims of apathy: Dalits, Adivasis
A 2020 Report of 10 Worst Victims of Apathy: India's Migrant Workers