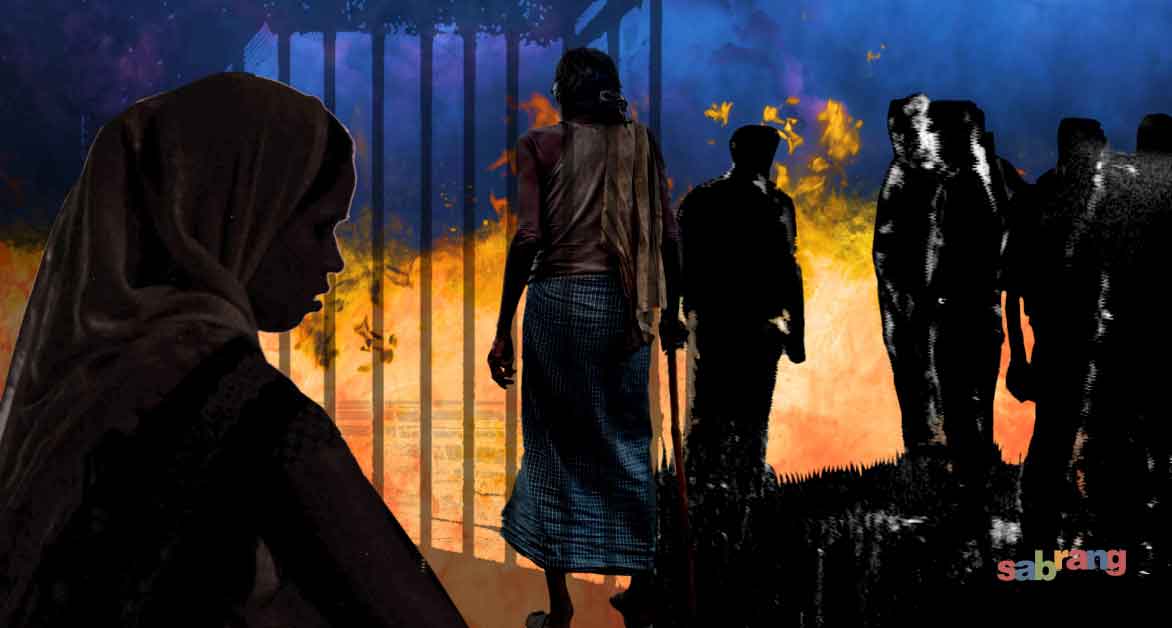 While the world debates whether 2020 has been the worst year for humankind, bedevilled by the pandemic and insurmountable suffering, some communities, victims of centuries of exclusion and othering might strongly feel differently. With deaths and gendered violence inflicted every day in atrocities which span across generations. Dalits, Bahujans and Adivasis, have been, yet again, subjected to inhuman treatment by a casteist system promoted and deepened even further by Hindutva supremacists throughout yet another year.
Let us look at the worst of the shocking crimes committed against Dalits, Bahujans and Adivasis in 2020 so when we enter the next year, we are more empathic, sensitive and vocal for crimes against humanity.
1. Hathras Gang Rape
On September 14, four 'upper-caste' men allegedly gang-raped and murdered a nineteen-year-old Dalit woman in Hathras district of Uttar Pradesh. At first the UP Police not only allegedly ignored the girl's complaint despite her grievous injuries, but also delayed filing a complaint. This also prevented the girl from getting timely medical attention. The swab test to establish sexual assault was also delayed by several days! After her death, the police also cremated the victim's body allegedly without the family's consent. The incident shook the nation to think about rape culture, power dynamics, the oppressive caste system and its implications at an intersectional level. A timeline of developments in the case may be viewed here.
2. Dalit teen allegedly shot dead for entering temple
Monstrosities against the marginalised continued even during the lockdown when 17-year-oldVikas Kumar Jatav was shot dead for visiting a local Shiva temple. A few 'upper-caste' youth had objected to his presence at the temple where Jatav who was a Dalit offered prayers on June 1. He was thrashed by these 'upper-caste' men led by Horam Chauhan, and when Jatav approached the police, they refused to file an FIR! On June 6 the 'upper-caste' youth came to Jatav's home, dragged him out and shot him dead! The crime took place in Domkhera village of Amroha district, Uttar Pradesh.
3. Jharkhand gang-rape
A 35 year-old woman was allegedly gang-raped by 17 men in Dumka while her husband was held hostage. The couple was on their way back from the market when the incident took place. In a reckless comment, RJD leader Shivanand Tiwari has blamed the 'consumerist culture' for rapes in tribal areas. Out of the 17 accused, only one was arrested as he was identified by the survivor. The probe is still underway as the National Commission for Women (NCW) has taken cognisance of the matter.
4. Dalit teen stalked, molested and shot dead
A Dalit teenager was stalked and molested by three young men. When the eleventh grade student stood up for herself, she was shot five times in the head and killed. This incident took place in Premnagar in Firozabad district of Uttar Pradesh around the Navratri festival in October. Two of the accused, Manish and Sopali Yadav were later arrested.
5. Dalit Youth thrashed in UP
On July 9, a Dalit bot was brutally beaten by 'upper-caste' men for something as trivial as a phone call made by the former to the latter in a small village of Kunwarpur in Bulandshahr district of Uttar Pradesh. When Vishal, the victim, called Dipu Sharma, his wife picked up to inform that Dipu was not at home and the call ended. The same night, Dipu with his brothers and friends came to Vishal's house, hurled casteist abuses and beat him with rods, sticks and cable wire. They left when Vishal had turned blue and black, and his skin was peeled off. CJP filed a complaint in this regard to NHRC which was then transferred to UPHRC.
6. Mob violence against Dalits
In Uttar Pradesh's Mangta village, a mob of more than 300 Thakur men allegedly attacked the Dalit community on February 13, seriously injuring more than 25 people. 18 people, mostly women, were grievously injured and had to be hospitalised. The incident took place when the Dalit community reportedly refused to pause celebrations on the fourth day of festivities of Bhim Katha. A Thakur family that was hosting a wedding was allegedly upset with this defiance. A mob weilding axes and lathis attacked the members of Dalit community. They also allegedly tore off the women's clothes. The mob also torched a house. The previous day, when the Dalit community had taken out a Bhim Shobha Yatra procession, Thakurs had allegedly torn down posters of BR Ambedkar.
7. Dalit brothers beaten, house set ablaze
In Chirgai village of Madhya Pradesh's Datia district, a Dohra brother duo was beaten over refusing to withdraw a 2018 police complaint over difference in wage payments against Pavan Yadav. The relatively upper-caste Pavan Yadav forcefully entered the home of Dalit brothers with his friends and relatives. They attacked the Dalit brothers with axes and riffle butts, opened fire and set their house on fire on November 21.
8. UP Dalit woman raped, killed, body found with mud in orifices!
While the UP government took pride in launching the 'Safe City Project' with women safety in focus, they conveniently ignored the atrocities against Dalit women in their state. One particularly horrendous caste-and-gender-based-violence committed during the time was the rape and murder of a Dalit woman in Sonbhadra district in a region that falls under the jurisdiction of the Jugail police station. Her body was found with mud and cloth in orifices on December 8. The disturbing visuals did some rounds on social media but the officials still maintained silence.
9. Denial of right to last rites
The family of Pooja, a woman from the Nat nomadic community, who had died of a uterus infection on July 19, was denied the right to cremate her in a dignified manner in Kakarpura village of UP. Just before her four-year-old son was about to light her pyre, the Thakur community intervened and forced them to take the body to a cremation ground marked for the use of 'lower castes'. This led to a stand-off that lasted almost six hours despite the presence of the Gram Pradhan, the police and local leaders. The family was eventually forced to take the body to the NaglaLal Das cremation ground 4 kms away. The family did not have resources to file a complaint, so the Agra police took suomotu cognisance of the matter. The probe is underway.
10. Bihar cops open fire on Kaimur Adivasis
A two-day sit-in strike was organised by thousands of Adivasis from 108 villages near the Birsa Munda statue in Adhaura on September 10 and 11, with due legal permissions, in the Kaimur district of Bihar. The Adivasis were demanding rights to their land, water and forests under the Forest Rights Act 2006. But these rights were being trampled upon by Forest Department officials. Though the protest was peaceful, Bihar police opened fire and lathi-charged unarmed protesters, and made arbitrary arrests. Three people were injured with one Adivasi man identified as Prabhu narrowly missing a fatal wound to the head. Many people were arrested and false cases under charges such as Sections 307, 353, 147, 148, 506, 504 and even Arms Act. A Fact-Finding Report was released collectively by human rights organisations- AIUFWP, CJP and DSG- on September 23.