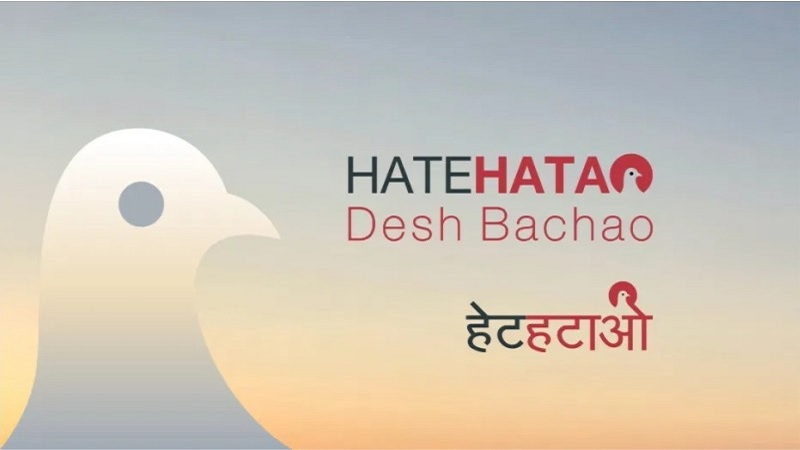 Image Courtesy:cjp.org.in
Citizens for Justice and Peace (CJP) stands against hate, communal bigotry, caste oppression, prejudices, and is founded on the constitutional values of equality and harmony. Our Hate Hatao, Desh Bachao campaign against hate speech and targeted violence is an effort to bring to account those who seek to divide the society along arbitrary lines for the sake of personal and political gain. Join our battle against Hate Now!
Our revolutionary Hate Hatao app built to combat hate speech identifies hate offenders, serial hate offenders who abuse their position of power to hurt certain religious beliefs and perpetuate anti minority sentiments. We approach the appropriate authorities citing instances of hate crimes, bringing them to justice and find a solution and maintain peace and harmony in the society. CJP also tries to document hate driven and demonising incidents and speech targeting particular communities across our diverse nation.
Teesta Setalvad explains
CJP Secretary and human rights defender Teesta Setalvad explains how minute biases and prejudices like looking down on one's appearance, their mannerisms, how one chooses to pray, has the capacity to consume us within a society. "It is these bias attitudes of stereotyping, insensitive remarks, fear of differences, non-inclusive language, micro aggressions justifying biases by seeking out like-minded people, that takes shape in the form of hate,"says Setalvad. This prejudiced attitude is the first stage in the pyramid of hate.
The next stage is acts of prejudice which involves name calling, social exclusion, targeting particular sections of the society by telling belittling jokes. The third stage is discrimination, where certain communities are subject to harassment, bullying, exclusion in housing, employment, education issues, based on their race, sexual orientation, caste, class, religion etc.
The fourth stage in the hate pyramid is that of violence, of targeted hate crime which includes threat, assault, battery, murder, and terrorism. In a recent live session on social media Setalvad explained how India has already entered the fourth stage of the pyramid which must compel the majority community to break this chain of silence against institutional hate. The fifth and last stage is genocide, a deliberate systematic cleansing of a community.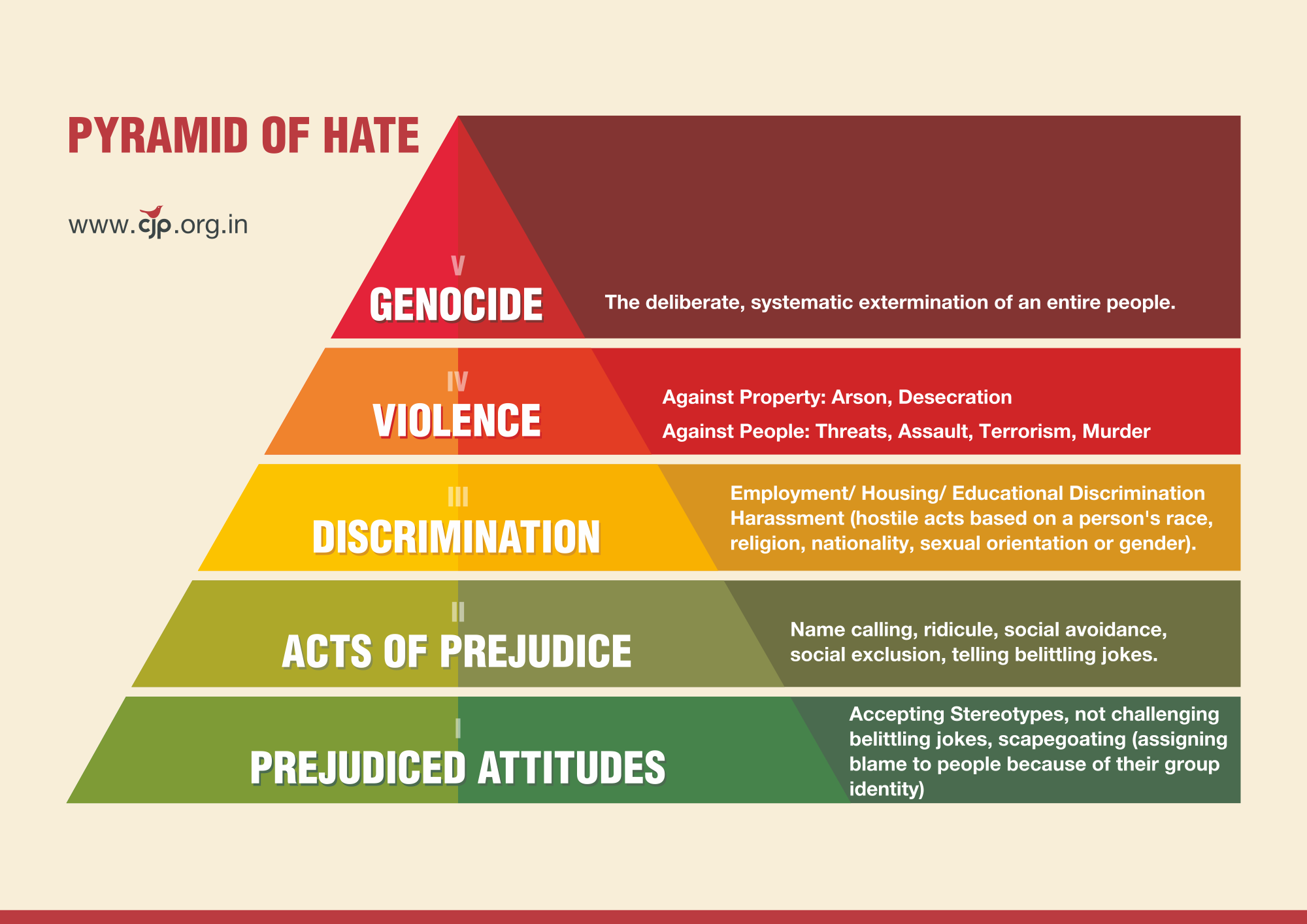 CJP's goal
In furtherance of a three decade long commitment to fight hate and bigotry, CJP monitors both hate speech and writing, sources these out, deftly analysing these in the frame of the law and regulatory bodies and institutions, after which, case by case we call them out. We also make media platforms, television channels and social media aware of and answerable to an informed citizenry.
Social Media Platforms and Hate
While social media platforms like Facebook, Twitter and Instagram have undoubtedly democratised access to diverse voices, they are also amenable to gross manipulation by politically motivated, organised toll armies. CJP has called out both FB and twitter on more than one occasion.
Just last month, we approached Twitter bringing its attention to certain abusive accounts that played a part in a sexualised campaign against Muslim women. We shared examples of some unchecked accounts on the social media platform, that demean Muslim women as "sex objects for Hindu men". Muslim women in particular are subject to an "orchestrated right-wing campaign, abused for both their gender and their religion."
CJP also listed certain accounts that share hundreds of pornographic videos of women in hijab every day, with inflammatory captions presenting Muslim women as objects, meant to be sexually exploited. Photoshopped pictures of Hindu men and pregnant women in saffron hijab are also widely shared by these accounts. In addition to writing to Twitter, CJP also complained and reported these accounts on Twitter.
CJP's analysis of the social media giant, Facebook's response to hate reporting has delved deep into trends and responses to complaint. Of course, we have relied heavily on CJP's own complaints to the platform but we have also factored in other analyses. Read CJP's detailed report on Facebook here.
Here is a closer look on how hate develops, impacts certain sections of the society and CJP's endeavours in fighting to strengthen our resolve to end the culture of hate and protect the secular and pluralistic values of our country, over the past few months.
RSS leader Kamalendu Sarkar
Rashtriya Swayamsevak Sangh leader Kamalendu Sarkar had given an extremely Islamophobic speech in December last year endorsing unverified and false allegations against the Prophet Mohammad in Assam. He alleged that the Prophet was a rapist and that this is what the Quran says, insinuating that Muslim woman are often ill-treated.
The National Commission for Minorities took cognisance of the complaint filed by CJP dated December 21, 2020 and issued a notice seeking DGP, Assam's status report on the incident. On March 30, 2021, CJP was informed by the Government of Assam (Political Department), that a letter seeking the status report of action taken against Mr. Sarkar had been sent to the DGP.
CJP is awaiting further response from the Commission, hoping that he be brought to justice for hurting the religious sentiments of the Muslim community.
"Sadhu" Yati Narsinghanand
Spiritual leader Yati Narasinghanad Sarasawati is a known serial hate offender, who openly supports acts of genocide and violence against Indian Muslims and strives to create an India sans Muslims. CJP has often documented his offensive statements and tactics to garner support for such mindset.
In our complaint to the Ministry of Minority Affairs and Ministry of Electronics and Information Technology dated March 10, 2021, we listed a series of his unverified and provocative information about Islam, claiming Muslims are 'Jihadis' (militants) aspiring to dominate Hindustan, and how through his speeches that circulate online, he continues to appeal to all Hindus to protect their Dharam (religion), daughters and women as there is a Muslim jihadi everywhere, who is killing Hindus in every region of the world.
CJP has appealed to the Ministries to take action against him and recognise his methods of mobilising the majority community against Islam by using discriminatory terminology like Jihadis, appealing time and again to Hindus to "fight" and "sacrifice" for the sake of their religion to protect their Hindu Rashtra (nation).
Besides these authorities, CJP also complained to the National Minorities Commission and the National Commission for Protection of Child Rights (NCPCR) when Yati's disciple was involved in assaulting a minor Muslim boy for entering a temple and received brazen support from Yati for doing so.
CJP's complaint dated March 18, 2021, has described the horrific incident of one Shringi Nandan Yadav who voluntarily kicked and hurt the minor Muslim boy for entering the Dasna Devi temple in Ghaziabad, Uttar Pradesh and his aide who recorded the video. Yati Narsinghanand Saraswati, who looks over the management of Dasna temple told the media that he trained his followers well to give a befitting reply to trespassers from a specific minority community, and that Shringi was just following his instructions.
This exact impunity, is what CJP stands against and we are awaiting their response over these complaints.
Tejasvi Surya
CJP approached National Commission for Minorities on May 13, against Bhartiya Janata Party's Bengaluru (South) Member of Parliament Tejasvi Surya and three fellow MLAs who attempted to lend a communal spin to the alleged 'bed-blocking scam' in Bangalore. They made communal remarks, and allegedly accused only 16 Muslim staff members of the local municipal corporation's Covid war room of being involved in the hospital bed-blocking scam, out of a total of 214 volunteers. Eventually, all their names were cleared of all charges but some were still anxious about the thought of going back to work after such humiliation.
CJP also shared in the complaint a video for the Commission's perusal to substantiate its claims. We demanded the Commission to take cognisance of the incident and also direct them to apologise to the 16 members of the local corporation who were going out of their way to help citizens in the time of a crisis. The organisation also took strong exception to some of the remarks made by the MLAs like, "Are you hiring for a corporation or a Madrassa?" (a college for Islamic instructions), "How can he (BBMP official) appoint 16 members like a Haj committee?".
Ragini Tiwari
Serial hate offender Ragini Tiwari has gone unchecked by the authorities for her hate speech during the Delhi violence 2020 and the farmers protests. An FIR was registered against her in Delhi but she was not available for questioning as she was allegedly in Bihar.
She has been seen (with documented evidence) using derogatory language including cuss-words against the Delhi police for their alleged inaction against stone-pelters during the 2020 violence and has provoked "Hindus" to sacrifice their life for the nation. Using abusive diatribe against the minorities, she has also allegedly called on people to vote in the name of religion.
On December 24, 2020, CJP complained about her video whereby she said that she will recreate Jafrabad (read a reference to the February 2020, Delhi Violence) if the farmers don't stop protesting and leave Delhi. She openly issued a fresh warning to the Central and Delhi Government that if the farmer protests are not put to an end by December 16, she will take to the streets and get all roads cleared and history will repeat itself. By history, she meant the targeted Delhi Pogrom where she brazenly called for the slaughter of the Muslim community and the violence that followed led to deaths of more than 50 people. Another complaint was sent on March 3, 2020 to Facebook over her vitriolic campaign against Muslims.
But in January this year, Facebook responded to our complaints and refused to take action against her. They stated that they are not in a position to take any action against Tiwari and that we should contact the party directly to get a resolution on the issue, despite its rules against public safety, hate speech, violence, discrimination. With our complaints to Facebook, we have learnt that this giant social media platform continues to let fundamentalist views be easily propagated in India with no consequences. CJP will continue with this minute monitoring of hate, collate documentation and thereafter, at an appropriate stage launch legal action. CJP is committed to ensure that institutions function in alignment with the constitutional values of equality, non-discrimination and equal dignity.
Zee Media for their Vaccine Jihad show
A vaccine wastage incident in Ecuador, was falsely reported to have happened in Aligarh, Uttar Pradesh, implicating a Muslim auxiliary nurse midwife on a show that was broadcast on Zee Media Corporation's channel, Zee Hindustan. The show alleged that one Niha Khan disposed of a few syringes filled with Covid-19 vaccine without administering them to the beneficiaries, when in reality that incident took place at a vaccination centre in Mucho Lote in Guayaquil, Ecuador!
CJP took cognisance of the viscous campaign that Zee News ran and sent a notice to them, asking them to take down the content from all their social media accounts and tender a public apology for the misinformed reportage of such communal nature on June 4. Our next step is to approach the News Broadcasting Standards Authority (NBSA) against the channel, since we did not receive a response from the channel on our notice.
Online campaign for Faisal
Mohammad Faisal Khan, a young vegetable vendor, and the sole breadwinner for his family of six, was allegedly beaten to death by the Unnao Police on May 20. Some media reports stated that his post mortem report revealed that he succumbed to a head injury and the post mortem examination also found a severe injury behind his ear and at least 12 contusions on his body. Shaken by this horrific and targeted hate crime, CJP started an online campaign demanding that the UP-Chief Minister Yogi Adityanath takes moral responsibility for what is happening inside police stations in his state, and also direct the concerned authority to provide compensation to his family.
The petition has received 2,400 signatures and counting.
Hate Speech Reports
In addition to the complaints, CJP also reports on different issues pertaining to hate speech and violence to spread awareness about the same. On January 14, 2021, we learnt through a report titled Chronicle of Communal Incidents in Coastal Districts of Karnataka, compiled by Karnataka Communal Harmony Forum and People's Union of Civil Liberties (PUCL), member Suresh B. Bhat, that the State witnessed 47 instances of Hate Speech in 2020 as opposed to 12 in 2019.
The report that collates information from the Dakshina Kannada and Udupi Districts of Karnataka, revealed a total of 110 instances of communal attacks including hate speech, cattle vigilantism, moral policing by Hindutva groups and other unidentified individuals around alleged religious conversions. This statistic is up from 60 in the year 2019. The findings of the annual study were startling, which stated that Hate speech quadrupled and cattle vigilantism doubled in Karnataka last year.
Dedicated to finding and bringing to light instances of Hate Speech, CJP referred to a Centre for Study of Society and Secularism (CSSS) report titled The Covid Pandemic: A Report on the Scapegoating of Minorities in India, encountering how only Muslims were made scapegoats amid the pandemic, ignoring other non-Islamic super spreading events before the first lockdown.
Given the fact that there already existed strong biases against Muslims, scapegoating Tablighi Jamaat, a sect within Muslims, it was but a matter of time when the blame shifted to the entire Muslim community and it became easy to mobilise other members of the majority community about the anti-Muslim rhetoric, in joining in the scapegoating of Muslims, as per CSSS. The immediate impact of this was that the media that was focusing on the government's failure to tackle the virus with inadequate healthcare infrastructure, now turned a blind eye towards the real problem and started blaming the community for the spread of coronavirus.
Vilification soon took the shape of violence. For instance, in Jharkhand, rumours started to spread that Muslims are going from village to village intentionally spitting to spread the virus. In Bagalkot, Karnataka, two Muslim men were attacked accused of spreading coronavirus. They were made to kneel and apologise for doing so. In West Bengal, in Teriipaia town a rumour spread that "hundreds of Muslims" had been infected with Covid-19 and they were now infecting the Hindus in the town. The rumour triggered violence between the two communities and over three days, 45 Muslim homes were set on fire by mobs led by Hindus in May, 2020.
CJP believes in a sustained campaign to fight hate and save both our people and the nation. We not only amplify diverse and composite cultures, but we call out Hate for what is – a politically crafted campaign to disenfranchise and weaken, apart from making marginalised sections more vulnerable to violence. We stand to defend the rights and dignity of the voiceless. CJP's Hate Hatao initiative has ensured close to 192 Hate Watch Complaints in the past four years! Our aim is to train a committed band of Peace Warriors at district levels ensuring constitutional governance on the ground! With your support this dream could become a reality.
Related:
Justice for Faisal: Sign CJP's petition NOW!
Facebook refuses to act on CJP's complaints against Ragini Tiwari
CJP in action: Files a complaint with Facebook against Ragini Tiwari
CJP moves NCPCR and NCM against assault on minor
NCM seeks report from DGP Assam on CJP's complaint against Kamlendu Sarkar
CJP approaches MEITy and Minority Affairs Ministry against Yati Narsinghanand
Bed-blocking scam: CJP approaches NCM against Tejasvi Surya's communal claim
Scapegoating of Muslims amid Covid pandemic: A CSSS report