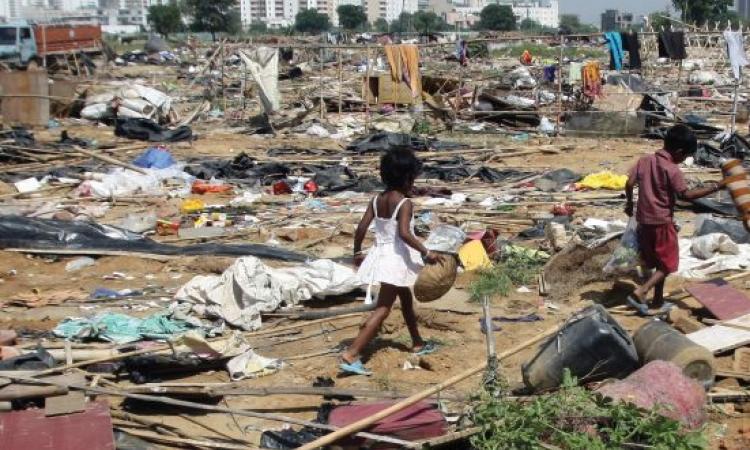 Representation Image / Housing and Land Rights Network
Earlier on September 9, 2021 the Housing and Land Rights Network (HLRN) announced that over a quarter of a million people i.e., 2.57 lakh individuals were evicted in India during the Covid-19 pandemic. It estimated around 21 people were evicted from their homes every hour between March 2020 and July 2021.
Further, over 24,400 homes, affecting over 169,000 people were demolished by authorities from January 1 to July 31, said the report. Families struggled to keep their young ones alive without a roof over their heads and a global pandemic raging around them. Especially tribal families in Assam survived widespread demolition by the BJP-regime that has its eyes on the approaching election.
Anticipating many more such trials ahead, CJP Team compiled a legal resource that showcases how Courts continue to step in to protect and emphasise the right to live without forced evictions and the right to housing. Similarly, former National Human Rights Commission (NHRC) Chairperson Justice Arun Mishra spoke during a webinar on July 31 about why indigenous communities should not be evicted without the settlement of their claims related to land rights.
However, as children and elderly alike live amidst the ruins of their former homes nearing the end of 2021, it is important to take stock of how many people's lives were turned upside down due to illegal and forced evictions.
Assam
This is possibly the worst affected state when it comes to evictions. Thousands of people, most of them Bengali-speaking Muslims and Hindus were dubbed "encroachers" and evicted from their homes across the state.
The first incident occurred on May 17, 2021 when as many as 25 families were removed from their places of residence in Dighalichapori, Laletup, Bharaki Chapori, Bhoirobi and Baitamari villages of Sonitpur district. All of these are flood-prone areas near the river and the evictions took place amidst a raging Covid-19 pandemic. On June 6, as many as 74 families from Kaki in Hojai district were evicted on from their homes. Roughly 80 percent of this population is Muslim. The following day, nearly 50 families were evicted from Dhalpur, Phuhurtuli in Darrang District with more evictions planned, leading to an outcry in Sipajhar. On August 7, as many as 61 families were evicted from Alamganj in Dhubri district, where 90 percent of the population is Muslim. Later, on September 20, around 200 families evicted from Fuhuratoli, Dhalpur in Darrang district.
However, the worst instance of hate-induced eviction came on September 23 when hundreds of families were evicted from their homes in the same area with notices served the previous night via Whatsapp! What's worse, when these people protested, police opened fire upon them. Two people including a 12-year-old boy were killed in this incident.
A day before the forced removal, residents of Dhalpur No. 2 and 3 received over 600 notices detailing the eviction schedule from 10 AM the following morning. Horrified by the sudden upheaval in their lives, around 2,500 villagers protested outside the eviction area demanding more time and a designated place for rehabilitation. Officials agreed at first however, on returning home residents found armed police personnel outside their houses. Officials fired guns and brutally assaulted children and adults alike.
The violence received international coverage. The government claimed 960 families were evicted till that day while village heads put the number at 963. In severe condemnation of the attack on unarmed locals, CJP moved the Gauhati High Court and demanded justice for the evicted families.
Worse still, CJP's on-ground Team learnt on November 5, that at least three infants from these families died: 5-day-old Rajib Ahmed, 2-month-old Rohim Ahmed and a year old Akhi Aktara. The cause of death is still unknown.
Even five years after the incident, the State Ministry of Revenue and Disaster Management is still asked about the details of the post-2016 evictions. Thus, ever since the BJP came in power in Assam, families have been condemned as "encroachers" and cleared from thousands of bhigas of land, leaving only a few dozen families with land for relocation purposes.
Most recently, the Assam government evicted nearly 3,000 people living in over 1,000 hectares of land inside the Lumding Reserve Forest in Hojai district from November 8. Another 1,050 people were evicted from the Karbi Anglong district during a drug-related operation. The administration claimed the encroachers were engaged in the drug trade.
Hindustan Paper Mills
The eviction saga in Assam does not simply end with land claims and xenophobia. Around September 7, the authority auctioning two Hindustan Paper Corporation Ltd. (HPCL) paper mills in Nagaon and Cachar, served an eviction notice to the mill's employees amidst the Covid-19 global pandemic and successive floods.
The notice robbed the roof off 900 people. Earlier, associations of officers and employees moved court challenging the liquidation of the mills. On June 16, the Court dismissed the e-auction of the mills. Yet, the authority persists with evicting workers and officers from the mill. Read more here. However, later the administration announced a relief package where it agreed to clear the pending dues of workers and took over assets of the now defunct mill.
Madhya Pradesh
The peaceful lives of Bhil and Barela tribal communities in Khandwa were thrown into turmoil on July 10 when a mob allegedly supervised by local police and JCB vehicles destroyed their small hamlet. As many as 40 Adivasi families now live amidst the ruins of their village without a roof on their heads. The destroyed settlement, now a mixture of rubble and dirt, is where once stood homes, and fields of crops.
Over 200 people were attacked and chased out of their homes even as the Covid-19 pandemic continued unabated and heavy rains lashed the area during the monsoon. This despite a High Court order that barred demolition and eviction of Negaon-Jamniya villages until July 15.
130 quintals of food grains, Rs. 63,800 in cash, a shop worth Rs 80,000, jewellery worth Rs.12,000, five cycles, four mobile phones, over 300 chickens, 16 goats and one calf were either destroyed or looted from villagers. Another calf was killed when JCBs were tearing down the huts of the local residents.
Following the incident, hundreds of Adivasis demonstrated outside Khandwa SP's office to demand the release of six people arrested during the incident. Later, CJP Team also worked with the Jagrit Adivasi Dalit Sangagthan to organise a press conference wherein the residents could voice their grievances to the media. Read more here.
Meghalaya
The state government on October 30 took over the land that accommodated residents of the Dalit Sikh workers settlement Punjabi Lane (Harijan colony). Officials paid local chieftain Syiem of Hima Mylliem Rs. 2 crore for the land spread over 12,000 sq meters.
Government records identified 184 employees and their families as legal settlers, including 128 employees of the Shilling Municipal Board (SMB) and 56 workers from other departments. These families are eligible for relocation to staff quarters. However, the total strength of this settlement is as much as at least 300 families of Dalit Sikhs whose ancestors were brought by the British to work as conservancy workers.
It is worth questioning why families that moved out of their traditional area of work and established small shops or entered the service industry were suddenly deemed "illegal settlers". Read more here.
Haryana
The HLRN's 'Forced Evictions in 2020' report that also covered the first half of 2021 stated that the Faridabad Municipal Corporation demolished at least 12,000 houses belonging mostly to daily-wage workers in Khori Gaon, Haryana between July and August. The allegedly forceful removal left 10,000–15,000 families homeless as the rainy season began. Pregnant and lactating women, new-born babies, children, older persons, and persons with disabilities alike were thrown out on the streets since the officials did not come up with a comprehensive rehabilitation plan.
As a result, many affected persons continue to live in the rubble of their former homes, much like the Khandwa Adivasis.
Meanwhile, Gurugram authorities too displaced a large number of labourers and migrants between March and June. The Gurugram Metropolitan Development Authority and the Municipal Corporation of Gurugram destroyed 60 houses in Chakkarpur and Sikanderpur, in June to create an 'urban forest'. In March, the Municipal Corporation of Gurugram demolished 2,500 houses in Wazirabad to build a sports stadium. Then the Haryana Shahari Vikas Pradhikaran demolished 350 homes, mostly of nomadic families, to construct a school.
Delhi
The report went on to focus on national capital Delhi where the central government carried out multiple home demolitions between March and July. Once again ignoring Covid-19 restrictions, officials like those from the Delhi Development Authority (DDA) demolished 50 houses in Yamuna Khadar, without prior notice, allegedly to implement National Green Tribunal orders to remove all 'encroachments' along the floodplains. With nowhere else to go, the community once again chose to stay amidst the rubble. Almost 135 families living near Shastri Park also became homeless in February on the basis of the same order.
Later, another 70 Usmanpur houses were demolished in March. When the people tried to reconstruct dwelling units in the area, the 20 temporary structures were again destroyed in June. In July, 15 Rangpuri Pahadi houses were destroyed even though some people had proof of residence. During the monsoon, the DDA took down 300 houses of daily-wage earners in Ramesh Park over a period of four days.
Further, in June, the DDA demolished tents of homeless persons living in Urdu Park, as part of a 'city-beautification' drive that forced at least five families to live on the pavement. Due to the harsh conditions, rain and lack of healthcare, one of the families lost their 11-day-old baby in July.
Uttar Pradesh
As per HLRN data, around 2,850 families from five villages of Gautam Buddha Nagar district were evicted to build the Noida International Greenfield Airport between April and July. While the first phase of the project began, affected families resettled at Jewar Bangar village, at a distance of 11 km.
Similarly, Varanasi district administration evicted over 100 low-income families in January for the smart city project. Once again, there was no plan for rehabilitation from the side of the officials.
Gujarat
The HLRN reported demolition of 130 houses in Fatehwadi for various infrastructure projects in April. This happened after 90 homes were destroyed in Juhapura, Ahmedabad, in January. Then in March, the Ahmedabad Municipal Corporation along with Indian Railways officials evicted 350 people for the construction of the Mumbai–Ahmedabad High Speed Rail Corridor project.
Other demolition as per the HLRN
Forest department officials in South Kashmir's Shopian district demolished 24 houses of the Gujjar community as per the Jammu and Kashmir and Ladakh High Court order to remove "encroachments". However, residents accused the officials of manhandling and injuring them.
Jharkhand's Jamshedpur district administration and police razed 200 homes in Khasmahal to vacate government land in March 2021. Reportedly, the police detained a few people who were protesting against the demolition, said HLRN.
In Karnataka, the Slum Development Board destroyed over 200 houses in Mysore for the expansion of railway tracks in April – the peak month of the second wave of Covid-19.
Similarly, the Tamil Nadu Slum Clearance Board demolished 130 houses in Arumbakkam, Chennai in July, for an Integrated Cooum river eco-restoration project. In Coimbatore, 141 houses were demolished along the Selvampathy tank bund as part of an 'encroachment'-removal drive.
In Telangana, the High Court issued an order that led to the South Central Railway demolishing 120 houses constructed on its land in Medhara Basti, in July. Lastly, the Mangrove Conservation Cell in Mumbai demolished 250 houses in Borivali in April and took down 450 huts in Chheda Nagar in February.
The HRLN report may be read here:
Related:
Defending Forest Rights in 2021
Combatting Covid-19: Lessons learnt in 2021