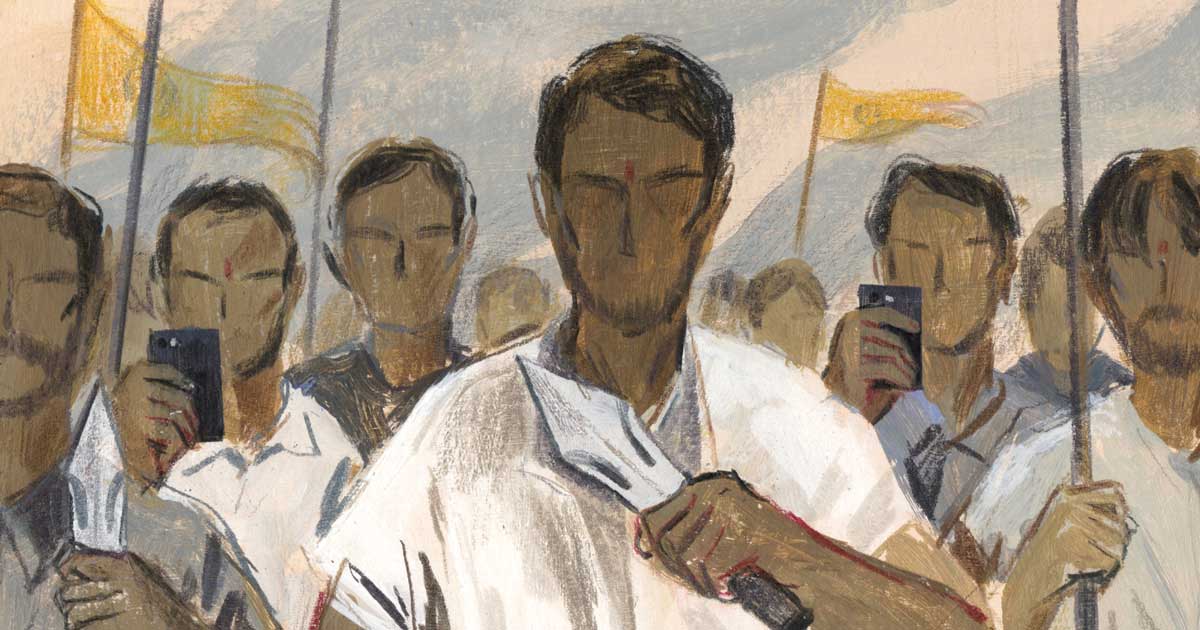 Image: Washington Post
2021 saw a surge in hate crimes against religious minorities, particularly Muslims and Christians. However, India does not possess an independent, comprehensive yet authoritative, or statutory database of the quantum and kind of hate crimes that have taken place across the country. Here, we have tried to compile a list of such hate crimes based on media reports and compilations by other organisations.
The Evangelical Fellowship of India (EFI) records over 305 cases of attacks on Christians until November end alone. There is some other data available but the actual picture is always hidden behind these figures. It is only through the painstaking documentation of such incidents that take place in the farthest corners across states that we are able to get a semblance of how widespread these incidents have become. Tragically, often it is the "viral" video on social media up-loaded and shared by the perpetrators themselves that are the source of such "data."
The law not only forbids such incidents but encourages fair investigation and prosecution of these. However, rarely do the police or law enforcement act, even more rarely do the courts initiate suo motu action.
Since 2014, India has seen the sinister phenomenon of hate speech being perpetrated by those who hold positions of power, when they take an oath under the Indian Constitution committed to equality, dignity and non-discrimination. This has ensured an impunity for the hate offenders whether through speech or targeted attack. CJP and Sabrangindia are committed to not just exposing this hate speech but to empowering citizens to countering hate through our Peace Mapping programme: Hate Hatao, Desh Bachao.
Here's a list of the shameful hate attacks of 2021:
Attacks on Muslims
Namaz disruptions
November 15: A 'purification' ritual was carried out in Vastrapur lake garden, Ahmedabad, Gujarat, reportedly by members of the Vishva Hindu Parishad (VHP), at a park where namaz had been offered. Claiming credit was the Gujarat VHP, and its secretary Ashok Raval, who said, "VHP workers reached the garden to 'purify' the place. They chanted mantras and sprinkled 'Ganga jal'." Raval said that this 'purification' ritual was done "to create awareness among masses" and claimed that "a casual namaz eventually results in claim being staked on that piece of land."
October-December 2021: Every Friday in the past few months have been marred by fringe groups in Gurugram disrupting Namaz or Friday prayers which had previously been going on peacefully. Community elders say Muslims of Gurugram are being denied their constitutional right to practice their religion.
The Hindutva groups have been protesting Friday namaz in open public spaces in Gurugram since 2018. It was in the same year that the city administration had designated 37 sites for Muslims to perform the Friday prayers. However, in November this year, the number of sites was cut down to 20 after members of the right-wing outfits continued to protest and disrupt prayers. The Muslims, however, have maintained that they were forced to use public spaces since there were not enough mosques in the city. "There is no provision made in the town planning for mosques," said Md Adeeb adding that Gurugram has expanded and even then, Muslims have not been provided the space to build a mosque. A Contempt petition has been filed in the Supreme Court by a former MP, Mohammad Adeeb, against Haryana Government for its failure to stop 'fringe' elements from disrupting Friday namaz.
Police brutality
Early December: Bengaluru police reportedly suspended a sub-inspector named Harish KN attached to the Byatarayanapura police station for allegedly assaulting and forcing Tausif Pasha, a 23-year-old Muslim man in custody, to drink urine. Tausif said that three constables including Harish hit him "with a cricket bat at least 30 times and when I asked them for water to drink, they made me drink urine. They also cut my beard. I begged them not to do so as it was part of my faith, but they said this (police station) was not a religious centre. They also made me clean the police station."
December 2: A Muslim man identified as Salman alleged his "hand was amputated" after the injuries sustained during his "torture in police custody" got severely infected. Salman was detained in connection with a car battery theft case for three days in the Varthur police station after he was "picked up by the police" on October 27. He had to undergo a surgery at a private hospital in Bengaluru for amputation of his right arm as it was "infected after he was allegedly beaten severely in police custody."
November 8: 22-year-old Altaf was taken into police custody by Kasganj police and 24 hours later police claimed that he strangled himself by tying a string of his jacket to a 2 feet high tap. Altaf was accused of kidnapping a Hindu girl but she later came forward before a Magistrate and claimed that Altaf had promised to marry her.
August 6: In Sonarpur, South 24 Parganas district of West Bengal, Bengali Muslim police constable Suraf Hossain was beaten up when the cops came looking for his uncle. When Suraf asked for a warrant, they assaulted him, dragged him out of the house and thrashed him. His wrists were tied to his waist, and he had been stripped naked. Taniya Parveen, the victim's wife, was pregnant at that time and has since been reported to have suffered a miscarriage after physical assault on the couple. According to the family, they were attacked by policemen they identified to DC as "Somnath Das, Piya Sen and "thirty" others from Sonarpur PS."
May 27: A 42-year-old man in Bulandshahr was allegedly thrown off the roof of his house by the police when they made a visit to his house after midnight with respect to a case of illegal slaughter. Mohammad Aqeel Qureshi's eight-year old daughter, Summaiya states that she was on the terrace when the incident took place, and claims that the police asked her father for money and when he refused, they started beating him up with pistol butts, and then held him by his legs and flung him off the terrace.
May-end: A 17-year-old Muslim vegetable vendor succumbed to injuries inflicted by Unnao police as they thrashed him mercilessly in police custody. In this regard, two police constables were suspended. The boy was selling vegetables outside his house in Bangarmau town in Unnao, when he was picked up by the cops, taken to the local police station and allegedly assaulted.
May 21: A 17-year-old boy fell victim to allegedly, custodial torture which was claimed by Bangarmau Police, Unnao, UP as a case of heart attack. The post mortem report showed that Faisal Hussain died of head injury and that there was severe injury behind Hussain's ear and at least 12 contusions on his body. He was picked up by police and accused of violating Covid norms. The three police officials identified as Constables Vijay Choudhary and Seemavat, and Home Guard Satya Prakash have been charged with murder, and suspended.
May 17: Wasim Khan, a 29-year-old man residing in Delhi's Chhatarpur area was allegedly brutally thrashed and beaten up by police officials of Fatehpur Beri Police Station when they took him to record his statement in a complaint made by him on 100 helpline number. Khan had dialed 100 from his phone to complain about a fight that had broken out in his neighbourhood which seemed to have got out of control. "It was my first time calling the police," Khan said, adding, "I never dreamed they would treat me like this."
Mob attacks
November 29: It was reported that some Kashmiri men selling winter essentials and migrant workers were forced to chant 'Jai Shri Ram' and 'Pakistan Murdabad' and four of them beaten up mercilessly in Jharkhand. One of them filed a complaint that in Ranchi's Doranda area a mob of around 25 people attacked him and other Kashmiri traders and forced them to chant "Jai Shri Ram" and "Pakistan Murdabad".
November 28: Md. Adil, a mentally challenged 22-year-old man was brutally beaten up when he wandered into a neighbouring village in the Idgah Mohalla in Simdega, Jharkhand by mistake. The attackers allegedly threw his cap on the ground and pulled his beard. Adil was then beaten and could barely talk as he recalled that a group of men had attacked him in the area known as Thakur Toli. Adil's brother Yusuf Ansari told The Telegraph that on November 28, his brother had discontinued his medicine, and on the fateful day had gone for evening namaz at the nearby mosque.
November 12: A bandh was called by Raza Academy to protest the alleged persecution of Muslims in Tripura and another bandh the following day Hindutva groups, were anything but peaceful. Shops and vehicles owned by members of the minority community were set on fire in Rajkamal chowk in Amravati. According to police, they were grossly outnumbered when a mob of over 6,000 members and supporters of Hindutva groups such as the Vishwa Hindu Parishad (VHP) and Bajarang Dal, along with many local leaders of the Bharatiya Janata Party (BJP), arrived at the location and started targeting shops and establishments owned by members of the Muslim community.
October-end: A Muslim couple's chicken shop was vandalised in the outskirts of Belagavi city, Karnataka on the same day as a temple opening was scheduled. The incident took place on October 8. However, it came to light only after a video went viral. The police, however, refused to register an FIR in the matter and instead effected a "compromise" between them and the attackers, even though the couple insisted on police taking action. Hasan Sab and his wife Afsana Hasan Sab Khureshi own the shop in Yamunapur which is 6 kms from the city of Belagavi. A ring-wing group had demanded that meat shops be closed in the area and accordingly the couple had closed the shop by 11 A.M. A few days after the incident, the shop owners were injured in a hit-and-run incident.
October 20: During Navratri festival, right-wing groups such as the Vishwa Hindu Parishad (VHP) put up posters in Madhya Pradesh outside Garba venues saying "entry of non-Hindus is prohibited." Curfew was imposed in Sendhwa city of Madhya Pradesh's Barwani district, after communal clash erupted over the alleged presence of 10-year-old Muslim boy on October 13. Barwani Police said, "A dispute erupted when a Muslim boy was spotted at a garba venue in the Moti Bagh locality. This was objected by a Hindu teenager who had had a previous tiff with the Muslim boy's family. Heated arguments turned into a brawl which got worse as adults got involved in the fight which saw stone pelting as well." In Ratlam as well VHP had put up such posters saying "entry of non-Hindus is prohibited" claiming that non-Hindu men indulge in objectionable activities and thus their entry is being prohibited for Garba. In Indore, four youths were arrested for creating "public nuisance" after members of Bajrang Dal caught them outside a Garba organised by the city's Oxford College on October 10.
October 10: In Paldi area of Ahmedabad, Gujarat, two teenage Muslim boys were seriously injured after being attacked by a mob. The attack took place on October 10. The father of one of the victim's said that the two boys were attacked merely because "they were wearing kurta pajama and a skullcap," that identified them as Muslim. "They thrashed them so brutally. Umar is still unconscious and Khizar is unable to talk due to the trauma" said the father, adding that Umar's hand was twisted while he was "repeatedly attacked on his head". The teenagers were reportedly just returning home on their scooter, from their classes at a Madrasa, when they were attacked.
October 9: A mob armed with iron rods attacked a Muslim family after they refused to move away from the Hindu dominated village called Pewday village, Kampel area of Indore city of Madhya Pradesh. The family of blacksmiths is said to be the only Muslim family in the village, and had moved to the area two years ago. However, the police filed an FIR against the family of 8 instead. Ehtesan Hashmi, a Sureme Court lawyer met with the family and got an FIR registered against the mob attack. "This is not the first time that the Indore police is trying to protect the accused. The police acted in the same manner in bangle seller Tasleem Ali's case," said Hashmi.
September 9: Samir Chaudhary, 22, a resident of Shamli in Uttar Pradesh was beaten with sticks and rods by several men allegedly for his Muslim identity. However, the police made a public statement on social media and said the killing was not a communal lynching as alleged but was a result of an altercation fed by a "dispute". The victim's family has told the media that he was "lynched to death by Hindutva militants on Thursday evening, while he was returning home from work". According to a report in Maktoob, Samir's Cousin, Pravej claimed the assailants attacked Samir for his "Muslim identity" and thrashed him with "sticks and iron rods and killed him".
August 22: A bangle seller belonging to the Muslim community was beaten up by a mob, Govind Nagar area of Indore, Madhya Pradesh. The video clip of the mob beating up the 25-year old youth identified as Taslim went viral on social media. The State Home Minister Narottam Mishra told reporters that the man was selling bangles to women by posing as a Hindu and eventually a case was registered against the young man, who was a victim of the mob assault.
Early September: A mob marched into Purani Basti police station in Raipur and attacked a Christian pastor who was called by the police for allegations of forcible conversion. "Dharm badal ne waalon ko… joota maro s**lon go… jai jai sree Ram," chanted the angry mob. The pastor was abused, assaulted and also hit with slippers and shoes.
May 16: In Haryana's Nuh district 27-year-old Asif Khan, who was a gym instructor, was allegedly abducted, and then beaten to death. It is alleged that he was shot as well and his cousins who accompanies him were also severely injured. His family claims that the men made Asif say 'Jai Shree Ram', and abused him with communal slurs. The police claimed that Asif was "attacked by some people from his own village and that they had a long-running tiff."
March 16: A 26-year-old man identified as Mubarak Khan, was tied to a pole and beaten to death for allegedly stealing a tyre of a motorcycle in Maheshpur village, Sirka Panchayat of Ranchi District, Jharkhand. The complaint states that Mubarak was beaten up by 20 identified and 25 unidentified persons and Tabarak mentions that one Saheb Ram Mahato had threatened Mubarak a few days prior to the incident. Mubarak is survived by three children. To earn a living he used to drive a bread container for deliveries.
Cow vigilantism
September 28: In Mathura, two Muslim men were thrashed by self-appointed right wing cow vigilantes because the 'gau rakshak' or vigilante cow protection groups suspected that they were allegedly ferrying banned bovine meat. But the police in turn imposed fine on the two victims, Ayub and Mausim. after the police rescued the victims from further attacks by the lynch mob, they were taken to hospital and later arrested.
September 12: A 17-year-old boy was killed at the Rajasthan-Haryana border, under the jurisdiction of the Chupanki police station area in Bhiwadi, Alwar. The victim, Sabir Khan, was reportedly hit by a vehicle driven by 'cow vigilantes' who were chasing a truck they suspected was smuggling bovines. The family has alleged that the teenager was killed intentionally, as he was merely standing on the roadside.
June 4: One man was killed while 6 were injured in an attack where it was suspected they were smuggling cows. In Mathura district's Tumaula village in UP, Sher Khan alias Shera (55) was shot dead, and six of his associates were injured in an attack by a group of villagers of Tumaula village who had gotten information that these men were smuggling cows. The Additional SP told mediapersons that two injured men said "they were transporting the cows from Aligarh to Mewat in Haryana". Police claimed that two of the injured had a "history of cattle smuggling."
May 23: Mohammed Shakir, a meat seller and transporter in UP's Moradabad was mercilessly thrashed with a big stick by someone who calls himself a "gau rakshak" or a vigilante cow 'protector on May 23. The victim is being held by the collar by two others while scores watch the attack in silence, till the victim collapses under the blows. While the police did register a case against the assaulters, they also filed a counter case, against the victim, and charged him of 'mischief by killing an animal' and also arrested him while his attackers were not arrested.
Clashes
October 20: Two people were injured when people from two religious groups pelted stones at each other in Sankisa, a Buddhist pilgrimage site in Uttar Pradesh. Buddhist pilgrims were celebrating second day of their Dhamma yatra by hoisting their flag near the stupa at Sankisa which eventually resulted in the breaking of a kalash of the Mata Bisari Devi temple; which then resulted in stone pelting between the two groups.
May 23: A communal clash took place at the Nava Bandar village, at Una taluka of Gir Somnath, Gujarat as there was an altercation over collision of two fishing boats at a jetty in the village. The situation escalated and the mob grew to 2,000 persons. Members of the two communities allegedly hit each other with sticks, swords, iron and plastic pipes, and also hurled stones and empty glass bottles. It was reported that even the police were attacked by the crowds when they attempted to intervene.
Incitement through Hate Speech
November 24: An aspiring Hindutva leader Rajeev Brahmarshi announced on his Facebook page that "Weapons will reach every corner of #Hindustan," claiming that he had started the supply in November for Bengaluru. "I have started sending weapons to every house of my Hindu brothers in every corner of the whole of India. There is a weapon in the hands of my deities, keep weapons in the temples," claims Rajeev Brahmarshi. He claims to be leading an organisation named 'Hindu Putra Sangathan'.
Targeting places of worship
November 23: A young man, Jeet Vashisht, Claiming to be a member of Bajrang Dal leads Hindutva mobs that vandalised an Islamic shrine in Ballabgarh and set its books, drapes, amulets and other items they found ablaze. He puts up videos of these acts. In the videos Vashishth has recorded, he and his 'colleagues' are heard saying that there was 'magic' being performed at the mazaar, and 'sex medicines' that allegedly render 'Hindu men impotent' were kept. The two onlookers they asked denied seeing any 'evil' activities that the Hindutva group accuses Muslims of conducting at the shrine.
October 22: Right-wing mobs reportedly vandalised as many as six mosques in Tripura, claiming it to be retaliation for the anti-Hindu violence in Bangladesh. Reportedly, over a dozen of houses and shops belonging to Muslims were vandalised by Hindutva groups like Rashtriya Swayamsevak Sangh (RSS), Vishwa Hindu Parishad (VHP) and Bajrang Dal across Tripura which then led to imposition of section 144 across the state. Mosques in Krishnagar, Dharmanagar, Panisagar, Chandrapur were allegedly also been attacked and desecrated. The Tripura High Court also took note of the violence and directed the government to file affidavits dealing with preventive measures they had taken.
October 19: Men belonging to Bajrang Dal and Vishwa Hindu Parishad (VHP) sat down and sang Hindu bhajans in Bairidevarkoppa Church in Hubli, Karnataka, and alleged that the church authorities were "conducting forced religious conversions". They sat at the back of the church, without masks and repeatedly chanted "Sri Ram jai Ram jai jai Ram".
October 14: Reportedly, Roza Rozi dargah, a 15th century Sojali monument along the banks of Vatrak river in Kheda district was desecrated by lighting lamps in the Dargah. A group allegedly belonging to Bajrang Dal people "lit lamps in the Dargah" and "worshiped with idols" and even young boys are seen in the video dancing in the courtyard outside the main structure, stated social media users. Some alleged that there were police personnel present but did not intervene.
October 5: A Muslim dargah named Hazrat Bheda Peer Dargah Sharif, was reportedly vandalized in Neemuch district of Madhya Pradesh by around two dozen masked men belonging to a Hindutva group. The attackers used explosives, damaging the structure, and also injured its caretaker, Khadim Noor Shah. The shrine was partially damaged in the attack. Reportedly, the mobsters "left a pamphlet that threatens to kill nearby Muslims" if the tomb is rebuilt.
May 22: Gareeb Nawaz Masjid that had existed peacefully in Ram Sanehi Ghat, a city in Barabanki, in Uttar Pradesh was demolished by the district administration in violation of a High Court order that had said no action was to be taken till the end of May. While the district administration continues to maintain that the mosque was an "illegal construction", it is on the records of the Sunni Central Waqf Board documents as 'Tehsil Masjid' for the last six decades.
Threats
Early November: A video went viral of a man named Naresh Kumar Suryavanshi, who was seen threatening a Muslim biryani seller in Delhi's Sant Nagar area. He threatened the shopkeeper for opening his biryani shop on Diwali. The accused reportedly introduced himself as Naresh Kumar Suryavanshi, and said he was a member of the right-wing organisation, Bajrang Dal. He reportedly told the workers of the shop that "Sant Nagar is a Hindu area" and goes on to threaten them from opening the shop on "any Hindu festival" else he will "set the shop on fire." As expected, the scared workers shut the biryani shop down. The video was purportedly shot on November 4.
November 2: In Aligarh, a Muslim vendor, Mohammad Amir, was allegedly attacked and forced to chant "Jai Sri Ram" by a father and son duo. According to a report in The Telegraph the victim's relatives said the accused have "had a history of intimidating members of the minority community" in the area. The victim is a resident of Silla while the accused live in adjoining Nangla Khem in Harduaganj in Aligarh.
October 26: A clip was shared on social media of a Hindutva mob, in Anand, Gujarat, raising slogans calling for an attack on Muslims and calling them traitors. The Hindutva mob, that includes women, can be seen and heard shouting slogans and posing for photos for cameras outside what is reportedly a Muslim-owned business. They are also threatening Muslims with slogans such as, "If you want to stay in India, you will have to say Jai Sri Ram."
October 25: A group of right-wingers arrived at a Catholic school in Madhya Pradesh, demanding the school install an idol of goddess Saraswati on the campus. Over 30 people claiming to be from the Vishwa Hindu Parishad and Bajrang Dal demanded that Father Augustine Chittuparambil, manager of Christ Jyoti Senior Secondary School in Satna district headquarters, accept their memorandum and act as instructed. The group claimed that the school was built "where the idol of goddess Saraswati existed."
October 18: It was reported that a group of goons forced a young woman to remove her Burqa, in Islam Nagar, Bhopal, Madhya Pradesh. The group believed that the man she was riding with was a Hindu. The video shows some people standing near the man and woman, forcing the woman to remove her burqa. One gang member said, "Aap burqa utariye, aap humari qom ko badnaam karr rahe hai" (Remove your burqa, you are bringing disrepute to our community).
October 14: Yati Narsinghanand "caught" a 10 year old Muslim boy and intimidated him in the Dasna temple premises in UP. The minor boy had landed in the premises accidentally. Yati handed him over to the police. The boy told police that he had come to the area to visit his pregnant sister-in-law admitted to the community health centre (CHC) adjacent to the temple. Yati released a video in which he claimed, "Ye hamle ki tayari hai (this is in preparation of an attack)". He further claims that the minor boy came to the temple to conduct a "recce" and states that "nobody has slapped the boy or anything".
October 5: A mob of nearly 3,000 people, reportedly led by Hindutva outfits, marched the streets of Kawardha town in Chhattisgarh's Kabirdham district, wielding swords and lathis. The mob also allegedly, attacked houses and vehicles of people from "another community" and pelted stones on police personnel. Social media showed that the 'other community' under attack were Muslims. Curfew was then imposed in the town.
September 17: A Muslim woman and a Hindu man who were riding together on a bike were allegedly assaulted and harassed by two men in Bengaluru, Karnataka. The Hindu man was merely dropping off his Muslim colleague to her home when they were stopped by two men and questioned the woman why she was traveling with a Hindu man in "the kind of times we live in".
August 11: Unknown goons from an extremist right-wing outfit, Kranti Sena, were allegedly seen conducting a "checking drive" in Muzaffarnagar, UP and appealed to people to not allow Muslim men to apply mehendi on the hands of Hindu women as they indulge in 'love jihad'.
Individual attacks
December 13: Rahul Khan, a Muslim resident of Rasoolpur village in Haryana's Palwal was hacked to death by his 'friends' Kalua,Vishal, Akash and some others. They came to Khan's home at Rasoolpur on December 13 and took him out 'demanding a treat' from him. The next day on 14 December, Akram, Rahul's brother-in-law, received a call from Kalua informing him that Khan met with an accident. Khan died on December 15 and a few days later, police arrested Vishal and Akash, and another man. "In the video, the attackers can be heard saying 'Hum Hindu Hain Hindu, Tu Mulla Hai Mulla," while attacking Khan mercilessly. "They hacked him with an axe… they were his friends once," Akram recalled.
October 20: Madhu Sharma, 'national religion incharge' of a right-wing outfit called the Rudrasena was seeing assaulting a Muslim man in a crowded train. "We will kill you next time you touch a Hindu woman," screamed the woman and nobody in the train intervened as the victim kept begging his innocence saying "Maine to dekha bhi nahi (I didn't even look)". Meanwhile, the woman screams, "I will kill you. Touch my feet," as she continues to slap him. The video was proudly shared by many on social media. In her Facebook bio, she claims to be a Bharatiya Janata Party (BJP) worker and has been associated with many right wing outfits such as the Karni Sena.
August 15: Three people allegedly intimidated and physically assaulted a Muslim man who attempted to celebrate Independence Day in Bagpat's Ranchad village in UP. The accused also tore apart the tricolour the man was trying to hoist during the incident and issued him death threats.
March 25: One Ajay Goswami was arrested by the police for assaulting a Muslim man and forcing him to chant Pakistan Murdabad (down with Pakistan) slogans in Khajuri Khas area of North East Delhi. After the gruesome video went viral on social media, the North East Delhi Police took cognisance of the matter.
March 13: One Shringi Yadav was arrested by Ghaziabad Police in March for assaulting a minor Muslim boy as he entered Dasna temple in UP in search for water. Yadav was shot on video as he kept slapping the boy, twisted his arm and dropped him to ground and started kicking him all over. The boy in a muffled voice kept pleading "paani peene aaye the uncle".
Attacks on Inter-Faith Marriages
September 28: In a case of inter-faith love affair gone awry, the parents of a Hindu girl who fell in love with a Muslim boy, reportedly hired a hitman from the right-wing outfit Sri Rama Sena Hindustan to kill 24-year-old Arbaz Aftab Mullah. The young man's body was found decapitated on the railway tracks in Belagavi, Karnataka on September 28. The police confirmed that their investigations showed that the girlfriend's family hired Pundalik Mutgekar for Rs 5 lakh to kill Arbaaz due to his interfaith relationship with their daughter, which was public knowledge in Khanapur for the past year.
September 16: Karnataka based Hindutva group Hindu Jagarana Vedike assaulted and manhandled a Muslim journalist who had gone to cover a protest organised by the group. The Hindu Jagarana Vedike members had given a call to protest "the demolition of temples, especially the Adishakti Mahadevamma temple at Huchgani village in Nanjangud taluk." However, they turned on and assaulted journalist Mohammed Safdar Kaiser, the chief editor of Urdu daily, The Daily Kausar who was recording the "confrontation of MLA SA Ramadas by the protesters". A week prior, the Hindu Jagarana Vedike reportedly, raided the Karkala Pragathi church in Udupi, alleging that the priests are involved in a conversion racket.
Attacks on Christians
Mob attacks
December 25: A Christmas celebration was disrupted in Kurukshetra, Haryana when right-wing zealots who while shouting slogans of 'Jai Shri Ram' took over. They entered the venue and made their way to the state, and started playing Hanuman Chalisa on loudspeakers, even as hapless local Christians looked on in shock and disbelief.
December 25: A group claiming to be members of the Bajrang Dal "stopped Hindus from celebrating Christmas" in Assam's Silchar. They reportedly also manhandled non-Christian revellers at the town's Presbyterian Church near the Cachar district police headquarters, according to news reports. A man named Rangirkhari claiming to be local leader of Bajrang Dal said they have nothing against Christians but Hindus cannot go against their dharma "to sing Merry Christmas instead of observing 'Tulsi Divas'."
December 24: Effigies of Santa Claus were burnt near St John's College in Agra, Uttar Pradesh by a mob reportedly comprising members of the Rashtriya Bajrang Dal. They set the effigy of Santa Claus ablaze while shouting "Santa Claus Murdabad", and claimed this was a protest against "using the ruse of Santa Claus during Christmas." They claimed "using the ruse of Santa Claus during Christmas" was an alleged attempt to convert Hindus.
December 24: In Chandmari district of Varanasi, Uttar Pradesh, a right-wing group carrying saffron flags raised the "Jai Shri Ram" slogan outside the Matridham Ashram just before a Christmas event was due to take place. The group also chanted 'Dharmantran band karo' (stop conversion), 'Church murdabad' (death to the church) and 'Isai missionariyo hosh mein ao' (Christian missionaries come to your senses) as seen in the video shared on social media by Dr Anoop Shramik, a Dalit rights activist. The mob also blocked the road for about half an hour.
December 24: Christmas celebrations at a school in Karnataka's Mandya district were interrupted by a right-wing group who forced their way in and threatened the school authorities
December 23: A group of men reportedly led by Narendra Singh Pahari, who had contested assembly elections from the Pataudi constituency, Haryana as an independent candidate, barged into a private school and disrupted their Christmas carnival. This incident took place at a Christmas carnival at Narhera village in Gurugram's Pataudi town, organised by a group called House Hope Gurugram. They chanted "Jai Shri Ram (long live Lord Ram)" and "Bharat Mata Ki Jai (hail mother India)" and reportedly warned the students and staff saying, "Christianity is not acceptable here."
December 13: Ahead of a sitting of the winter session of the Karnataka state Assembly, there were incidents of targeted acts against Christians in the state. In mid-December, a group of right-wing miscreants set Christian religious books ablaze in Kolar, while in Belagavi, a man entered a church armed with a machete. In Kolar, when a group of local Christians were going door-to-door as part of a preaching drive in Srinivasapura in Kolar district on Saturday, some members of right-wing groups set Christian religious books ablaze. The right-wing group was alleging conversions by the church.
December 6: A mob swearing allegiance to the Bajrang Dal, barged into the St Joseph School in Ganj Basoda town of Vidisha district, around 105 km from Bhopal in Madhya Pradesh pelted stones at the school building claiming religious conversion of students. The dangerous violence took place while the students of Class 12 were sitting for a mathematics exam, reported NDTV. Luckily the children were not hurt and had a narrow escape along with the school staff.
November 28: During Sunday prayers members claiming to be from the Bajrang Dal gathered as a mob chanting 'Desh ke gaddaron ko, goli maro s***on ko (shoot the traitors)' outside a Church in Matiala village, in the Dwarka area of West Delhi. When church members went to lodge a complaint, they were asked by the police to wait until 6 P.M. However around 6 P.M, Hindutva group members returned to the Church and "started abusing" the worshipers and while they headed to the police station for the second time some alleged Bajrang Dal members attacked their cars. While no one was hurt the car windows were broken.
November-end: In Belur, Hassan district, Karnataka, a group of men claiming to be members of the Bajrang Dal disrupted worship at a Christian prayer hall, as seen in a video that went viral on social media. They reportedly stopped the Sunday worship service mid-way and forced people out of the prayer hall. According to news reports, the Belgavi Police had issued a 'friendly warning' telling Christians to avoid prayer meetings, for fear of being attacked by right-wing groups.
November-end: In another incident, Men belonging to Bajrang Dal and Vishwa Hindu Parishad (VHP) sat down and sang Hindu bhajans in the Bairidevarkoppa church in Hubli, and alleged that the church authorities were "conducting forced religious conversions". The group of men all belonging to right wing groups, allegedly forced their way into the church on a Sunday morning. They sat at the back of the church, without masks and sang a bhajan, rather repeating the chant "Sri Ram jai Ram jai jai Ram".
October 10: Sister Gracy Monteiro, a school principal, who belongs to the Mirpur Catholic Mission, her colleague Sister Roshni Minj, and their driver were attacked by a right-wing vigilante mob while boarding a bus to Varanasi from Mau, Uttar Pradesh. The mob was reportedly a part of Hindutva groups such as the Hindu Yuva Vahini. On the same day a prayer service was disrupted by a Hindutva mob, some of whom claimed to be activists of Bajrang Dal as well as Hindu Yuva Vahini. They forced the Christian worshipers, including the priest to the police station, accusing them of conversion.
March 19: When senior nuns and two young girls belong to the Sacred Heart Congregation (SH), Delhi were travelling to Odisha they encountered Hindutva goons in the train who started harassing them. They kept talking loudly in threatening tones and accusing the nuns of "converting" the young women and kept shouting 'Jai Sri Ram and Jai Hanuman'. The men then called the police and alleged they were forcibly converting young girls. When the train arrived at Jhansi railway station at 7:30 P.M, male police officers entered the train and asked the four nuns to evacuate the compartment. Weeks later, the harassers members of Akhil Bharatiya Vidyarthi Parishad (ABVP) and Bajrang Dal were arrested.
March 8: Eight Christians were injured and hospitalised in Dantewada district of Chhattisgarh, after being attacked by a mob of alleged Hindutva radicals. According to news reports, it was a mob of 30, allegedly led by a local radical leader named Ando Guddi. The mob claimed the Christians were involved in illegal religious conversions in an odd justification of their attack. The mob also, reportedly, burned a motorbike and several bicycles belonging to the Christians.
Individual attacks
December 12: A man armed with a machete reportedly entered a Karnataka church, and chased the priest in Belagavi. All this was recorded in the CCTV footage of the church's security cameras. It reportedly showed the man, with a machete in hand, following the church's in-charge Father Francis D'souza.
Attacks on place of worship
December 26: The life-size statue of Jesus Christ at the Holy Redeemer Church in the cantonment area in Haryana's Ambala was desecrated. According to The Hindu, the lighting inside the church premises was also "damaged by two unidentified men". A First Information Report (FIR) has been lodged on charges of trespass and defiling a place of worship.
December 23: The 160-year-old St Joseph's church was vandalised in Chikkaballapur district in southern Karnataka was broken into by vandals who destroyed the statue of St Anthony. The police have reportedly taken away the statue "for further investigation" and a first information report, has been registered. Father Jospeh Anthony Daniel, the priest in charge of the church, was quoted by NDTV saying that this kind of vandalism had never happened there before.
October 2-3: During the Gandhi Jayanti weekend, a church was attacked in Solanipuram Colony, Roorkee, Uttarakhand, where worshipers attending church-goers Sunday's congregational prayers were seriously injured when a right-wing mob that vandalised the Church. The mob alleged that "religious conversion" was taking place, before it launched its vicious attack. Multiple such incidents took place during that weekend. In Hoshangabad, Madhya Pradesh, Evangelist pastor Prerit and his Church were attacked allegedly by a right wing, which came to disrupt their Sunday worship. In Mahasamund, Chhattisgarh, a group of villagers entered a house church and allegedly vandalised it and "slapped a 12-year-old boy" who was praying inside the church.
July 12: South Delhi district administration razed a church in south Delhi's Chattarpur area on July 12. The claim is that the church was built upon "encroached" land and was razed during a demolition drive. Father Jose Kannumkuzhy, the parish priest of the church said it was "operating from a temporary structure," which was suddenly demolished. The demolition squad arrived with police protection and tore the structure down, the priests did not even get time to gather the religious articles used in worship. It is claimed that John Philipose, an acclaimed museologist, and interior designer had donated this plot of land to the church over a decade ago. Father Hose claims that there is a stay order from the National Human Rights Commission that this place of worship should not be demolished.
Institutions under scanner
November 8: The National Commission for Protection of Child Rights (NCPCR) team, led by its chairman Priyank Kanoongo, conducted a surprise inspection on November 8 at a girls' hostel at Kheri village in Raisen district, located around 50 kms northeast of Bhopal, Madhya Pradesh citing allegations of religious conversion. The nuns who run the hostel provide support, lodging and food to the girls. One of the nuns said that the girl children living there come from remote areas where they do not have easy access to schools. They all study at a government school nearby. The NCPCR team led by Kanoongo, then sat and counted the Bibles etc. they found, which the nun said belonged to the Christian students. "No one is forced to read the Bible here," said Sr Alice. However, Kanoongo has alleged the hostel is promoting religious conversion and is illegal as it is not registered.
August 29: NCPCR chairman Priyank Kanoongo, visited the Missionaries of Charity Ashram in Makarpura, Vadodara. He reportedly found a few 'anomalies' and wrote to the Collector to take action. Following this, the administration's social welfare department, local police etc. made enquiries and found no problems in the running of the institution. Yet, an FIR was lodged against the Ashram under the Gujarat Freedom of Religion Act, 2003 for allegedly "hurting Hindu religious sentiments" and "luring towards Christianity young girls" in the shelter home. The FIR quoted by Indian Express stated, that the girls inside the Home for Girls are being lured to adopt Christianity by making them wear the cross around their neck and also placing the Bible on the table of the storeroom used by the girls and that it is an attempted crime to force religious conversion upon the girls."
Conclusion
These incidents with a communal and racist colour, not only take India back by decades, but in effect move it closer to a functioning informally as a majoritarian, theocratic state. These forces of the extreme right, in and out of government thrive on a culture of impunity allowed by the government in power. For over 75 years now, as an independent nation and for thousands of years before that, India and South Asia has been evidence of a unique experiment in lived diversity.
These hate crimes are targeted and lead to violence. The "mainstream" media needs to call them out and authorities need to investigate and prosecute these swiftly. The extent and impact of these attacks carried out basis religious identities of people poses a threat to the secular character of Indian democracy, corrodes institutions who are mandated to be non-partisan. Hate speech and Hate crimes pose a very real threat to the lives, dignity and livelihood of millions of Indians and as seriously, detrimentally impact India's functioning as a secular, democratic republic.
Related:
Had a happy Christmas weekend? Have a look at how communal mobs celebrated theirs
Over 300 attacks on Christians reported this year, over 2000 women, Adivasis and Dalits injured
Gurgaon Namaz Disruption: Why are Liberal Hindus Silent?
Targeting Christian community not a new phenomenon in Karnataka: PUCL report
Hate Watch: Did VHP head call Indian Muslims "4th stage cancer"?