A few months ago, I Went to watch "2034", an excellent play (in Bengali) by Kalyani Mukhosh at the Academy of Fine Arts, Kolkata, one of the best theatre halls in India. Kalyani Mukhosh is a theatre group run mainly by a bunch of scientists, who had formed this group (and initially named it "Mukhosh", which means mask) decades ago in the prestigious platform of Indian Institute of Science Bangalore during their PhD days.  Science and scientific temper are, therefore, important components of their work, and 2034 is no exception.
The script is an adaptation of "Manikanchon", a one-act play by the famous dramatist and theatre director Badal Sarkar, who had written it during a crucial juncture of Indian history – the pre-emergency period.
2034 is a futuristic dystopian drama in which magic plays a prominent role.
Moinak (played by Siddhartha Ghosh) and Niharika (played by Anindita Bhadra) are a world-renowned magician couple, who are famous for a fantastic thought-reading act which Niharika performs live on stage. The play starts with this act in the form of a direct interaction with the audience, enacted beautifully, and then proceeds with the happenings thereafter at a deliberately slow pace. When the magicians, along with their children (played by Rupkatha Bhadra and Ujaan Banerjee), were analysing the day's performance, Mr. Agarwal (played by Ayan Banerjee), the owner of the auditorium, comes in and announces that Mr. Narottam Mallik, the right-hand man of the Chief of the State, would like to meet them.
Moinak and Niharika are then subjected to a discourse with Mr. Mallik (played by Suman Chakrabarty) who is eager to judge Niharika's abilities on his own terms, since he thinks that these abilities would be useful to the Chief and hence to the State.  Thus commences Niharika's test. Would she be able to read the mind of Mr. Mallik? Would the magicians be able to convince him of their usefulness? The play twists and turns unpredictably making the story even more exciting and enjoyable leading to an optimistic conclusion through a powerful message – the good things will go on in spite of the endlessly negative efforts of the oppressors.
Manikanchon, the original play, was written by Badal Sarkar during the pre-emergency period keeping in mind the repressive, Maintenance of Internal Security Act (MISA), a controversial law passed by the Indian parliament in 1971 giving the Indian law enforcement agencies very broad powers – indefinite preventive detention of individuals, search and seizure of property without warrants, and wiretapping. The law was amended several times during the subsequently declared national emergency (1975–1977), the dark 21-month period of Indian history, and used for quelling political dissent.
In this particular adaptation, however, the script (by Ayan Banerjee) went beyond the original and reached novel heights. It revolved around arguably a darker period – India's current and allegedly undeclared emergency, and perhaps its gloomier future, when curbing protests is expected to rise to a newer level.  Although the performers call it a futuristic play, I could hear someone from the audience remarking "instead of 2034, it could very well be 2024 or even 2019!" just after the drama had ended confirming the age-old belief of theatre is an important reflection of the past, present and future of society.
Of course, the year 2034 (=1984+50) marks half a century beyond 1984, the dystopian fiction novel and cautionary tale written by world-renowned English writer, George Orwell.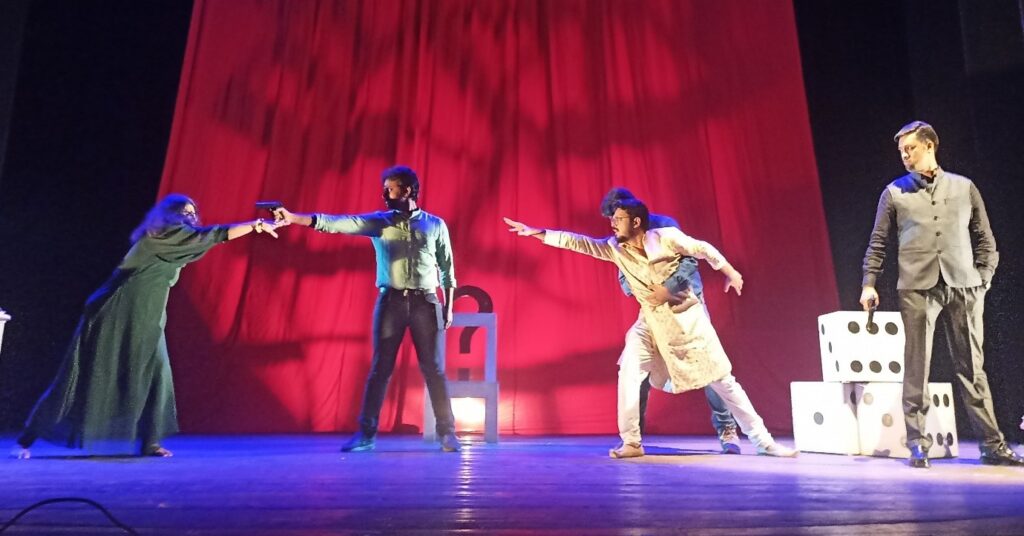 A lot of credit goes to the amazing acting of the main actors (Siddhartha Ghosh, Anindita Bhadra, Rupkatha Bhadra, Ujaan Banerjee, Ayan Banerjee, Suman Chakrabarty, following the order of appearance), who mesmerised us through sublime stage-work. Gouri Sankar Panda, a veteran actor, lent his voice, rather superbly, as the Chief of the State in a telephone call with Mr. Mallik towards the end. Excellent direction of Ayan Banerjee, a physicist by profession, deserves special mention too. Apart from these, melodious music (by Ayan Banerjee and Susnata Karmakar), light design (by Sudip Sanyal), art design (by Saumik-Piyali), sound execution (by Kalyan Sarkar), video design (by Aranya Banerjee and Anandarup Bhadra) and set execution (by Madan) also contributed significantly to this remarkable theatrical performance.
There are scopes of improvement, though, for some of the other actors, whose voices were unclear in spite of the amazing acoustics of the Academy of Fine Arts. There were moments where dialogues should have waited for the applause to end. There are minor opportunities for enhancement of the script – the world-famous journalistic sentence "Nation wants to Know" can be added, for example, in one or two appropriate places.  The pace too could have been tad faster in the beginning and slightly slower towards the end.
We need more productions like 2034, which will have the honesty and courage to criticize the suppression of dissent, and condemn the malicious intent of many, including that of media and social media controlled, in many cases, by divisive leaders with selfish political agenda. Expression of protests and political discourse against the oppressors cannot limit themselves to a particular form – use of strong mediums such as songs, poetry, paintings, plays, etc. have historically been significant, especially during authoritarian regimes. Much to our dismay, today is no exception, and plays like 2034 provide a platform for common people to identify the crisis and build an opinion about it. Do we really have to wait eleven years for this story to unfold upon us? Will this drama actually become a reality in the years to come?
Only time can and will answer these important questions. Irrespective of the answers, the magical effect of this drama will remain in my heart forever.
(Parthanil Roy is a professor at the Indian Statistical Institute Bangalore Centre. This article is based on the author's personal experience and opinion)

Related:
Why academicians need to be more vocal than before
Skewed: A Personal View -A mathematician reflects on the powerful drama with his 11 year old son
Parenting in an Age of Unreason