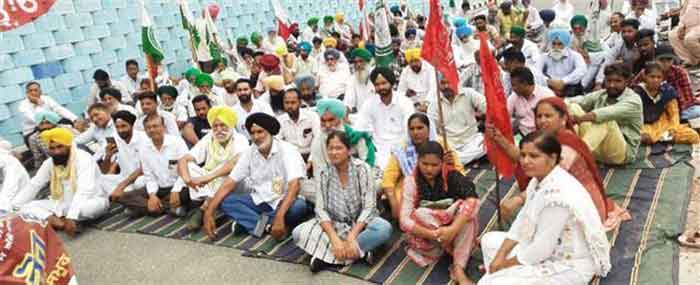 A most unwarranted ban on democratic protests was imposed through enforcement of section 144 in Sangrur-Patiala,by the administration. Valiantly 22 organisations organised a joint protest, defying the ban unflinchingly., embarrassing the rulers. It spoke volumes of the death defying spirit of the activists. At night the peaceful protestors were forced to disembark by the cops with the administration tightening it's noose.DSP Jitendra Jorwal led this action and demanded an inquiry into the violation of the ban by the protestors. Around 4000 persons gathered. It could not have been undertaken on a more appropriate day, being that of Shaheed Bhagat Singh's 115th birthday.
Swaranjeet Singh of Association for Democratic Rights spoke about how through such actions and laws the rulers wished to give a crippling blow to any democratic resistance. He summarized how the Aam Admi party betrayed it's promises to the people.
The contingent first assembled at the bypass in Patiala under the overbridge and then staged a rally. Later when marching towards the Chief Minister's house they were obstructed by the police.
Raghuvir Singh of Democratic Teachers Front adressed the rally on how for the first time people were debarred from staging a people's protest and how the state was intensifying its curbing of democratic rights.
The speakers described how the protest was terminated through police onslaught and arrests, who set participants free, 90 km from venue. The police had not returned their utensils tents and other belongings.
A meeting has been arranged on October 6th with the administration.
Speakers included Happi Shero of BKU(grahan) Pargat Singh Kalajhar, of Krantikari Pendu Mazdoor Union, Karam Singh of of BKU(Dakaunda) Dharampal of Pendu Mazdoor Union ,Nirmal singh of Punjab Khet Mazdoor Union ,Master Paramdev of Tarksheel society, Kuldip Singh of Kirti Kisan Union, Harjeet Wallia of Technical and medical workers Union , Ramandeep Kalajhar of Punjab Students Union (Shaheed Randhawa) Sukhdeep Hathan of Punjab Students Union of Zameen Prapt Sangharsh Commitee ,Gurvinder Singh of Democratic Students Organization,BIkkar Singh Hathua of Zameen Prapt Sangarsh Committee, Navjeet Singh of All India Bharat Naujwan Sabha ,of Nuajwan Bharat Sabha
Significant that such broad range of democratic forces were participants. They resurrected the indomitable and relentless spirit of martyr Bhagat Singh on his birthday.
It is an abject testimony or illustrative of how the democratic organizations have sent shivers down the spine of the ruling classes and how in essence only the interests of the propertied classes. are protected. A strong civil liberties movement is imperative to preserve any remnants of real democratic rights. Democratic forces have to fortified for what is to come.with autocracy of rulers intensifying day by day.
Harsh Thakor is freelance journalist who has covered mass movements all around India and frequently toured Punjab.
Courtesy: https://countercurrents.org