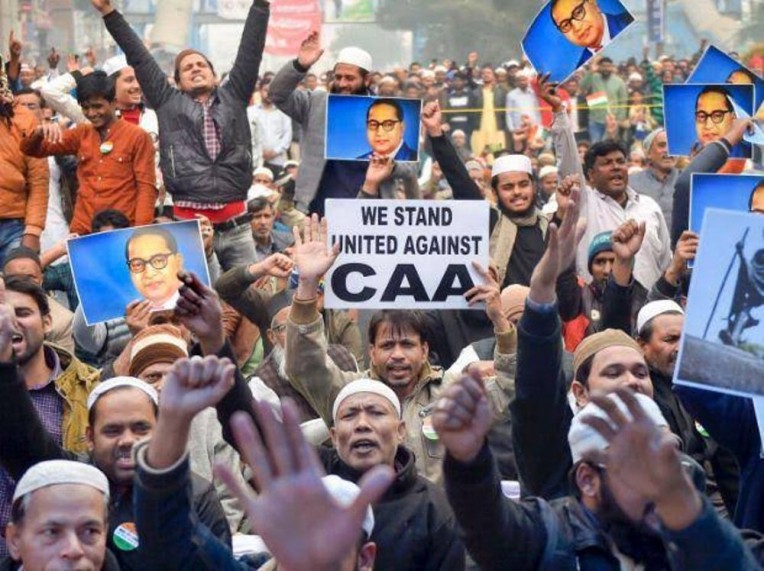 After the violent attack on students of Jawaharlal Nehru University (JNU) on January 5, 2020, protests took place across the country. In Mumbai, two key protests took place; one at Hutatma Chowk and another at Gateway of India. However, what happened afterwards was even more disturbing.
Together, three police stations; MRA Marg, Colaba and Tardeo, have issued notices under sections 107 (security for keeping the peace) and 110 (security for good behaviour from habitual offenders). As per the terms of the bond, if these people engage in any act that threatens law and order, it would lead to not only confiscation of the surety amount, but also externment from the city!
This effectively discourages them from being part of peaceful protests in future, and thus a violation of the rights to freedom of speech and expression and the right to protest.
Such notices have reportedly been served to as many as 25 people including college students, cultural activists and human rights defenders. The most shocking case was that of Suvarna Salve, a college student and cultural activist who is a part of Samta Kala Manch, who was asked to sign a bond for Rs 50 lakh! Salve had participated in the 'Occupy Gateway' protest demanding justice for students who were injured in the attack that took place at the Jawaharlal Nehru University (JNU) the previous day. In February, Salve was arrested along with 30 others, but later let off on bail.
Then she was served the following notice on August 24. It seeks an explanation as to why Salve a proceeding should not be initiated against her under Section 110 (e) of the CrPC. The notice also requires at least one of two persons to appear as a "surety", pledging an amount of Rs 50 lakh, ensuring her good behaviour for the next two years. If she fails, the amount or the property would be confiscated by the state.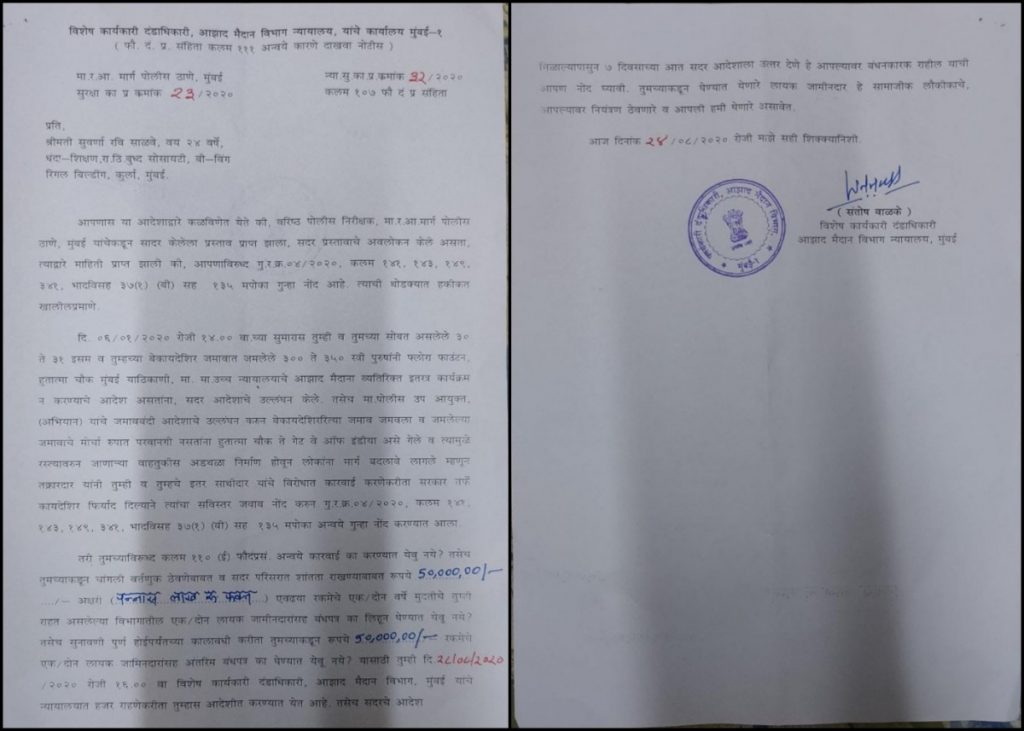 Image courtesy The Wire
Others have been asked to post surety upwards of Rs 1 lakh.
Speaking to SabrangIndia, earlier in September when he was served notice, Firoze Mithiborewala had said, "I'm to fill out a bond and stay out of protests. In case of violation, then will be sent outside city as a tadipaar."
He has now been summoned by the Colaba police to accept his notice on Thursday and according to Mumbai Mirror his hearing will commence before an Assistant Commissioner of Police on October 29.
However, legal experts find 'chapter proceedings' against peaceful protesters to be a bit of an overkill. Advocate Ishrat Khan who is representing 13 of the 25 people who have been served such notices, told Mumbai Mirror, "Chapter proceedings are meant for hardened criminals, not these protesters." They are planning to challenge the notices in court.
The JNU violence protest case
On January 5, 2020, a group of masked goons had entered the JNU campus unleashing terror on students and teachers alike, wielding iron rods and sledgehammers, damaging property and brutally injuring many in the campus.
Following this, at the press conference held at his residence Matoshree, Thackeray said, "When I saw the news of JNU attack on TV, it reminded me of the 26/11 Mumbai terror attacks." Saying that students feel "unsafe" in the country, he said, "I will not allow anything like JNU to happen in Maharashtra."
If the Chief Minister himself was so disturbed by the violence at JNU,why is it then that when students and activists protested the violence by holding demonstrations at Hutatma Chowk and Gateway of India, FIRs were registered against them? Why were they asked to sign bonds and provide sureties for exorbitant amounts? 'Law and order' is a state subject, and therefore controlled by the state government. Ball is in your court, Mr. Thackeray.
Related: