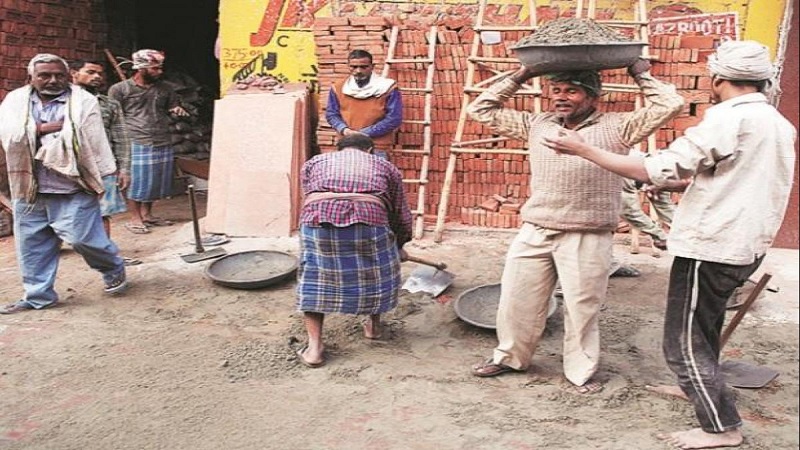 Image Courtesy:business-standard.com
Acknowledging that labourers reported mental exploitation and harassment at the hands of operators of many companies situated in Sandeela Industrial area of Misrikh, Uttar Pradesh, the Ministry of Labour and Employment listed down online complaints received by the State government.
Minister of Labour and Employment Santosh Kumar Gangwar said that the Ministry had received a complaint letter from Member of Parliament Ashok Kumar Rawat – who posed these questions during the Parliament session – regarding this gross violation of Labour Laws. Rawat's letter dated August 13 2020, talked about the troubles faced by workers of Saf Yeast Company and demanded appropriate action from the Ministry.
Accordingly, the Gangwar said, "The matter was examined and referred to concerned authorities for necessary action and reports were also called for. In turn, the Government of Uttar Pradesh, which is the appropriate Government, sent an action taken report.
Similarly, Member of Parliament Vijay Kumar asked Gangwar whether the Government had changed minimum wages of workers engaged in the unorganised and agriculture sector. The Labour and Employment Minister said that the department had revised minimum rates of wages for employees engaged in Scheduled employment such as agriculture, sweeping, cleaning, construction mining, and loading and unloading of goods.
He gave an area-wise summary of wage revisions as listed below.
He added that Variable Dearness Allowance (V.D.A) that is revised every six months on the basis of Consumer Price Index. was last revised on April 1.
When asked about ways of ensuring that minimum wages are paid to the labourers/workers, Gangwar said, "Under Minimum Wages Act, 1948, the enforcement is secured at two levels. In the Central Sphere the enforcement is secured through the Inspecting Officers of the Chief Labour Commissioner (Central) commonly designated as Central Industrial Relations Machinery (CIRM) and the compliance in the State Sphere is ensured through the State Enforcement Machinery. The designated inspecting officers conduct regular inspections and in the event of detection of any case of non-payment or underpayment of minimum wages, they direct the employers to make payment of the shortfall of wages. In case of non-compliance, penal provisions prescribed under Section 22 of the Minimum Wages Act are taken recourse to."
Lastly, the Labour Ministry was asked about any complaints regarding lapses in payment of minimum wages and corresponding Government action. To this the Minister said, that complaints of payment of less than minimum wages are received by the office of Chief Labour Commissioner.
"Their field offices from time to time and are redressed by inspections and filling of claims before the concerned authority as specified under the Minimum Wages Act, 1948," he said.
Related:
1 crore unemployed labourers in India: Ministry of Labour and Employment
Did Labour Ministry delete its paper on Gov't ban on asbestos mining and use?
SC directs employer-employee negotiation to resolve dispute on payment of full wages
Workers of Maddur's Shahi Exports Complain of Harassment, Walk Out of Factory in Protest