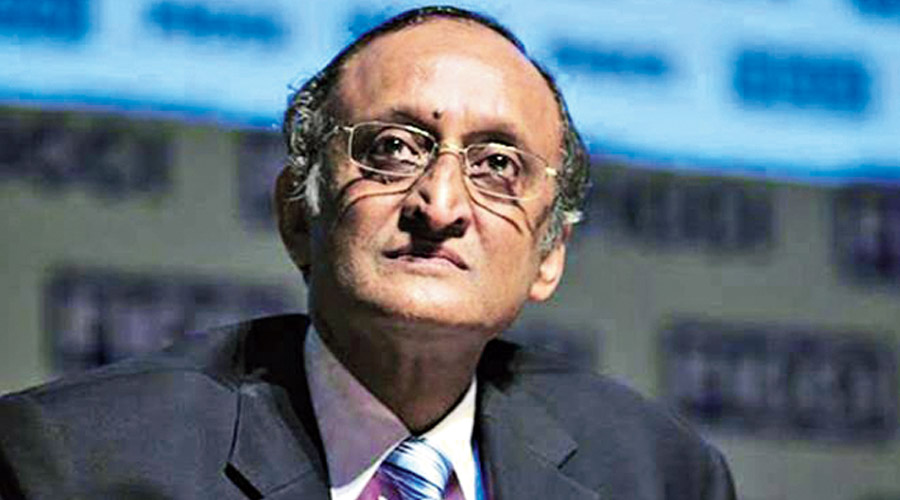 Amit Mitra Image: The Telegraph
West Bengal Finance Minister Amit Mitra claimed in a tweet on October 21, 2021 that 35,000 Indian entrepreneurs of high net worth left the country between 2014 and 2020. Demanding that Prime Minister Narendra Modi present a white paper before the Parliament regarding the massive "exodus" of Indian entrepreneurs, Mitra questioned whether the gradual trend was due to "fear psychosis."
Under Modi Govt 35,000 Indian Entrepreneurs of High Net Worth LEFT India between 2014-2020, as NRI/Immigrants. India RANKED No 1 IN EXODUS IN THE WORLD. ?. WHY? 'Fear psychosis'?? PM must place WHITE PAPER to Parliament on massive flight of Indian entrepreneurs during his Regime

— Dr Amit Mitra (@DrAmitMitra) October 21, 2021
Recall 19 minutes of TIRADE against Indian business by Piyush Goel, reportedly saying business practices of INDIAN INDUSTRY WENT AGAINST NATIONAL INTEREST – short of calling them ANTI-NATIONAL. Breeds 'fear psychosis', motivating EXODUS ? But,PM did not rebuke Goel. Why?

— Dr Amit Mitra (@DrAmitMitra) October 21, 2021
His comment referred to Union Commerce and Industry Minister Piyush Goyal's 19-minute monologue on August 12 at the annual meet of the Confederation of India Industry (CII). At the time, Goyal said that business practices of Indian industry went against national interests, particularly criticizing the Tata group.
According to The Hindu, his comments disconcerted industry leaders indicating a troubling lack of faith even though a day before Modi had assured industry of complete support and urged them to take more risks and invest in India. The meeting's video was eventually pulled down from the CII's YouTube channel.
Are Mitra's claims legitimate?
The Bengal Minister sourced his data from mainly two sources: the Morgan Stanley Bank and the Global Wealth Migration (GWM) Review reports containing 2019 and 2020 information.
The former reports showed that India lost 23,000 High Net Worth Individuals (HNWIs) or millionaires between 2014 and 2018. Among these millionaires, 7,000 individuals left in 2017 alone. In 2018, the company's head of emerging markets and chief global strategist Ruchir Sharma warned that this loss of 2.1 percent of India's rich was to be considered with care. He said the move could cost India the economic benefit of investments and consumption by the millionaires.
Yet the GWM 2019 data showed that it continued to lose 7,000 millionaires – two percent of India's total HNWIs. It came second only to China that lost 16,000 millionaires – two percent of its total HNWIs. The report said that the immigrations and emigration of the rich would drop in 2020 owing to the Covid-19 global pandemic.
"Some have put off moving till a later date, whilst others have cancelled their plans to move altogether. Going forward, travelling/migrating is likely to be more complicated due to ongoing quarantines and health checks in most counties," said the report.
Yet the outflow of India's wealthy continued. The most recent GWM report found that nearly 5,000 millionaires – two percent of the remaining HNWIs in India – moved abroad last year.
According to a BBC report in April, India's millionaires topped a list of people seeking to relocate abroad through visa programmes that offer citizenship or right of residence in other countries in return for investments. Those interviewed in the report offered two reasons for this move:
– the increasing tax raids in the country and
– the polarising political environment.
How does this affect India?
The India Wealth Report 2021 by the New World Wealth firm says that there are approximately 330,000 millionaires living in India, each with net assets of one million US dollars or more. Around 17 percent of this population invested in the diversified sector, 14 percent invested in the manufacturing sector and 13 percent invested in the basic materials sector.
It may be mentioned that other sectors like healthcare, media and FMCG have less than 10 percent HNWIs of India. The full report may be read here:
Around 47 percent of India's wealth is held by HNWIs, well above the global average of around 35 percent. The continuing exodus of the rich as pointed out by Mitra can negatively impact India's growth over the next decade.
Related:
Ethnicity and Migration: The Assam Story
Southern states suffered higher household indebtedness: Ind-Ra Report
FM on Petro Prices: What's the logic?
9 months of historic struggle, Punjab sugarcane farmers win demands