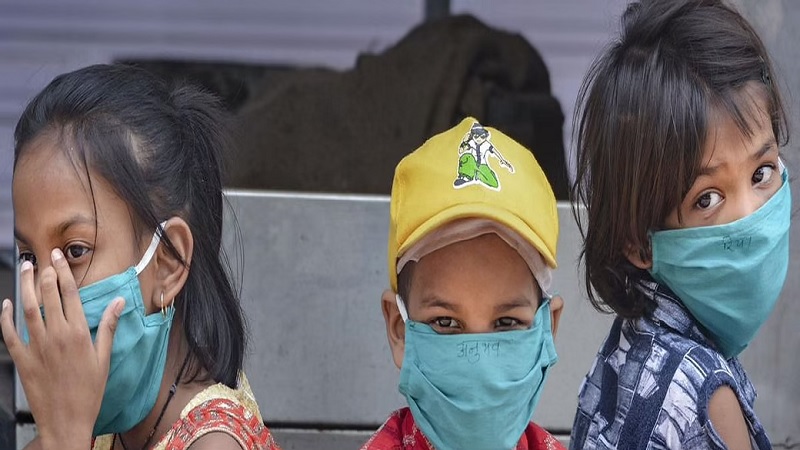 Image Courtesy:nationalheraldindia.com
India is all set to usher in a 'pandemic generation' with 375 million children suffering Covid-19's after-effects such as being under-weight, stunting, loss of education and work productivity, said the State of India's Environment 2021 report published by the Down To Earth magazine in association with Centre for Science and Environment (CSE). This population includes children upto 14 years and over 50 percent of the 500 million children across the globe who had to leave school.
Following the report's release on February 25, 2021, CSE Director General Sunita Narain said, "Covid-19 has made the world's poor poorer. The pandemic is a shock response to our dystopian relationship with nature. It has amplified the inequity and deep divisions in our world."
Narain said that places such as overcrowded settlements with no urban services like sanitation or water supply have become the most vulnerable to the disease. The report says that 115 million additional people globally may be pushed into extreme poverty by the pandemic, most likely from South Asia.
Specifically focusing on India, the report ranked the country at position 117 out of 192 nations in terms of sustainable development, placing it behind all South Asian nations except Pakistan. Within the country, Kerala, Himachal Pradesh, Andhra Pradesh, Tamil Nadu and Telangana were the best performing states working on 'Sustainable Development Goals.' On the other hand, Bihar, Jharkhand, Arunachal Pradesh, Meghalaya and Uttar Pradesh were listed as the worst performing states in this category.
During an online event for the report's release Pondy Citizen's Action Network's (PondyCAN) President Probir Banerjee asked officials to include union territories in the report especially following recent actions in the region to assign one pond to each neighboring school and encourage students to conserve local biodiversity.
Attendees applauded this regional effort especially considering that the CSE report stated that the problem of drinking water has long eluded households of rural India.
"11 past deadlines have been missed. The Jal Jeevan Mission's target to provide drinking water to all rural households by 2024 will need focus on making the water source sustainable; recharge of groundwater and rainwater harvesting will be critical," said the report.
On a positive note, the report also stated that an average 34 percent of MGNREGA funds have been spent on water-related works, leading to creation of almost 11 million assets in half a million villages, since 2014-15. At the same time, river water quality did not improve significantly during the lockdown. Five out of 19 major rivers, including Ganga river, ran dirtier during the Covid-19 period.
Applauding the detailed report, Prayas Senior Advisor Narendra Gupta from Rajasthan said the next challenge is to discuss these issues to communities whose lives are widely different from the kind of environment experts aspire for.
"We need to think how to showcase [these problems] to people and [explain] how it affects them on a daily basis. Our government gives very little opportunity for the grassroot level to do anything. This became even more pronounced during the pandemic when the Centre took all unrestricted powers in their hand. We need to change the system of governance," he said.
To Gupta's point, the environment report stated that out of 88 major industrial clusters in India, 35 clusters show overall environmental degradation, 33 clusters indicate worsening air quality, 45 clusters have water that is more polluted and 17 clusters have worsened land pollution.
The most polluted cluster was Tarapur in Maharashtra, as per the Central Pollution Control Board data. Development and environment journalist Atul Deolgaonkar from Maharashtra said that the zero water months during both rabi and kharif seasons have worsened conditions of state farmers. Around three farmer suicides are reported every day per day in the Marathwada area suggesting "agriculture injurious to health."
Building on this, Vettiver Collective member Nityanand Jayaraman said that this ecological catastrophe will continue unless politics and business is wedded to environmental sustainability. "Disha Ravi and others who speak for an environmentally sustainable future are brutalised. To save the environment we have to fight to keep hope for democracy," he said.
Further, social-environmental researcher Leo Saldanha voiced his concern about commodification of natural resources particularly in the farming sector. "This is the message from farmers that they can't take things lying down anymore. The report should also look at activists who are also suppressed while talking about these problems," said Saldanha.
Similarly, Society for Social Uplift Through Rural Action (SUTRA) Founder Subhash Mendhapurkar warned that incidents like Chamoli can happen again. "Hydropower projects are consented without considering ecological cost. We should also consider the gender impact of this as women are reported to have migrated to other areas," he said.
In fact, regarding biodiversity the report said over 11,000 forestland hectares were diverted in 22 states in 2019. Eight coal projects granted clearance in 'No-Go' areas will divert 19,614 ha of forestland, fell over 1 million trees, and evict over 10,000 families. Experts also refuted the claim that India's forest cover grew by 5,188 sq km since 2017 because the Forest Survey of India mistook "trees for forests" including orchards, plantations and even trees along highways as parts of forest and tree cover.
Moreover, India added 714 more tigers in the last four years but stated that the area occupied by tigers shrunk by over 17,000 sq km. Similarly, India's flora and fauna – 438 plant species (including food crops) and 889 vertebrates and invertebrates – is under threat.
In all 34,671 environmental crimes were registered in 2019, and 49,877 cases are pending trial. To clear the backlog in a year, courts need to dispose of 137 cases a day. As for air pollution, the CSE said it caused the death of 67 million Indians in 2019, with an economic cost of over US $36,000 million, equivalent to 1.36 percent of India's GDP.
"India desperately needs a vehicle scrappage policy. By 2025, we will have over 20 million vehicles nearing the end of their lives. These will add to the pollution and environmental damage," said the report.
Commenting on the report, Narain said that the answer to these problems in climate-risked times lies in differently done sewage treatment and mobility systems that will move people, not cars.
Related:
Uttarakhand lost over 50,000 hectares of forest land since 1991: MoEF data
Around 170 still missing in the tragedy in Uttarakhand's Chamoli
India drops two ranks in the Human Development Index
Gujarat's environmental group demands cancellation of GPCL's environmental clearance