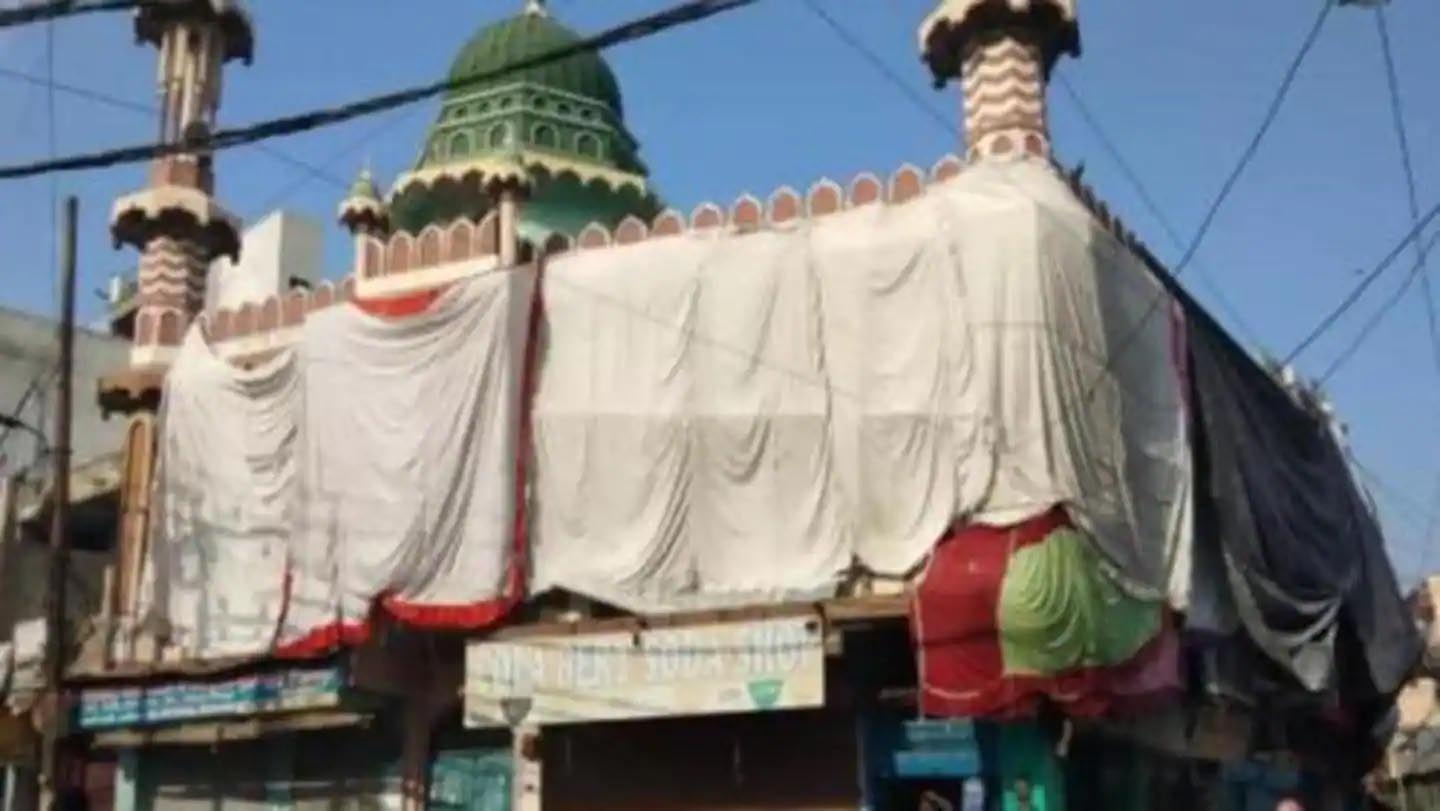 While Covid-19 cases continue to rise across the country, and many states have banned all public celebrations and large gatherings as Holi, Shab E Barat, and Easter in the coming days, Shahjahanpur, a town in Uttar Pradesh is busy covering its mosques in plastic sheets.
It may sound bizarre to some and progressive to some, as the local administration had said this is being done to 'maintain peace' ahead of Holi. According to news reports nearly 40 mosques in the town are being covered with plastic sheets "to prevent miscreants from throwing colour on the structures and disturb communal harmony," Indian Express quoted a senior official. Holi revelry, in Shahjahanpur is said to begin with re enacting an 18th century tradition, where people hurl footwear at a 'Laat Saab' procession featuring a buffalo cart and a hapless man personifying a Britisher, reported IE.
However, all the mosques located along the route of the procession, will come under "a thick security blanket" and it is reported that the law and order will be under the charge of 225 magistrates. Around 40 mosques along the procession route are being covered with plastic sheets to ensure people do not throw colour or any objectionable things at the structures and disturb communal amity. According to Shahjahanpur City SP, Sanjay Kumar told the media that the "mosques will be covered before Holika Dahan (March 28). Some of them have already been covered. Some of the roads, which fall on the route of the procession, have been barricaded and will be closed a day in advance."
However, some have commented that this reflected the fact that the situation on the ground was fragile.

This pretends to be a good work by the administration.
At the same time, it is clear that people on the ground have gone out of control… pic.twitter.com/FyxJN4Ekw5

— M R Shamshad (@MRShamshad) March 26, 2021
According to news reports the Uttar Pradesh government had also issued guidelines for celebrations in wake of the rising Covid-19 cases in the state. According to the guidelines issued by chief secretary RK Tiwari, certain permissions must be taken for any public function or procession on Holi. According to news reports, even after permission is granted for functions it is compulsory to "ensure that social distancing is maintained and other Covid-19 protocols are followed even after obtaining permission" according to the government directives which also advised people above 60 years, children below 10 years and those having comorbidities to remain indoors during the festival. It was reported that persons coming to UP from states that have a high virus load will have to undergo Covid-19 tests.
Incidentally, governments of states including Rajasthan, Karnataka, Haryana, besides a few other states have banned Holi celebrations as Covid-19 cases rise. Many states have asked that celebrations for Holi, Shab-e-Barat, Ugadi, Good Friday and other festivals take place indoors.
Related:
Mosque loudspeaker impedes yoga, puja, govt duties: UP Minister
Gyan Vapi case: New petition admitted, notice issued
Allahabad Univ VC can sleep better, Mosque reduces Azaan volume
Waseem Rizvi's Challenge an Opportunity for Ulema To Proclaim the Inapplicability of