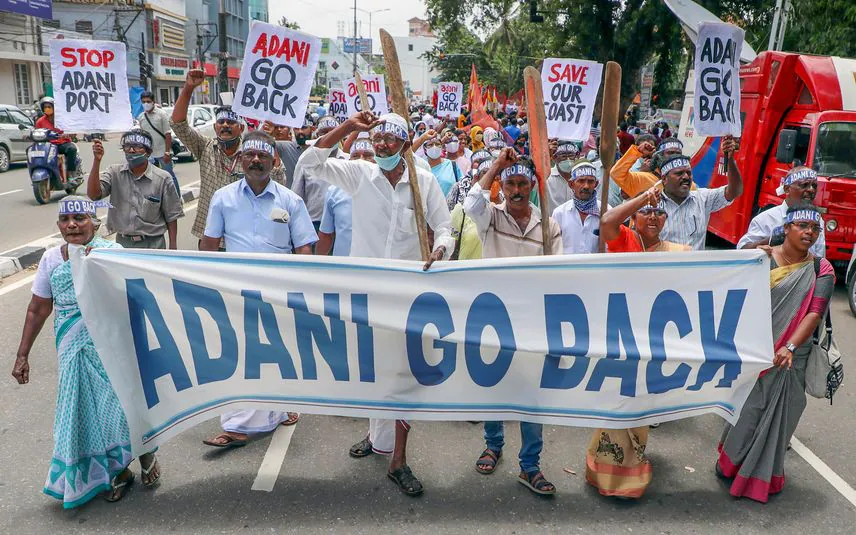 Representative Image | Photo: PTI
The coastal fishing community in and around Trivandrum, the capital of Kerala has been involved in a prolonged struggle against the construction of the ongoing International seaport which is being built at Vizhinjam by Adani ports. Protesters have alleged that the port has resulted in coastal erosion leading to the disappearance of coasts and the destruction of houses in the fishing villages. The dredging in the port will result in the loss of local fishing habitats leading to the destruction of the livelihood of thousands of fishing families and their displacement from the coasts.
In 2017, Sabrangindia had carried a detailed report on how this Adani-owned port is estimated to cost a huge loss to the public exchequer and go the way of the Vallarpadam Container Terminal, which was commissioned in 2011 at a huge public cost and is today running at a loss.
As the coastal community's sit-in protest continues against the distress caused by the Vizhinjam Adani port gathering solidarity and support at the state level, protesters have alleged that the corporate-backed media such as News 18, Janam TV, Desabhimani, Kerala Kaumudi are now resorting to blatant lies and misinformation against the protest and protesters. As a part of this concerted campaign, the statesment says that "attempts have been made to slander Ms Aleyama Vijayan who is the founder trustee of the feminist organisation Sakhi women's resource centre and has been working for women's empowerment for the past three decades, along with AJ Vijayan, who has been working as a trade unionist and researcher in the fisheries sector since 1980."
It has accused that Sakhi, a women's rights organisation based out of Thiruvananthapuram, which has no direct affiliations with the protest committee, is "receiving foreign contributions" for the protests. They have already issued a defamation suit against the media for spreading misinformation and rumours. Sigantories to this statement have said that the details on the Sakhi website show that all their activities are transparent. "We support this legal suit and wish this organisation to operate smoothly in the future," it adds.
The rest of the statement is reproduced here:
"The attempt to portray the struggle as a foreign conspiracy through funding is malicious and an insult to the fishing community who is fighting against the port and its sponsors.
"We request that all people who believe in democracy protest against this false propaganda. This slander campaign is done together with attempts by vested groups to create communal issues and problems of law and order on the coast, to divide the fishing and host communities in the name of religion. We urge the government, masses and civil society groups to positively intervene to keep communal harmony and peace.
"The fisher folks in Vizhinjam, under the leadership of Thiruvananthapuram Latin Archdiocese, have been protesting for the last 105 days, raising seven demands, including stoppage of the construction of the seaport in Vizhinjam and a complete study on the impact and damages by the port by an independent team of experts including people representing the fisher community.
"The rest of the six demands from the formation are:
(1) Find a sustainable solution to coastal erosion on the Thiruvananthapuram coast due to the unscientific constructions in the sea, including that caused by the Vizhinjam port construction.
(2) Provide temporary rental accommodation to people whose houses were destroyed due to coastal erosion.
(3) Plan and implement reasonable policies to rehabilitate the people who have lost their land and houses.
(4) Intervene to revoke the kerosene price hike; provide subsidised kerosene following the neighbouring state Tamil Nadu model.
(5) Provide minimum wages to the fisher folks to compensate for the loss on the days of fishing weather warnings.
(6) Find sustainable solutions to the problems instead of temporary ones. The claim that all the demands have been more or less accepted by the government has been debunked by the Convener of the protest committee, Thiruvananthapuram Latin Archdiocese, Fr. Eugene Pereira, in a press conference on October 31st, 2022.
The statement also states that that, while it "..it is undemocratic that, instead of fulfilling their obligation to settle the strike, the ruling government is resorting to covert attempts to tarnish the repurtation coastal communities and overturn their struggle.
"We strongly condemn attempts by certain media houses to malign civil society organisations and vilify A J Vijayan, who has been researching and writing on the eco-social impacts, the unscientific nature of the project and the contract irregularities. He has been doing so since the period of the environmental impact study during the UDF regime, which initiated the Adani port project with special interest. We believe it is essential to have independent research and scientific studies on the impact of the port on coastal communities, and any such studies should be encouraged.
"We urge the government to settle the Vizhinjam issue urgently by arriving at a reasonable and sustainable solution and defending the rights of fishing and coastal communities.
The statement has been issued in the name of the Vizhinjam Struggle Solidarity Committee, Keralam Social Movements, Concerned Citizens Persons, Social Organizations
The signatories to the statement are:
1. Aflatoon, Samajwadi Jan Parishad
2. Ammu Abraham, FAOW & PUCL Maharashtra (E.C.)
3. Anand Patwardhan, Film Maker
4. Anjali Bharadwaj, Collective Delhi
5. Arundhati Dhuru, National Convenor, National Alliance of Peoples Movements
6. Ashok Choudhary/ Roma , All India Union of Forest Working People
7. Avinash Kumar , Former Director, Amnesty International India.
8. Aysha, Right to Food Campaign
9. Chandana Pusapati, Dakshin Foundation
10. Delhi Solidarity Group
11. Devaki Jain, Economist, Writer
12. Dr. John Dayal, Writer, Human Rights Activist
13. Dr. Ram Puniyani, National Solidarity Forum
14. Dr. Suneelam Ex MLA
15. Dr. Syeda Hammed, Former Member Planning Commission
16. Evita Das – Pakistan India Peoples' forum for peace and democracy
17. G Devarajan, Gen Sec All India Forward Bloc
18. Gabriele Dietrich Movement for Womrn's Rightss
19. Geeta Seshu, Co-Editor, Free Speech Collective
20. Gutta Rohith, Human Rights Forum
21. Indian Social Action Forum – INSAF
22. Joy Sinha – COLLECTIVE Delhi
23. K Babu Rao, HRF, President, Hyderabad City
24. K P Sasi, Activist Film Maker
25. K. G. Jagadeesan trustee Centre Gandhi Smark Nidhi
26. K. J. Joy, Forum for Policy Dialogue on Water Conflicts in India, Pune
27. K. Sajaya, Women & Transgender Orgs JAC, Hyderabad.
28. Kalyani Menon – Sen, Feminist researcher/activist
29. Krishnakant (NAPM, Gujarat)
30. Leena Dabiru, Anhad, Delhi
31. Madhu Bhushan, Women's rights activist, Bangalore
32. Madhuri, Jagrit Adivasi Dalit Sangathan Madhya Pradesh
33. Medha Patkar, Narmada Bachavo Aandolan
34. Meera Sanghamitra (National Alliance of People's Movements), NAPM
35. N.D.Pancholi, Citizens For Democracy, Delhi
36. Nityanand Jayaraman, Writer, Social Activist. Chennai Solidarity Group. Chennai
37. Pradip Chatterjee, National Convener, National Platform for Small Scale Fish
Workers
38. Priya Dharshini, Finanical Accountability Network India
39. Prof. S. P Udayakumar, Anti nuclear activist
40. Prof. Sandeep Pandey, Writer, Social Activist
41. Prafulla Samantara, Environmentalist, NAPM
42. Ranjit Sur, APDR
43. Sandeep Pandey Socialist Party (India)
44. Soumya Dutta, Bharat Jan Vigyan Jatha
45. Subhash Lomte, Swaraj India
46. Tapas Das, National Convenior, Nodi Bachao Jibon Bachao Andalon
47. Vidya Dinker, President, INSAF
48. Vihaan Vee – Ambedkarite, Queer Feminist Activist
49. Xavier Dias, Editor, Khan Kaneej Aur ADHIKAR (Mines minerals & RIGHTS)
50. Yash, Let India Breathe
51. Yugma Collective
52. A Sunil Dharan, Motilal Nehru College (Delhi University)
53. A.Suneetha, Independent Researcher, Hyderabad
54. Alaka Basu, Researcher
55. Amod Shah, PhD Researcher
56. Asha Achy Joseph, Dean, SH School of Communication, SH College, Thevara, Kochi
57. Brinelle Dsouza, Chairperson, Centre for Health and Mental Health, TISS
58. Chhaya Datar Ex-professor of Women's Studies in TISS
59. Devika, feminist scholar
60. Dr . K.P Rammohan, Economist
61. Dr. K. G. Tara, Former Head, Disaster Management Centre
62. Dr. Karuna DW,
63. Dr. Mary George, Economist
64. Dr. P. A. Azeez, Salim Ali Centre For Ornithology And Natural History
65. Dr. T. G. Jacob
66. Frans Manjali, Prof. Linguistics, JNU
67. Hariprasath R, Researcher
68. Jashodhara Dasgupta, Independent Researcher
69. Kochurani Abraham, feminist theologian, Kerala
70. M. Dasan, Dalit Thinker
71. Maggie Allessu, Vidhyadeep college, Gujarat
72. Nandita Narain, Associate Professor, St. Stephen's College, Delhi University College
73. Nivedita Menon, Professor JNU
74. Padma Velaskar ,Professor (Retd) TISS
75. Prof. Iris
76. Prof. Janaki abraham,
77. Prof. Kusum Joseph
78. Prof. Sanil V
79. Prof. Vida Sequeira (Retired)
80. Prof. Vindo Chandran
81. Rakhi Sehgal, Researcher, New Delhi
82. Rita Paes Retired Professor
83. Rohini Hensman, writer and researcher, Mumbai
84. Seethalakshmi, Independent Researcher and Activist
85. Shilpa Parthan, PhD student, University of Illinois Chicago
86. Shweta Wagh, Associate Professor, KRVIA. PhD researcher IIT Bombay
87. Soma K P, Independent researcher
88. Swati Birla, University of Massachusetts Amherst
89. Trisha Gupta, University of Oxford
90. Vineetha Venugopal, Researcher
Poets, writers and solidarity from Kerala Groups
91. B Rajeevan, Cultural critic
92. Binitha Thampi, Poet
93. C Radhakrishnan, Novelist
94. Damodar Prasad, Journalist
95. Dr. Ambikasuthan Mangad
Academicians / Writers
96. Fr. Jose Kaliekkal ,
97. Hameed Vaniyambalam, state president welfare party
98. Joseph Jude, Kerala Regional Latin Catholic Council (KRLCC) state vice-president
99. K Ajitha, Feminist activist, Anweshi
100. K. Sahadevan, writter
101. Kalpatta Narayan, writter
102. KG Sankarapilla (KGS), Poet
103. Kumar Kalanand Mani, Save the Western Ghats Movement
104. Kuripuzha Sreekumar, Poet
105. Pandavath Baburaj, Activist Film Maker
106. S Rajeevan, K Rail Virudha Jankeeya Samara Samiti
107. Sarath Cheloor, State Coordinator, NAPM- Keralam
108. Savithri Rajeevan, Poet
109. Sridhar Radhakrishnan , Kerala Paristhithi Aikya Vedhi
110. V Dinakaran , Akhila Kerala Dheevara Sabha
111. Vijayaraghavan Cheliya, State Convenor, NAPM Keralam
Solidarity from across the country
112. A.K. Shibu raj
113. Abha Bhaiya, Jagori Rural, HP
114. Adv K V. Bhadrakumari
115. Adv Pyoli Swatija
116. Adv. John Joseph
117. Adv. Joseph Paull
118. Adv. Vinod Payada
119. AK Jayasree
120. Alaka Basu
121. Allwyn Dsouza
122. Amit Singh
123. Amrita Shodhan
124. Anil E.P
125. Anita Cheria, Bangalore
126. Anitha Ruban
127. Anitha Shanti Treewalk
128. Anna SJC Social Activist.Karnataka
129. Annette Fernandes MBBS
130. Annie Director
131. Annie Jaise, Kerala
132. Anthony Dias
133. Anuradha Pati, Bangalore
134. Aparna, Social worker
135. Aruna Gnanadason, Chennai
136. Asha G, Trivandrum
137. Astrid Lobo, Mumbai
138. Fr. Baby Chalil
139. Balkis Bano, Trishur
140. Beatrice Joseph
141. Berguman Thomas
142. Bhubaneswar
143. Bittu K R, Karnataka Janashakti
144. Brinda Adige, Bengaluru
145. C.S. Murali shankar
146. Cecilia Crasta
147. Celine Paramundayil MMS, Kerala
148. Chakradhar, Samalochana
149. Clara Mendonca, social worker
150. Clare M. Therese, Chennai
151. clare muthukattol
152. Cynthia Stephen, Bangalore
153. Cyrilla Chakalakal Mumbai
154. Debaprasad Ray, Secretary, Lohia Academy, Bhubaneswar
155. Deejao Pathrose
156. Deepa V, Delhi
157. Devika, Advocate
158. Dorothy, Social Activist
159. Dr. C. Jayakumar, Thanal
160. Dr. C. Surendranath
161. Dr. E. Unnikrishnan
162. Dr. Joyce Kaithakottil, Activist for Justice
163. Dr. Mangesh Sawant Environmentalist
164. Dr. Mercy Thomas Facilitator Nirmal Jyothi ITI
165. Elizabeth Vadakekara MMS, Kochi, Kerala
166. Elsa Muttathu, Chenn
167. Flavia Agnes, Mumbai
168. Flory Menezes
169. Fr Benny, Thiruvananthapuram, Kerala
170. Fr Dr Jose D. Maliekal SDB, Telengana
171. Fr Joseph, Vicar, St Joseph Church Konoor Ekm Diocese
172. Fr Thomas
173. Fr Varghese Assin, Manager, St Francis Assisi School, Nedumbassery..
174. Fr. Agustine Vattoli
175. Fr. Deepak Anto
176. Fr. George Thenadikulam, Kerala
177. Fr. Kurian Kurisunkal, Mulanthuruthy
178. Fr. Lawrence
179. Francis Xavier, supporter
180. Freny Manecksha
181. General Secretary, AIFB Odisha , Bhubaneswar
182. George Mathew
183. Glavious Alexander
184. Gopinath Haritha
185. Govind Kelkar, GenDev, Gurgaon
186. Gracy Kallookulangara
187. Growth Watch
188. Hasina Khan, Bebaak Collective
189. Hazel D'Lima, CRI, ICWM
190. Hazel Lobo, Mumbai
191. Holiram Terang. Political activist.
192. Immaculate.F.
193. Indira Hirway, Centre for Development Alternatives,
194. Jabeena Irshad
195. Jacob Naluparayil, Kochi, Kerala
196. Jacqueline Rumao. Jeevan vidya.
197. Jaison Coopur
198. James Dayalaya
199. Janaki Nair, JNU
200. Jashodhara Dasgupta, Delhi
201. Jesmine Fernandes
202. Jessica Prakash-Richard, Chennai
203. Jessin SJC
204. Jessy Mole Sebastian, Changanacherry, Kerala
205. Jibin Robin
206. Jinu Sam Jacob
207. Joanna, Social Worker
208. John Dsouza, Mumbai , Documentalist
209. John Peruvanthanam
210. Johnson Puthenveettil, Director, KLCA, Alleppey Diocese
211. Jolly Chirayath
212. Jose Therattil
213. Joseph Kannamkulam
214. Joseph Maniangat
215. Joseph Victor Edwin, Delhi
216. Josephine Rozario
217. Joycia , New Delhi
218. Jubin Jacob, Kanjirappally, Kerala
219. Julia George, Adv, Mumbai
220. Jyoti Ranjan Mahapatra
221. K. Ajitha
222. K. C. Sreekumar
223. K. Ramachandran
224. K. Sahadevan
225. K.G. Jagadeeshan
226. K.M. Thomas
227. K.P. Sethunath
228. K.P.Thomas, Thiruvananthapuram, Kerala
229. Kalyani S.
230. Karavali Karnataka Janabhivriddhi Vedike.
231. KB Kannampilly
232. KCR Raja, New Delhi
233. KhalidaParveen
234. KM Sebastian, Eluru, A.P
235. Kochurani Abraham, Kanjirappally, Kerala
236. Kusum Tripathi
237. Lakshmi Lingam, Hyderabad
238. Lanusenla Bangalore
239. Leela Soloman
240. Leena Abraham, Mumbai
241. LEVIN
242. Lisa Pires, Goa
243. Lumina da Costa, citiizen of Indiaendorse
244. M D Varghese, a freelance Eco-Social Development Advisor
245. M. Dasan, Dalit Thinker
246. M. Sulfath
247. M.D. Alice, Kochi, Kerala
248. M.K. George
249. Madhuri Mondal, programme officer
250. Magdalene Almeida
251. Mahu Bhushan, Bangalore
252. Manju Kulapuram, Activist, Delhi
253. Manju Kulapuram, Delhi
254. Manoj Kedaram, Social Worker
255. Manu
256. Marcia DCunha ICWM Thane Maharashrea
257. Marcia DCunha, Mumbai
258. Mary Vaiphei, Assam
259. Mathew Sebastian
260. Mavis Russell, Gurgoan
261. Meera RGS, Mysore
262. Mekronyi-u Thele, Nagaland
263. Mercy Alexander
264. Merlyn Dsa, Mumbai
265. Metti Amirtham,Tindivanam, Tamil Nadu
266. Mini Bedi
267. Mirsad Rahman
268. Moksha Mary- Anmol NGO Co-ordinator
269. Monisha Behal, NEN
270. Ms. Vanitha D'Souza
271. Mujahid Nafees, Ahmedabad, Gujarat
272. Muralidharan K, political activist
273. Muthapan
274. N Sarojini, SAMA, Delhi
275. N. Subramanyan
276. Namrata Lunia
277. Nancy Vaz, Mumbai
278. Nancy Vaz, Mumbai
279. Nandita Gandhi, Akshara Centre, Mumbai
280. Naseer Syed, Bangalore
281. Neerja Rajeev Prasad. Nagpur
282. Nikita Naidu, Climate Action
283. Nirmala
284. Nita Arvind, Scrum Master
285. Niti Saxena, Lucknow
286. Noela J Dias
287. Noella de Souza, ICWM, IWTF, CRI.
288. Noella de Souza, Mumbai
289. Om Prakash Singh, Cuttack
290. P k Sasidharan
291. P.T. John
292. Padmaja Shaw
293. Paniyadima John
294. Philomena D'Souza, Satyashodhak, Mumbai
295. Philomena….Provincial
296. Prabhat Sharan, Journalist
297. Prajval Shastri, astrophysicist
298. Prasad Chacko, Social Worker, Ahmedabad
299. Preeti Mehra, independent journalist, New Delhi
300. Prema Chowallur SCC
301. Prerana Gawde, Senior Programme Associate
302. Promod Puzankara
303. Pushpa Parmar
304. Pyoli, Advocate
305. Raj Shekhar, Right to Food Campaign
306. Rajesh
307. Rajnish Gambhir All India Union of Forest Working People
308. Raju kalathil,Advocate
309. Ramnarayan, Independent Ecologist
310. Raynah Marise Braganza Passanha, Pune
311. Renita
312. Rev. Indira Paul, Chennai
313. Rev. Raju P George
314. Rita Manchanda, Independent Rights Consultant
315. Robert Joseph, Teacher
316. Robi Arayakkandy. CPI(ML).
317. Rohini, Writer
318. Rosalind Elaiyarani
319. Rosamma George
320. Rosamma Thomas
321. Rose Mary Tirkey ( Social Worker)
322. Roshmi Goswami, Shillong.
323. Runu Chakraborty
324. S. Rajeevan
325. Sabina Martins
326. Sachin Chavan,
327. Salahudheen Ayyoobi, Writer
328. Sandeep kaithamparambat, artist
329. Sandeep Ravindranath
330. Sandhya Balasubramanian, Member – Growthwatch India
331. Santana Pereira, Sahayini NGO
332. Santosh Sharma
333. Sarah Mathews. Managing Trustee, Sankalp Women's Support Alliance
334. Sarath Keeraleeyam
335. Sarojini N, Public Health Practitioner
336. SAshalatha
337. Seema Bhaskaran
338. Shalini Gera, Advocate
339. Shalom Gauri, student
340. Sharad Lele, ATREE
341. Shivsunder
342. Shweta Tripathy, SRUTI, New Delhi
343. Sister Poonam cj.
344. Sr Aruna Castelino /Director of Auxilium Out Reach
345. Sr Maria Shirsath, Teacher
346. Sr. Elphina Rodrigues
347. Sr. Mary Jacintha. Daughters of Mary Help of Christians Congregation
348. Sr. Melusina Colaco – religious
349. Sr. Rita D Souza – prov adminstrator
350. SR. Rita Fernandes
351. Sr. Thelma Paiva
352. Sr.Anita gracias animated
353. Sr.Marina Kalathil
354. Sreedevi S Kartha
355. Sreekala MG, Goa
356. Sridhar Radhakrishnan
357. Stella Baltazar fmm, provincial
358. Sudhir Pattanaik, Editor , The Samadrusti
359. Suneeta Dhar Activist
360. Sunirose, I. P
361. Sunny Paikada
362. Suresh Melettukochy.
363. Suresh Rathaur mmu
364. Susan Joseph, Social Worker
365. Swarna bhat, social Activist
366. Swatija Paranjape
367. T N Sushama, Freelance writer
368. Tamizharasi
369. Thresia
370. V.S. Anil Kumar
371. Vaishnavi- independent labor rights activist & journalist
372. Vandita, Morarka (founder and CEO, One Future Collective)
373. Vaneeta khristi
374. Vanita Mukherjee
375. Varsha Bhargavi, Where Are The Women Collective
376. Veena Maruthur
377. Vijayan Punnathur Retiree
378. Vishesh Guru, anthropologist
Related:
https://sabrangindia.in/article/opposition-vizhinjam-port-project-must-be-seen-wider-context-protecting-coastal-ecology-and
https://www.sabrangindia.in/article/why-we-must-say-no-vizhinjam-project