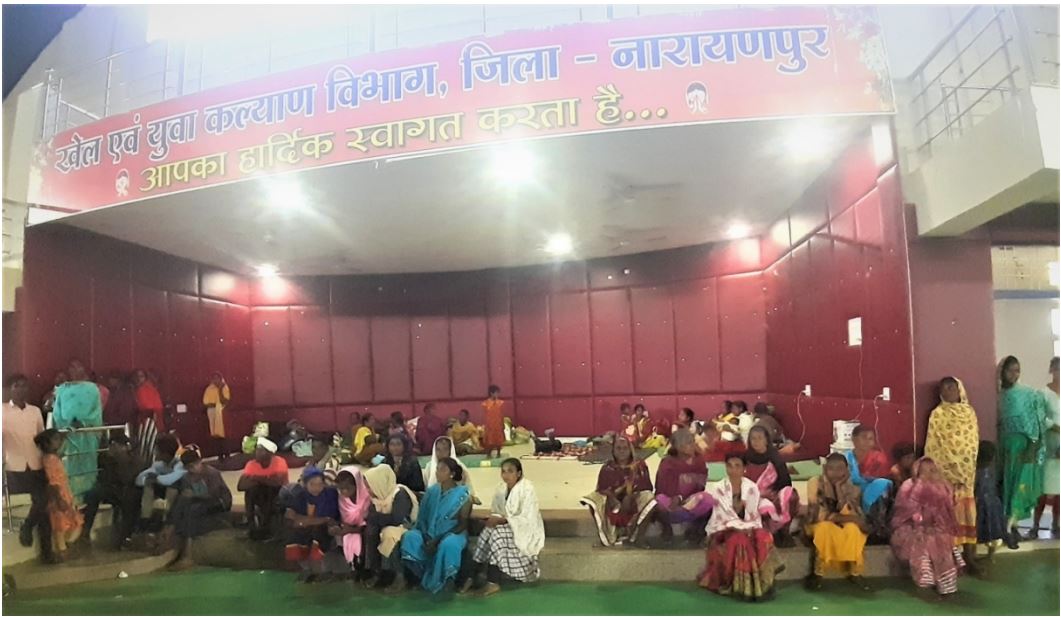 Over 450 Adivasi church-goers across villages in Bastar, Chhattisgarh faced boycott, intimidation and violence in December last year, forcing them to leave their homes and live in refugee camps.
Chhattisgarh Bachao Andolan, an alliance of people's movements and individual activists from all over
Chhattisgarh, prepared a detailed report on violence unleashed on the Church‐going Adivasi Community of Narayanpur and Kondagaon in Bastar, Chhattisgarh.
A 6-member team visited Narayanpur and Kondagaon where the Adivasi communities were driven out of their traditional villages on December 18, 2022 and were compelled to take shelter in the Indoor
Stadium at Narayanpur following large scale violence. Over 450 church‐goers from approximately 16 villages in Narayanpur and Kondagaon, a large majority of whom were women and young children, had sought shelter in the Indoor Stadium.
Some of these had been beaten up and physically driven out of their homes by other villagers; while others had fled their villages out of fear after receiving multiple warnings, beatings and ultimatums to renounce the church, states the report. Reportedly, about 300 churchgoers who had been forced out of their villages assembled in front of the Narayanpur Collectorate in an impromptu protest and capmed out there for two days.
The team of Kamal Shukla, Keshav Shori, Ramkumar Darro, Shalini Gera, Urmila Kange, and Vishwaranjan Parichha found out from the displaced churchgoers that at village meetings they were forewarned to return to their original faith else face social and economic boycott. When they refused, many of them, including women, were even assaulted at such meetings by other men and women.
Women and children ousted
It was found that the number of women and children ousted far exceeded the numbers of men. The most common reason being that more women go to the church than men do, and hence, they were targeted more. In some cases men [pretended to give up Christianity so that they could continue to earn their livelihood.
History of conversion
Most of the people the team spoke to had started praying at a church about 5‐8 years ago and most of them started doing so after they were cured of some medical ailment by the prayers. Incidents of violence arising out of this issue was close to zero until last November.
The report noted that "The Christian community in Bastar uses the term "Vishwasi" (Believer) for someone who offers prayers at the Church. A Vishwasi is not necessarily a Christian, since many of them are in different stages of accepting Christianity. However, the community at Narayanpur especially asked us to simply refer to them as "people who offer prayers to Jesus Christ." They were also amenable to our suggestion of using the term "churchgoers" for people like them."
Janjati Suraksha Manch gave open call for violence
BJP‐RSS backed Janjaati Suraksha Manch, which has been demanding the de‐listing of "converted Adivasis" from the category of Scheduled Tribes. (Note: this demand does not oppose those Adivasis who have adopted more Hinduised religious practices.) They raise slogans of "Roko, Toko, Thoko". exhorting the Adivasis to first, prevent their brethren from going to a different faith (Roko, literally – stop them); if they don't listen, the next step is to nag or harass them (toko, literally – nag them); and if they still don't stop, then the advice is to beat them up (thoko, literally – hammer them).
The report further states that most of these rallies and meeting of the Janjati Suraksha Manch are being led by BJP functionaries, most prominent amongst them being Bhojraj Nag (ex MLA from Antagarh, BJP), Rupsai Salaam (Narayanpur District President, BJP), Narayan Markam (Benur BJP), Jhari Salaam (Mainpur BJP).
However, the victims said that in the village meeting where they were threatened and beaten up, there were no outsiders present. It was the village heads who actively took part in the violence. The report states that many villages interpreted the power of the Gram Sabhas to safeguard and conserve traditional practices and customs under section 4(a) and 4(d) of the PESA Act, and the promise
of autonomy under the Fifth Scheduled of the Constitution as official sanction to the Gram Sabhas for
punishing and excommunicating the churchgoers.
Inaction of police and administration
It was found that no action was taken to restrain these open calls for violence being made by the Janjaati Suraksha Manch. Many churchgoers had approached the police when they first received threats about 2-3 months ago, however no action was taken. "The response of the Narayanpur Administration in dealing with the massive exodus of the churchgoers from the villages is marked by extraordinary unwillingness, slowness and niggardliness," says the report.
After they camped out in the open outside the Collectorate, they were first going to be placed at Benur Panchyat Bhavan which was in a deplorable condition. When the Adivasis refused to live there, they were taken to the stadium. Even there, no arrangements for food rations, blankets, warm clothing, medicines or any other supplies were made by the administration and local Christian groups then came out in aid.
Further, by December 26, the Adivasis who were camped out in the stadium and in a hostel in Farasgaon were transported back to their villages, accompanied by officials, in the midst of the ongoing instances of anti‐Christian violence from these areas. After this, new ultimatums have been issued to them, many of them have fled to the forests.
Churchgoers of Palna, Gohda and Pavda village were refused entry into their villages, so the revenue and police officials decided to lock up over 70 of these villagers in the Juari Kalar security forces camp, close to Farasgaon, where they were not allowed to meet anyone, the report states.
In the course of writing of the report as well there were fresh reports of violence on Christmas day from villages of Korenda, Garanji, Amasara, Shirpur, Jhara, Palna, Chingnar and Remavand under the Benur PS, Kasai Farasgaon under Urndabeda PS in Kondagaon, and Farasgaon and Bagjhar under Farasgaon PS in Narayanpur.
In conclusion, the report recommends that rallies and meetings of Janjati Suraksha Manch and other such divisive forces be curtailed, Administration should be sensitive to needs of minorities, leaders of Adivasi organizations urgently need to take cognizance and FIRs should be expeditiously registered.
There were also reports from Narayanpur where an extremist mob vandalized a church over allegations of religious conversions. One senior police official was also attacked and injured by the extremist mob.

Location: Narayanpur, Chattisgarh

An extremist mob vandalized a church over allegations of religious conversions.

Over the last three weeks, dozens of anti-Christian attacks have been reported in the region, forcing thousands of Christians to flee their villages. pic.twitter.com/v8tvqCNXiI

— HindutvaWatch (@HindutvaWatchIn) January 2, 2023
One senior police official was also attacked by the extremists.

More visuals of the vandalism ?? pic.twitter.com/YM4t2vmdr0

— HindutvaWatch (@HindutvaWatchIn) January 2, 2023
The complete report of Chhattisgarh Bachao Andolan may be read here:
Related:
'Forcible Conversions' in Narayanpur and Kondagaon districts in Chhattisgarh – Part II
Church vandalised in Karnataka's Mysuru, statue of Baby Jesus damaged
'Forcible Conversions' in Narayanpur and Chhattisgarh – Part 1