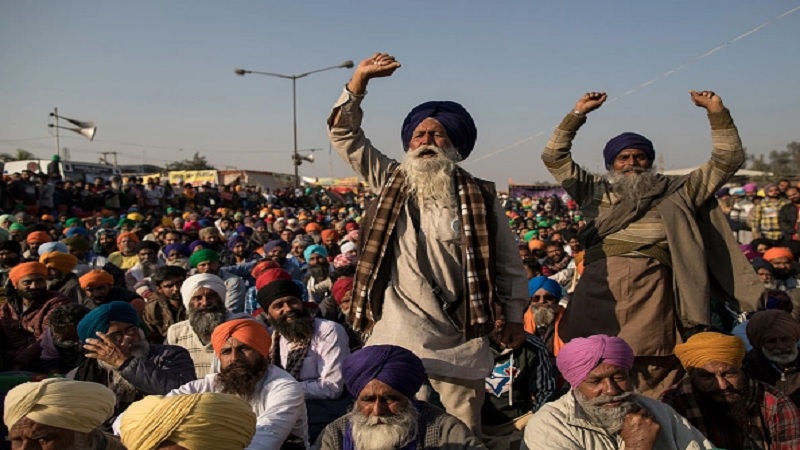 Image Courtesy:aljazeera.com
At least 50 farmers participating in the nationwide farmers struggle died in October alone, reported farmers record-keeping blog, 'Human Cost of Farmers Protest' on October 30, 2021.
Already, the eleventh month of the movement has left a bitter after-taste for peasants, following the Lakhimpur Kheri killings on October 3. Four farmers and a local journalist covering the protest died in Tikunia village after Union Minister Ajay Mishra's son Ashish mowed down protesters with his Mahindra Thar vehicle. As of Saturday, farmers reported around 50 deaths of which seven people died before the Uttar Pradesh incident.
652 people have died since the beginning of the movement in November 2020 last year. Among them, two men died by suicide shortly after October 3. One of the farmers blamed the government's apathetic attitude for his distress. Another died after returning from the farmers protest on October 10. The 35-year-old was bearing a crushing debt worth Rs. 12 lakhs. He supported the movement in its repeal for the three contentious farm laws, demand for legalisation of Minimum Support Price and repeal of the Electricity Amendment Bill and other laws.
Suicide incidents have risen over the days since the farmers struggle intensified. For those struggling during these troubled times help is available via calls by NGOs such as AASRA that offers a 24×7 helpline number 91-9820466726 in both English and Hindi while another helpline available is 915298782. Similarly, Sumaitri offers assistance in Delhi 011-23389090.
On October 28 three women farmers died near Tikri border in Bahadurgarh after being hit by a speeding dumper truck. These were among the many peasants that were sitting at Delhi borders for nearly a year. On Saturday, farmers declared another death of 63-years-old Karan Singh from Haryana's Jind district. Singh suffered a cardiac arrest at Tikri border.
On November 26, the farmers' struggle will complete a year of protest at national capital borders.
Related:
Three women farmers die in road accident at Tikri border
Maharashtra: Farmers Kalash Yatra begins
Lucknow Mahapanchayat postponed to November 22
Ghazipur farmers clear roads, demand police do the same