"It is unfortunate that some opponents, communalists are trying to portray him as a rabble-rouser and fringe personality. They should go through his parliamentary debates. Those reveal his seasoned thinking on various issues of governance," union urban development minister M Venkaiah Naidu said on his Facebook page on March 19, 2017, referring to Uttar Pradesh (UP) chief minister Yogi Adityanath.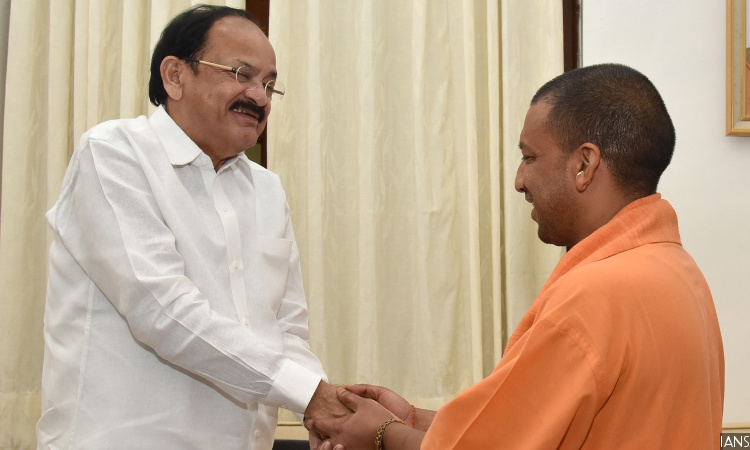 Factchecker did just that, analysing Yogi Adityanath's performance over the last eight years as a member of Parliament (MP) in the 15th and 16th Lok Sabha (lower house of Parliament), using data from PRS Legislative Research, an advocacy focussed on parliamentary affairs, and the Lok Sabha archives.

Our four main findings:
While the 44-year-old politician raised a variety of concerns–including river pollution and rising cases of encephalitis–his most recurring choice of debates focussed on Hindu affairs and cow slaughter, particularly over the last three years.
In the 16th (current) Lok Sabha, 18% of Adityanath's debates have focussed on Hindu issues, seven-percentage points more than during his previous term as MP. The topics include cow slaughter, enforcing a uniform civil code, and protection of Hindu pilgrims. Even his debates on the Enemy Property Bill (now an Act) and his concerns about Indian youth in Islamic State of Iraq and Syria (ISIS), counted under internal security debates, held religious underpinnings.
A science graduate, Adityanath had the most queries (57) for the ministry of health during the 16th Lok Sabha: 11 were on corruption in medical bodies, and six on population control measures to address India's "reported demographic imbalance", a reference to his belief that Muslims, who make up 14.2% of India's population, were growing faster than Hindus.
Adityanath asked almost as many questions (52) of the ministry of home affairs over the last eight years of the 15th and 16th Lok Sabha. Of these, 34% were related to fears about the effect of ISIS, Indian Mujahideen extremists and Christian separatists on internal security.

Here is a more detailed analysis:

15th Lok Sabha (June 2009 to February 2014): Although Adityanath's parliamentary attendance (72%) was slightly below the average for MPs from his state (79%) and the rest of the country (76%), he participated in more debates and asked more questions than the average MP, according to PRS Legislative Research data.

Adityanath participated in 82 debates against the average of 38 for other MPs.

While seven, or 8.5%, of the debates in which he participated were related to the railway budget, 11% of Adityanath's debates were related to Hinduism. The topics included "reorganisation of the Amarnath Shrine Board and facilities for Amarnath pilgrims"; "lifting the ban on Kailash Mansarovar Yatra to Nepal"; and the need to "develop the area related to Ramayan era in Mithilanchal" (a proposed state in India that comprises part of the historic Mithila region, which extends into modern-day Nepal).

During this term, Adityanath, who has been charged for intimidation, rioting, promoting enmity between different groups and defiling a place of worship, also raised concerns over violence in Muslim-dominated Kishtwar district of Jammu and Kashmir, and UP's Moradabad district, where Muslims constitute nearly half the population.

Adityanath, a science graduate as we said, also discussed the pollution of Indian rivers six times. He participated in five debates on the spread and eradication of encephalitis and Japanese encephalitis, and five on according "central university status" to Gorakhpur University. On four occasions, he spoke about carving a separate Poorvanchal state from eastern UP.



Source: PRS Legislative Research, Lok Sabha archives

16th Lok Sabha (June 1, 2014 to March 15, 2017): Adityanath participated in 56 debates–fewer than the average of 72 clocked by MPs from his state, PRS data show.

In nearly a fifth of these–a seven-percentage-point jump over the previous term–the five-time MP (he was first elected to the Lok Sabha in 1998 at age 26) participated in debates that focussed on Hindu affairs. These included a national ban on cow slaughter, enforcing a uniform civil code, and ensuring the safety of Hindu pilgrims. Even his debates on internal security that voiced concerns about a conspiracy to bring Pakistanis to India through the Enemy Property Bill, and the alleged involvement of Indian youth in the Islamic State, carried religious undertones.

During this term, in four of five "Demand for Grants" debates on the railway budget that Adityanath participated in (data for the most recent debate in 2017 are yet to be put out)–which Naidu described as "levelheaded and inspiring"–the Gorakhpur MP primarily praised the budget and congratulated the railway ministry while criticising the previous Congress-led government and states where the party still holds power. In one debate, he presented demands for grants to set up rail lines and to upgrade rail infrastructure in his constituency, Gorakhpur.

He also wanted "central university status" for Gorakhpur University, and asked–in four debates–for the Bhojpuri dialect of eastern UP and Bihar to be regarded as a national language.

His concern for polluted rivers and the spread of encephalitis continued in his debates but took up a considerably smaller share (5%).



Source: PRS Legislative Research, Lok Sabha archives

Some of Yogi Adityanath's choice of debates and his arguments:
Alleged disadvantage to candidates appearing for civil services examinations in Hindi and other Indian languages: "This is a conspiracy against Indian and Indian languages. Those people who have formed this conspiracy, they still want to impose the British tradition in India forcibly."
Regarding deteriorating law and order situation in Uttar Pradesh: "According to an estimate, incidents of murder, robbery, abduction and misbehavior are happening between 250 to 275 per day in Uttar Pradesh… These incidents are not only in conformity, but also by the National Crime Bureau."
Regarding 5151st anniversary of Shrimad Bhagavad Gita: "I would like to request to you through the ministry of culture of the government of India that this event is required to be celebrated (sic) at the national level and at the international level, even then, wherever the world is full of jihadi terrorism, somewhere other religious obsessions, the whole humanity is moaning in those situations, the message of the Bhagavad Gita can pave the way for the welfare of all humanity.
Regarding the Disapproval Of Enemy Property (Amendment And Validation) Ordinance, 2016 And Enemy Property (Amendment And Validation) Bill, 2016: "If a government really fulfills this order (allowing properties to be returned to owners), half the cities of this country will be destroyed, a large population will be destroyed. A new class struggle will be created inside the country, and under it, all the citizens of Pakistan will start to make backdated ration cards together with those few vote bank merchants within India, and will start saying 'we are living in India since 1947'. Under this guise, an attempt is being made to bring those people inside India."

"Rapid reduction in the number of Sikhs and Buddhists along with sanatan (classical) Hinduism and the rapid increase in the Muslim population attract attention to the dangerous situation of demographic imbalance, it is shocking… the need for an effective equal civil law and population control is being felt within the country," Adityanath said in a 2016 debate on uniform civil code.

While the country's overall population grew at 17% in the decade to 2011, Census data showed Muslim population growth hit a 20-year low of 24.6% in 2011, as IndiaSpend reported in August, 2015.

Naidu, in his Facebook post, quoting a Hindustan Times report, said Muslims in the state welcomed Adityanath's appointment. "A large number of Muslims seem to be celebrating," the post reads.

30% of Adityanath's questions to four ministries

In both the 15th and 16th Lok Sabha, Adityanath raised more questions than the average MP, with 347 queries (against the average of 300) upto February 2014 and 284 upto March 2017 (against the average of 180).

In the 16th Lok Sabha, queries to four ministries–external affairs, health and family welfare, home affairs and human resource development–formed 30% of his questions to 43 ministries.

In the 15th Lok Sabha, he directed nearly 50% of his questions to six of 39 ministries which include the four we mentioned earlier, and the ministries of railways and road transport and highways.

The external affairs ministry received 51 questions from Adityanath since 2009. Two-thirds of these pertained to his suspicions of anti-Indian activities and sentiments across India's border, particularly in Nepal. Others include questions about imposing a ban on Pakistani movies and artists coming to India, security of the Indo-Nepalese border, and the "misbehaviour" of a Nepalese airliner towards Hindu pilgrims.

UP CM's bills in Parliament: Ban on cow slaughter, renaming India 'Hindustan'

Since 2009, Adityanath has had five private member's bills pending in the Lok Sabha, more than the average of one per MP. They are:
The Constitution (Amendment) Bill, 2014 (Amendment of article 1, etc.): This proposes a change in the country's name, from "India, that is Bharat," to "Bharat, that is Hindustan," according to this 2014 report on private members' bills and resolutions.
The Ban on Cow Slaughter Bill, 2014: This bill, reintroduced in the 16th Lok Sabha, is a replica of Adityanath's 2009 bill for the 15th Lok Sabha. In both versions, the three-page bill, which says slaughter of cow, bullocks, bulls and oxen should be banned on scientific lines, offers no details justifying the need for such a restriction.
The Constitution (Amendment) Bill, 2014 (Omission of article 44, etc.): This would turn the directive principle of creating a uniform civil code for India into a law. The implications of this bill would have far-reaching effects on the personal laws and practices of people of various religions in India.
The Constitution (Amendment) Bill, 2015 (Insertion of new article 25A): This seeks to insert a new article in the Indian Constitution that will ban forcible religious conversions.
The High Court at Allahabad (Establishment of a Permanent Bench at Gorakhpur) Bill, 2015: This seeks a permanent bench of the Allahabad High Court in his constituency.

None of these bills has been passed yet. Adityanath's High Court bill and the ban on forced religious conversions are yet to be introduced in the House, as the Indian Express reported in March, 2017.

(Saldanha is an assistant editor with IndiaSpend & FactChecker.)
Courtesy: FactChecker