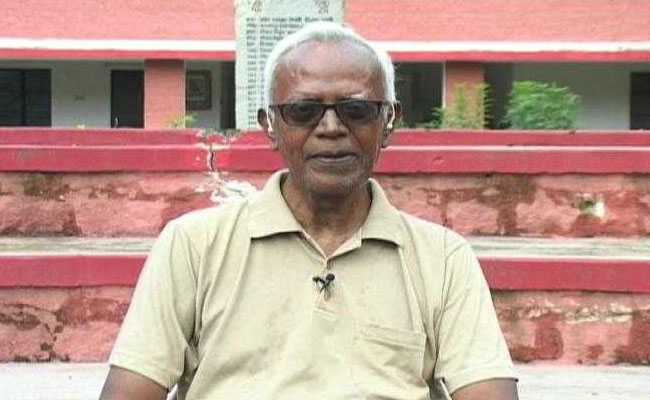 The oldest person to be questioned and arrested in the Elgar Parishad case, 83-year-old Jesuit priest Father Stan Swamy, has been sent to judicial custody until October 23 by a Special National Investigation Agency (NIA) court. Fr. Swamy, a well known tribal rights activist and educator was arrested by the NIA from his home in Bagaicha in Ranchi, at night on October 8. Frail and aged, was then taken this morning, October 9, by the 9.30 A.M flight from Ranchi to Mumbai for a hearing at the Sessions court and the charge sheet was filed. Fr. Swamy was then sent to Taloja Jail, where he will be lodged till October 23.
Special NIA court sends tribal rights activist, Stan Swamy (83), arrested in the Elgar Parishad case, to judicial custody until October 23. Swamy, was flown in from his hometown, Ranchi, on Friday morning. He was taken into custody on Thursday. pic.twitter.com/k7wal0qqkG

— The Times Of India (@timesofindia) October 9, 2020
According to sources, the chargesheet in the Elgar Parishad (Bhima Koregaon) case has now been filed against all others who had been arrested till now. They include academics, activists, artists, and now a Catholic priest! The chargesheet has been filed against Father Stan Swamy, Gautam Navlakha, Anand Teltumbde, Hany Babu, Kabir Kala Manch, Sagar Ghoghare, Ramesh Gaichor, and Jagriti Jagtap. While it is not known if more arrests are expected, the filing of the chargesheet means that the trial may begin soon.
Father Stan Swamy had been arrested after many hours of questioning, where he had cooperated with the NIA officials and answered all their queries. He issued a statement after the last questioning session that lasted a gruesome 15 hours: "I was interrogated by NIA for 15 hours during a span of 5 days (July 27,28,29,30, Aug. 6). Apart from my bio-data and some factual information, several extracts allegedly taken from my computer implicating my connection to maoist forces were placed before me. I told them all these are fabrications stealthily put into my computer and I disowned them."
83 Year-Old Stan Swamy taken in by NIA for questioning, quotes Khalil Jibran at the injusticehttps://t.co/108KRQ3INx

— Sabrang (@sabrangindia) October 9, 2020
Fr Swamy has stated that the nature of the present NIA investigation he was being put through had "nothing to do about the Bhima-Koregaon case in which I have been booked as a 'suspected-accused ' and consequently raided twice (28 August 2018 and 12 June 2019). But it had everything to do to somehow establish (i) that I am personally linked to extremist leftist forces, (ii) that through me Bagaicha is also relating to some maoists. I denied both these allegations in strongest terms."
The arrest of this veteran tribal rights activist, social worker, educationist and Catholic priest has shocked civil society. Reactions and statements of solidarity with Fr Stan, have been pouring in all night. Secular voices are rising in solidarity, and citizens are shocked at the way a powerful investigation agency is treating a 83-year-old citizen, even as the Covid-19 pandemic rages on in the country, and is at its worst in states like Maharashtra.
Fr. Stan Swamy's arrest malicious and spiteful: PUCL
The 83-year-old human rights defender was picked up by the NIA from Ranchi in connection with the Bhima Koregaon case yesterdayhttps://t.co/SHk15EiU5x

— Sabrang (@sabrangindia) October 9, 2020
Very tragic to see a 83 year old priest fighting for adivasi rights being arrested in the midst of a raging pandemic. #StanSwamy

— Pritish Nandy (@PritishNandy) October 9, 2020
Just in: The National Investigation Agency has arrested 84- year old activist Stan Swamy in connection with Elgar Parishad case. NIA has taken Swamy to their office in Ranchi.
Swamy is the 16th person and also the oldest activist to be arrested in the case so far. @thewire_in

— Sukanya Shantha (@sukanyashantha) October 8, 2020
Father Stan Swamy, 83-year-old activist working with tribals, arrested by NIA in Bhima Koregaon case. This bogus case is being abused as a pretext to target professors, activists, & lawyers who dare to speak out against BJP, while riot instigators like @KapilMishra_IND roam free!

— Shama Mohamed (@drshamamohd) October 9, 2020
#StanSwamy | On October 8th, 2020 the National Investigation Agency arrested Stan Swamy in connection with the ongoing Elgar Parishad case. Read this thread for more information about Stan, his work, and the arrest.

— India Development Review (IDR) (@idr_online) October 9, 2020
Related:
Fr. Stan Swamy's arrest malicious and spiteful: PUCL
83 Year-Old Stan Swamy taken in by NIA for questioning, quotes Khalil Jibran