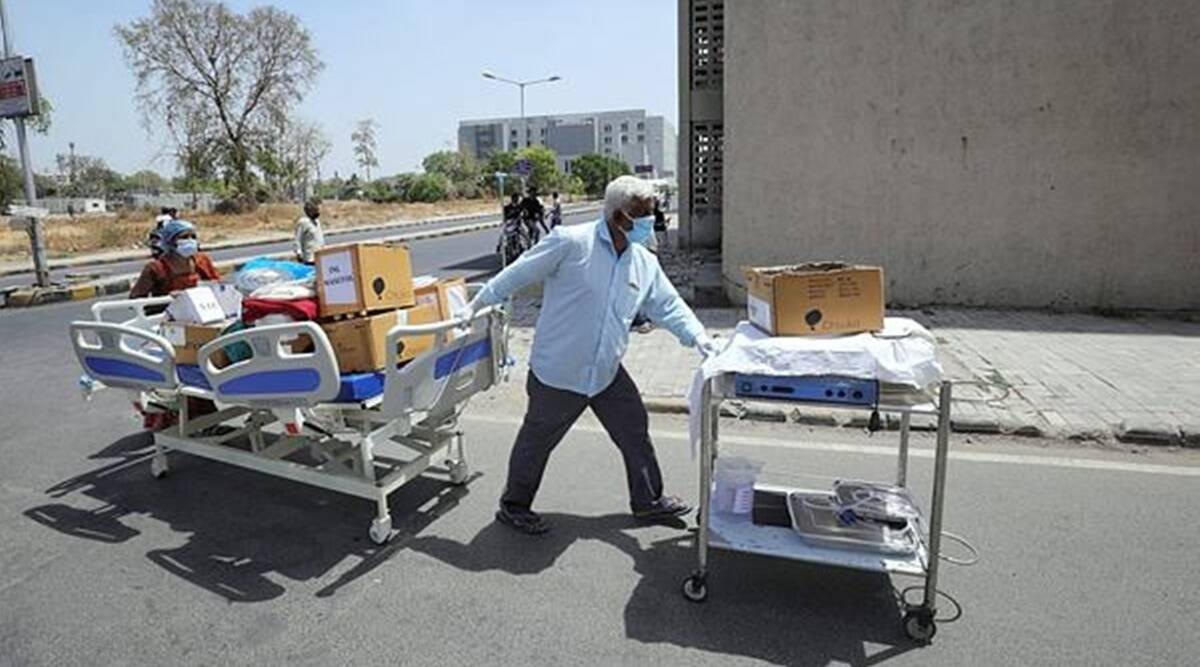 Image: The Indian Express

In a sharp suo motu action after reports, especially in social media, of acute distress among Gujarat's population by a mismanagement of the Covid crisis, a division bench of chief justice Vikram Nath and Justice Bhargav Karia have been seeking accountability from the Vijay Rupani-led government. Now, in a response, the government has informed the court that a Covid Care Hospital is being established at Ahmedabad with an availability of 900 beds and oxygen facilities. Distressing reports of piled up bodies in crematoriums in Surat and other cities have been pouring in as also images and narratives of people lining up and protesting outside the state's hospitals that has poor public health facilities.
In fact, a report carried by Sabrangindia on April 14 had revealed how it is the eastern state of West Bengal that has the the maximum number of hospital beds in the public sector, according to the COVID-19 in India: State-wise estimates of current hospital beds, intensive care unit (ICU) beds and ventilators study published by the Centre for Disease Dynamics, Economics and Policy (CDDEP). Published on April 20, 2020, the report by Professor Geetanjali Kapoor and others, used National Sample Survey and National Health Profile data to estimate that the state is among seven states of India that enjoys the bulk of hospital beds and ventilators. It said that West Bengal enjoyed 5.9 percent of all hospital beds and ventilators, closely followed by Telangana and Kerala (both enjoying around 5.2 percent of resources each). The other four states were – Uttar Pradesh (14.8 percent), Karnataka (13.8 percent), Maharashtra (12.2 percent) and Tamil Nadu (8.1 percent). Gujarat does not figure in this list.
Now, in a detailed affidavit submitted before the high court, the state government has informed the court that, while the testing is (already)being done in every district of the State through RT-PCR, TrueNAT and CBNAT machines, the same was not possible at Taluka or Nagarpalika level where the expertise in testing analysis is "not available". The government has assured the court that a large network has been set up by it and private laboratories for collection of samples of RT-PCR testing.
On testing figures, the government's affidavit reads, "It is respectfully submitted that the State government has developed the statewide network of testing centres for Covid 19. As on Date, total 98 COVID testing laboratories are functioning, out of which 43 are Government and 55 are private laboratories. At present every district in the state has RTPCR TESTING FACILITY, either through RTPCR machines, or TrueNAT and CBNAT machines. The RTPCR reports from each of these machines is of equal efficacy."
The State has also apprised the court that it will be setting up testing machines in a total of 33 different districts. The affidavit states, "Presently, as on the 18th April 2021, 1,73,000 tests are carried out on a daily basis as against 1.45,000 stated in the affidavit dated 14th April, 2021. Hence, the number of testing per day has been increased drastically from 33271 tests on 1st March 2020 to 1,73,000 tests on 16th April 2021. Between the 1st of April to the 18th of April 24,69,625 number of tests are carried out across the state of which 9,70,236 are RTPCR tests".
It told the court that they have been taking "proactive steps" in containing the spread of the virus and making all possible drugs available for people infected with coronavirus. The state's response reads, "Subject to the availability thereof and as per the priority evolved, the patients admitted in State government hospitals are being considered first followed by the patients admitted in the private hospitals and Covid Care Centers. Baring a minimum emergency stock, the entire stock received is being utilized for treating needy patients. As regard to the usage of such injections in the private sector, it needs to be noted that private hospitals, private persons have been purchasing these drugs directly from wholesaler/ stockists and licensed pharmacies. The State Government is taking every possible proactive step to procure from any and every source, as many injections as possible so that it can be administered to the needy on a priority basis."
The government also said that the oxygen dependent industries have been asked to stop production immediately and "nearly 2000 industrial oxygen cylinders have been procured from these industries and after due process are being employed for making available the state. Medical Oxygen carrying vehicles have also been given a special status of that of an ambulance to enable expeditious transportation", as per media reports.
On the other hand, the State BJP President CR Paatil, and the Vijay Rupani government have been issued a notice by another High Court Bench, in connection with the illegal procurement and distribution of Remdesivir, a crucial anti-viral drug used for Covid patients, from the party's Surat office since April 10.
As per a SabrangIndia report, the High Court had asked the State to be honest about Covid data and disclose information about the existing healthcare infrastructure to reduce fear and panic amongst its citizens. It had ordered the state to increase testing and not be 'shy' of the actual positive cases.
Related:
Guj HC directs info on COVID Testing, ambulance availability be filed, govt asserts situation under control
Gujarat HC directs State to be honest about Covid data