The conflict in the Middle East seems to be flaring up with a growing number of countries joining in. However, in India the conflict has had a polarising effect.
Prime Minister Modi professed support for Israel and condemned Hamas' attacks. However, on October 12, the Ministry of External Affairs in India released a statement reaffirming the Indian government's support for a 'sovereign and independent' Palestinian state. "Our policy has been long standing and consistent. India always advocated the resumption of direct negotiations towards establishing a sovereign, independent and viable state of Palestine, living within secure and recognised borders, side by side at peace with Israel. I think that position remains the same."
However, despite these, social media has taken an intensely polarising turn; a sinister campaign seems to be running on social media wherein right-wing troll accounts are flooding tags titled 'Indian Muslims' and related tags with offensive posts about Muslims. Hindutva leaders like Yati Narsinghanand have been reported to be saying "Today we want to talk of religious leaders and leaders of Israel, that they give us permission and resources to settle in Israel with our religious practices and values intact. Because we are fighting with the same disease they are fighting with. I want to inform the Israeli Prime Minister that we are Hindu, we don't kill anyone based on religion, but Mohammed and his followers are oding with us what they are doing with the Israeli."
I want to go to Israel with my 1000 soldiers : Yati Narsinghanand @IsraelinIndia please give him and his 1000 supporters visa to fight in Gaza on behalf of Israel. #Gaza #GazaUnderAttack#Gazagenocide #Israel#IsraelPalestineConflict #IndiaVsPakistan #INDvPAK #Palestine… pic.twitter.com/eNJh0oIT5h

— Ayush Jain (@aestheticayush6) October 13, 2023
It is evident that the right–wing in India seeks to draw support for the cause of Israel as an extension of their anti-Muslim nature. They seem to form a bond of alleged victimhood to Islam with the Israeli state. Gauging the support rising for Israel from India, one can observe the majority be Hindutva supporters, with much of the content edging on being about Muslims in India as well. For instance, one user wrote the following, targeting Fact-checker and co-founder of Alt-News, Mohammed Zubair, calling Zubair a "terrorist sympathiser." Zubair remains a perennial target for ruling party driven hate trolls on social media.
"Beware of Islamic Terror Sympathiser @zoo_bear 2019 Sri Lanka suicide blasts, Zubair defended Terrorists saying they were not Muslims. Later he had to apologize for his lie. In 2023, Zubair defends Hamas saying news of children beheaded is Fake. Biden says he has "confirmed" pics"
Beware of Islamic Terror Sympathiser @zoo_bear

2019 Sri Lanka suicide blasts, Zubair defended Terrorists saying they were not Muslims.

Later he had to apologize for his lie.

In 2023, Zubair defends Hamas saying news of children beheaded is Fake.

Biden says he has confirm pics pic.twitter.com/r4qggceWN6

— Ankur Singh (@iAnkurSingh) October 12, 2023
Another X account with about 15,300 followers, called SagasofBharat, wrote the following tweet.
What indian Muslims couldn't do Palestine did it. It took one Palestine attack to suddenly change these Hindu leftists. 😂😂 pic.twitter.com/aQ3QZmAOYR

— SagasofBharat (@SagasofBharat) October 9, 2023
This was another seemingly anonymous account that seems to be replete with anti-Muslim and casteist imagery and posts. Similarly, another Twitter user, Pallavi wrote the following tweet. Pallavi also claims to be a part of BJP's IT Cell in its Mumbai wing:
"So Netanyahu's son has joined Israel military forces to defend Israel Former PM Naftali Bennett has joined Israel's soldiers on the frontlines to defend Israel Meanwhile, remember an Air India pilot connected to a very powerful political family took LEAVE so that he won't be called for military service during 1971 war ? One politician was busy partying hard after one of the worst terror attacks on Indian soil took place during 26/11? Pehchan kaun??"
These tweets and their users really makes one ask the question if this is an organised attempt? Just recently, Washington Post released a hair-raising story investigative piece which reportedly revealed hidden "parallel campaign" which operated in tandem with the official social media promotions of the BJP. The report shed light on this seemingly covert operation through extensive and exclusive interviews with BJP personnel, campaign strategists, and loyalists. It was revealed that the party maintains clandestine partnerships with content creators who are incharge for managing what they term "third-party" or "troll" pages. These content creators specialise in generating incendiary content on platforms such as WhatsApp, X, Facebook etc. A Sabrang India also detailed that BJP IT-Cell volunteers have previously claimed that big celebrities such as Aamir Khan and Shah Rukh Khan have also been subjected to vicious hate campaigns by such troll accounts who maintain a certain level of anonymity despite amassing a huge population. So organised rampages to polarise opinions and thereby influence social media users towards a particular narrative has happened in the past with similar means and goals, who is not to say that it is the same today?
However, the Israeli ambassador has also expressed appreciation for the support from India for Israel. In one of his tweets on X, he wrote the following, expressing appreciation at the support as 'Hindus joined Jews' a protest in Canada. This statement by the Israeli ambassador seems to confirm, probably inadvertently, the idea that Hindus and Jews are united against an enemy. An enemy which Muslims do not stand against.
Brotherhood has no borders. #Hindus and #Jews join forces in Canada against #Terror and in support of #Israel.
🇮🇳💪🇮🇱 https://t.co/zipywTUHuW

— Naor Gilon (@NaorGilon) October 10, 2023
Fake news network
Similarly, several claims seem to be running amok on social media in India. The right wing has been extensively campaigning – for instance, this claim that Israeli Prime Minister Benjamin Netanyahu has sent his son to fight in the army has been making the rounds on social media.
Shefail Vadiya, a user with over 700,0000 followers on Twitter too shared the claim.
So @netanyahu's son is off to war, meanwhile, after the worst terr0r attacks on India, Sonia Gandhi's son was partying in Mumbai! @RahulGandhi pic.twitter.com/APsobUhJO1

— Shefali Vaidya. 🇮🇳 (@ShefVaidya) October 11, 2023
Filmmaker who's been often touted to make propaganda movies, Vivek Agnihotri also participated in the campaign by releasing the following tweet.
TRUE.

"Muslim League cut water pipes and burnt ration shops in Hindu areas so that those Hindus they couldn't kill would die of hunger and thirst" – Direct Action Day, Calcutta 1946.

"JKLF cut water supplies of Hindu families in Kashmir… Govt ration, meant for Hindus, was… https://t.co/wgUEVUXvd8

— Vivek Ranjan Agnihotri (@vivekagnihotri) October 13, 2023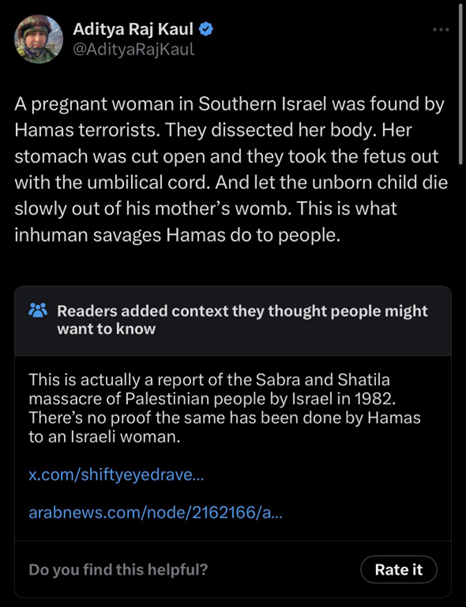 This claim seems to have gone viral on social media with many, including Pallavi, drawing comparisons with the Gandhi family. According to a fact check by The Quint, this is fake news. While the image depicting current Netanyahu saying farewell to his youngest son, Avner Netanyahu, as he enlisted in the military, is real; however it is a photo from 2014. The Quint reveals how it verified the image to be from 2004 using a variety of methods, including finding a report which attested to the same from 2004.
Similarly, Aditya Kaul who claims to be a journalist has been consistently following talking about the issue. He recently posted a tweet describing an alleged brutal incident of assault.
"A pregnant woman in Southern Israel was found by Hamas terrorists. They dissected her body. Her stomach was cut open and they took the fetus out with the umbilical cord. And let the unborn child die slowly out of his mother's womb. This is what inhuman savages Hamas do to people."
However, there has been, thus far, no corroboration of such a report. Similarly, twitter users also pointed out that X's provision of Community Notes clarified that this was in reality an instance from the Sabra and Shatila massacre of Palestinians and Lebanese Shias by Israel. It must also be of note that this incident bears strong resemblance to the incident of violence that occured with Bilkis Bano in 2002 Gujarat pogrom. Kaul's LinkedIn account represents his work as a assistant editor at TV9, and also credits him as a faculty member at the Internal Security Academy, Government of India.
Hashtags wielding anti-Muslim sentiment
As many Jewish people rally against Netanyahu as the number of deaths rise and the hostage negotiation seems to head nowhere, Indians online seem to be asserting their support. However, this stance of several right-wing Indians too seems lodged in Islamophobia.
On the Indian side of the hashtags, StandwithIsrael, IndiawithIsrael, Israel_Palestineconflict one can further see accounts with saffron symbols etched on these anonymous accounts. One such account, The Saffron Bharat, with Savarkar, Bhagat Singh both etched on his profile photo, tweeted the following.
Viral Video
Muslims of Undivided India 🇮🇳
who voted For Creation of Pakistan 🇵🇰 1946
but stayed in India.
Have High Level Toxicity for Israel

They don't represent Majority of Mood of Indians 🇮🇳

INDIA (Bharat🚩) stand with ISRAEL 🇮🇱#Israel #StandWithIsrael #Gaza #GazaCity pic.twitter.com/IeuYT7O69F

— The Saffron Bharat 🇮🇳🚩 (@Saffron_coming) October 15, 2023
Another user, with an account of the similar kind, tweeted in the aftermath of the latest India-Pakistan match, tweeted the following mocking the Muslim ritual prayer – namaz.
Jai Sari Ram friends🚩🚩🚩
The tweet of the day on Pakistan get lost by India Ahmedabad #WorldCup2023, how loser get lost even after offered the Namaz ? Mohammad Rizwan.#Sorry_Pakistan #earthquake
Re-post for #StandWithIsrael
🇮🇳🇮🇱🇮🇳🇮🇱🇮🇳🇮🇱🇮🇳🇮🇱🇮🇳🇮🇱🇮🇳 pic.twitter.com/rVg6XCGdu2

— TIger NS (@TIgerNS3) October 15, 2023
I'm confused!!!
If these arab countries support Palestine so much, why don't they accept their refugees?? 🤔
👉Maybe Arabs also know the religion of terrorism? #Israel #PalestineGenocide #Gazagenocide #GazaAttack #GazaEvacuation #GazaUnderAtack #IndiaWithIsrael #IsraelGazaWar pic.twitter.com/S7WPxi9g1i

— The Thakur (@Rachit_thakur1) October 16, 2023
Similar tweets depicting a dwindling sportsmanship have flooded the internet after the cricket final took place on Saturday.
Big victory✌ Congratulations Team India to defeat Bhikharistan, Well Played, it'snot a joke, India Won by 7 wickets, because Baap Baap Hota hai, this victory just for #Isarael Vande Mataram #TeamIndia #MaukaMauka #INDvsPAK#IsrealPalestineconflict#StandWithIsrael #Hamas_is_ISIS pic.twitter.com/z93IzwPqsY

— TIger NS (@TIgerNS3) October 14, 2023
Another seemingly anonymous and right-winger oriented account tweeted the following, "They are scared of Kafirs. .. .. We are done with Satans /Shaitan"
Hashtag such as StandwithPalestine too had tweets mocking Muslims, such as the following.
Stand with Palestine and bend before India.
Rizwan you beauty 😍❤️ pic.twitter.com/wyYTSC4j0n

— Piyush (@TheSusBoss) October 16, 2023
SagasofBharat tweeted another post, "What indian Muslims couldn't do Palestine did it. It took one Palestine attack to suddenly change these Hindu leftists."
Similarly, the hashtag 'Namaz' also was replete with inhumane discussions of Muslims. An account named KR Tripathi tweeted the following, using abusive language and slurs for Muslims, after an alleged incident in France.
In France,a Muslim student attacked his teachers chanting #AllaUparkar.killing 1 n injuring 2.
In d Condolence meeting called for d dead,a #Katua teacher was seen laughing shamelessly.
Which is d #nasty_Book after reading which man becomes an animal?#Namaz #IslamIsTheProblem pic.twitter.com/C4ZWpu05V2

— K.R.Tripathi🇮🇳🙏🚩 (@krthi65) October 15, 2023
Rizwan read namaz on the ground. He dedicated his victory to his religious brethren in Palestine.

PCB chairman called India a 'dushman mulk'. Your players call cricket matches a Jihad.

Amdavad's crowd has just reciprocated. Stay in your lane next time! Thanks.

— Harshil Mehta (હર્ષિલ મહેતા) (@MehHarshil) October 15, 2023
Asserting that 'everyone #StandswithIsrael', one user seemed agitated with the association of Palestine and namaz. Furthermore, the #IndianMuslims hashtag was flooded by dozens of accounts posting about supporting Israel, and how Muslims in India support 'terrorists', 'snakes', and traitors. The alleged support for the Israeli state by these users seemed to be distinctly filled with anti-Muslim sentiment, as can be seen below. The user below seems keen to depict Muslims as traitors.
Why #Indian Muslims are supporting Palestinian Hamas terrorist act.😔 ?#GazaUnderAttack #IsraelPalestineWar #Gaza #Palestine #Israel #FreePalastine #طوفان_القدس #Hamas #Hindus #HamasTerrorists #IndianMuslims #IStandWithIsrael pic.twitter.com/LqLsFqkhL4

— Khushi Tiwari 💖 (@Khushitiwari0) October 10, 2023
Another user named Anuj Singh called Muslims 'snakes'.
#IndianMuslims
Trust a snake but don't trust Indian muslims pic.twitter.com/OvsJGQ1lWs

— 🚩अनुज सिंह🚩 (@AnujSin51177989) October 10, 2023
Another such tweet one one of these hashtags 'Muslims in India' stated that "95% of Muslims in India support #HamasTerrorist no matter how cruelly they k!lled Israel ppl While 50% of Hindus still believe that Nupur Sharma is wrong."
Another user, named Aditya, posited the same statement "95% of Muslims in India support #HamasTerrorist no matter how cruelly they k!lled Israel ppl While 50% of Hindus still believe that Nupur Sharma is wrong."
Tweets alluding to Muslims as traitors further flooded the hashtag, in a pernicious attempt to blame Muslims and further spew hatred against them. Nuper J Sharrma head of the right-wing media portal OP India also tweeted in similar lines:
You're wrong. Indian Muslim violence against Hindus will still fail to move them because for these "liberals", Hindus are dispensable. They are moved only when whites die. It's not about the barbarity of Islamists but who that barbarity is being unleashed upon. https://t.co/67ZfUA2jeD

— Nupur J Sharma (@UnSubtleDesi) October 10, 2023
Going one step further, Sudharshan News even ran a programme titled 'Hindustan aur Bangladeshi mein Badi Gaza banne waali thi', with Suresh Chavhanke drolling, "There was to be a bigger Gaza in India, from Pakistan to Bangladesh 16 km wide, 2000 km long.. A long road within which India would have been broken. Gaza wasn't made to happen in India, this is why Gandhi was assassinated!"
हिन्दुस्थान में पाकिस्तान से बांग्लादेश तक बड़ी गाज़ा बनने वाली थी !@SureshChavhanke #IsraelPalestineConflict pic.twitter.com/kJ4Pcaj3tx

— Sudarshan News (@SudarshanNewsTV) October 12, 2023
In 2019, Apoorvanand wrote on the growing close ties between Israel and India, noting, "The previous Modi regime saw an unprecedented and brazen support for Israel — something that existed but at a lower scale and covertly until then. In July 2017, Modi became the first Prime Minister of India to visit Israel, Netanyahu visited India six months later. Under this regime trade relations between India and Israel grew remarkably, India's film industry was roped in for Israel's PR through a government to government agreement, and most crucially, India bought almost 50% of Israel's weapons exports in the period from 2013-2017. These weapons are sold by Israel as 'field-tested', for they have been used to kill and maim Palestinians- obviously the best way to sell weapons from Israel's perspective. These weapons are then used to crush political struggles in India. Along with its weapons, Israel also sells its methodology of asymmetrical violence and surveillance." These factors point towards the fact that there has been an unprecedented growth in relations between Israel and India – and in that sense encouragement of Indians to see Israel as a friendly country.
Hurdles in accessing free and factual information across the globe
Global institutions have noted the rampant spread of misinformation on the internet. Social media sites including Facebook, X, and Tik Tok are under the limelight for the amount of unverified information flooding them. According to a report by ABC news, X, formerly Twitter, is no longer efficiently acting against fake news. Furthermore, its algorithm seems to be giving preference to posts from accounts that pay for its blue-check subscription service, regardless of who the tweet belongs to and what the content of the tweet may be.
Thereonwards, if any of these posts go viral, then verified creators of these posts receive payments from X. This not only increases the reach of news that may be false and may cater to majoritarian demands, but it might also provide automatic monetary incentive for creators of fake news to make their misinformation reach a wider audience in exchange for money. While the European Union has expressed concerns to Elon Musk about misinformation and content that may be illegal according to Europe's new law the Digital Services Act on X. On October 12, the EU further took action by issuing a formal request to X and opening an investigation.
The #DSA is here to protect both freedom of expression & our democracies — including in times of crisis.

We have sent @X a formal request for information, a first step in our investigation to determine compliance with the DSA.https://t.co/59ZX51aDVG

— Thierry Breton (@ThierryBreton) October 12, 2023
The EU is known to have stringent regulation rules for online content. The social media site has been given a one week deadline until October 18 to address the inquiries regarding how functional its crisis-response protocol is. Additionally, X must also respond to other questions by October 31, as stated in the commission's official announcement. Two weeks earlier, the EU had accused X of having the most rampant disinformation. The exchange between EU's Thiery Breton and Elon Musk can be seen below. The news release also pointed out that X could face potential fines if they provide the commission with inaccurate, incomplete, or misleading information or even 5 % of their daily global earnings.
Our policy is that everything is open source and transparent, an approach that I know the EU supports.

Please list the violations you allude to on 𝕏, so that that the public can see them.

Merci beaucoup.

— Elon Musk (@elonmusk) October 10, 2023
Responding to the commissioner's letter, Musk wrote: "Our policy is that everything is open source and transparent, an approach that I know the EU supports. Please list the violations you allude to on X, so that the public can see them. Merci beaucoup."
The EU also sent a different version of the same letter to Mark Zuckerberg, the CEO of Meta, the company that owns Facebook and Instagram.
According to The Guardian, Elon Musk has disbanded the X's Trust and Safety Council, which was responsible for content moderation and combating hate speech and harassment. In its stead X has introduced something called Community Notes, which focuses on crowdsourced moderation. The community notes initiative places a significant responsibility on users to rectify factual inaccuracies rather than relying on professional content moderators.
Thus, with rising misinformation across the globe, with a substantial amount of misinformation and hate being spread on the Indian side, it is incredulous that more is not being done for curbing these campaigns, which in India seem to have one targeted appeal – which is to orient sentiment against Muslims. It has been observed above that the BJP tries to wrestle news events and gather sentiments to turn anti-Muslim with the help of their IT-Cell which runs 'parallel campaigns' to polarise people. Hate speech has been a known precursor to violence. As the news of a harrowing incident where a 6 year old Palestinian child was murdered and his mother attacked comes in from Chicago, USA, it is pertinent for governments to be vigilant in times such as these and curb misinformation and hate campaigns to prevent further attacks against vulnerable minorities worldwide.
Related:
BJP's "parallel" IT Cell exposed by Washington Post
Israel and Hindutva 2.0: Building Resistance through Joint Struggles
INDIA alliance writes to Facebook, Google CEOs on 'Communal Hatred', 'Neutrality'
Meta Facebook releases second human rights report, activists say no concrete plan to tackle issues in India