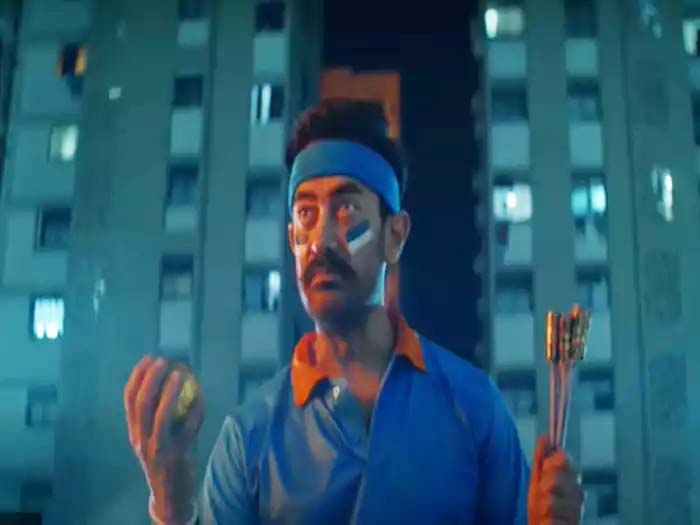 Right-wing supremacists, social media trolls as well as the regime's faithful lapdogs have dragged Aamir Khan into the middle of several inexplicable controversies over the last few years. The most recent instance is the completely unnecessary brouhaha over a CEAT tyres ad where Khan advises people not to burst crackers on roads.
It is noteworthy that Khan doesn't ask people to not celebrate Diwali or not burst crackers… he just advises them not to do so on the road. Now, one could say this is rather sound advice, given how the middle of the road is certainly not a place to burst crackers. One can always do so in open parks, gardens, building or housing society compounds etc. as these are open air spaces where people don't have to worry about being run over by vehicles, and vehicle owners don't have to worry about damage to their vehicles.
But Khan's detractors read it as a Muslim man advising people against celebrating a Hindu festival, giving the entire message a communal colour. Watch the ad and judge for yourself:
In a letter dated October 14, Bharatiya Janata Party (BJP) MLA from Karnataka Ananthkumar Hegde has urged MD and CEO Anant Vardhan Goenka to take note of how Muslims block roads during azaans, suggesting that the ad has hurt sentiments of Hindus by exclusively targeting them while ignoring how other communities cause what he feels are similar inconveniences.
"Your company's recent advertisement in which Aamir Khan is advising people not to firecrackers on the streets is giving a very good message. Your concern for public issues needs applause. In this regard, I request you to address one more problem faced by people on roads, i.e., blocking roads in the name of namaz on Fridays and other important festive days by Muslims," Hegde wrote, adding, "As you are very keen and sensitive towards the problems faced by the general public and you also belong to the Hindu community, I am sure you can feel the discrimination done to the Hindus for centuries."
Hegde also wrote about how certain "non-Hindu" actors always hurt Hindu sentiments and stay silent on the "wrongdoings of their community", thereby placing Aamir Khan's Muslim identity front and centre in this controversy.
It didn't matter that the ad was part of a series on road safety and had included advice against driving on the "wrong side" or dancing on the street during wedding processions.
But this isn't the first time Khan has been targeted for his faith. It all began when Aamir Khan gave an interview to Shekhar Gupta for NDTV in 2005, criticizing Narendra Modi for the way in which he failed to prevent the killing of innocent people during the 2002 Gujarat genocide. "There were Indians being killed by someone who is supposedly a leader and he is responsible, he and his party are responsible for the killings," Khan had said at the time, adding, "In my opinion, people who indulge in these kinds of things are the most unpatriotic and completely Anti-Indian." Narendra Modi was chief Minister of Gujarat at the time.
In 2006, Khan joined activist Medha Patkar, who is best known for the Narmada Bachao Andolan, to demand rehabilitation of families displaced due to the construction of the Sardar Sarovar Dam. Khan refused to take back his statements despite huge protests in Gujarat, where the dam had been hailed as a life saver as it provided water to areas that had hitherto not had access to it. The state government (still under Modi) had decided not to allow his movie Fanaa from being screened in Gujarat. Aamir Khan refused to budge from his stand on Narmada and called for a press conference in May 2006, where he said, "Let me specify that I am not opposed to Narmada dam construction. All I want is that the people, who have been ousted by the construction of the dam, should get alternative accommodation." He further asked, "I will not apologise. Why should I apologise? I am not saying anything wrong. Even the Supreme Court of India says the same. So will the BJP tell the Supreme Court of India to apologise as well?"
Modi became India's Prime Minister in May 2014, and in November 2015, Khan had shared how the growing religious intolerance in the country was a serious cause of concern, and how his wife at the time, Kiran Rao, had suggested they move to another country. Khan was speaking at the Ramnath Goenka Award ceremony that year and said, "Kiran and I have lived all our lives in India, and she says to me, 'should we move out of India?' She fears for our child given the atmosphere." He also referred to a sense of growing "despondency and disquiet" and how this was causing "alarm and was depressing".
Shortly afterwards, social media erupted with many celebrities who are seen to be close to the present regime questioning Aamir's statement, some even accusing him of being ungrateful to the country that made him a star.
Dear @aamir_khan. Did you ask Kiran which country would she like to move out to? Did you tell her that this country has made you AAMIR KHAN.

— Anupam Kher (@AnupamPKher) November 23, 2015
Now that @aamir_khan also feels we are an #IntolerantNation. Let us now go all out and prove once for all that we are really intolerant.

— Ashoke Pandit (@ashokepandit) November 23, 2015
Meanwhile, right-wing trolls launched a vicious campaign against him, urging, in fact bullying, brands to end their association with him. In January the following year, Aamir Khan's contract with Incredible India was not renewed by the Ministry of Tourism. In February, Snapdeal snapped ties with Khan after facing intense pressure from people who gave it a single-star rating in the Google App store thus downgrading it. In December 2016, it was revealed by journalist Swati Chaturvedi in her book titled I am a Troll, that Snapdeal was forced to drop Khan due to pressure from the BJP IT cell.
And things have gotten uglier since then. In fact, earlier this year when Aamir Khan and Kiran Rao announced their divorce, Twitter trolls once again went on to target Khan for his religion. He was now painted as a poster-boy for "Love Jihad", with multiple accounts with followers ranging from 20 to over 50,000 posting identical tweets. Sample this:
Aamir Khan married a Hindu, had 2 children & then got divorced. He again married a Hindu, had a child and got divorced.

The elites would still be in denial over the menace of Love-Jihad. If this is not Love-Jihad, then what is? pic.twitter.com/TuiAA9dLPn

— The Jaipur Dialogues (@JaipurDialogues) July 3, 2021
Aamir Khan married a Hindu, had 2 children & then got divorced. He again married a Hindu, had a child and got divorced.

The elites would still be in denial over the menace of Love-Jihad. If this is not Love-Jihad, then what is? pic.twitter.com/E9nWFPDyL9

— जय श्री राम । Wannabe Kisan। Rajeev Vaid (@RajeevVaid) July 3, 2021
Aamir Khan married a Hindu, had 2 children & then got divorced. He again married a Hindu, had a child and got divorced.

The elites would still be in denial over the menace of Love-Jihad. If this is not Love-Jihad, then what is? ?? pic.twitter.com/Wx5tVFVQ91

— Naren Mukherjee ?? (@narendra52) July 4, 2021
The Ceat Tyres controversy though appears to be fizzling out with trolls directing their wrath towards cricketer Mohammed Shami after India lost a match to Pakistan over the weekend.
Related:
BJP MP says Aamir Khan's CEAT Tyres Diwali ad hurts Hindu sentiments