Akhil Bharatiya Vidyarthi Parishad (ABVP) members reportedly vandalised property at Zakir Hussain (Evening) college and assaulted students and staff.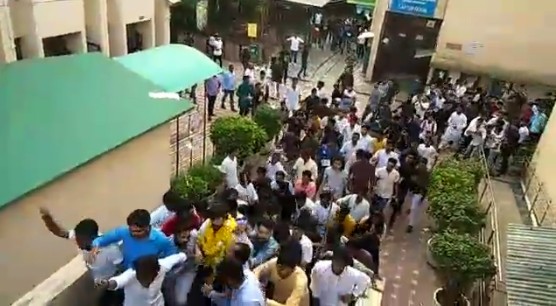 The said incident took place on Monday as the ABVP's vice-presidential candidate, Shakti Singh, had gone for college campaigning. When Shakti Singh and other members of ABVP were denied entry by the college guard, they resorted to violence and ran amok on the premises wielding sticks and raising slogans, breaking flower pots and furniture.
"I don't know how it started, but I was shocked to hear the commotion. They vandalised college property, broke chairs and threw flower pots. It was ABVP activists who beat up students; they even hit girls and staff" said the college principal Masroor Ahmad Baig. Police were then called in and the college is filing a complaint.
"Police personnel were present at the spot when the incident took place and they controlled the crowd. No complaint has been received from the college administration," the DCP (central) Mandeep Singh Randhawa, said.
"This all began when ABVP candidate Shakti Singh forcibly entered the college with 50-100 of his friends and started ransacking property. To protect ourselves we left the college and later picketed on road for hours demanding action," Anoop, a student of the college, told IANS.
Disturbed by the unruliness of the ABVP members, students of the college picketed outside the college and demanded action against this incident of violence
In a video of the incident, men with placards around their necks, with 'Shakti Singh' written on them, can be seen lifting and breaking flower pots, chasing people with sticks, breaking chairs and littering the premises.


ABVP national media convenor Monika Chaudhary has denied the involvement of ABVP in the incident calling it a "fight" between two groups.