In yet another act of intimidation, a social activist from Meghalaya and president of the Civil Society Women's Organisation (CSWO), Agnes Kharshiing and her colleague, A Sangma was attacked by suspected coal mafias in Tuber Sohshrieh in East Jaintia Hills district this afternoon. The incident was reported by the northeast today portal.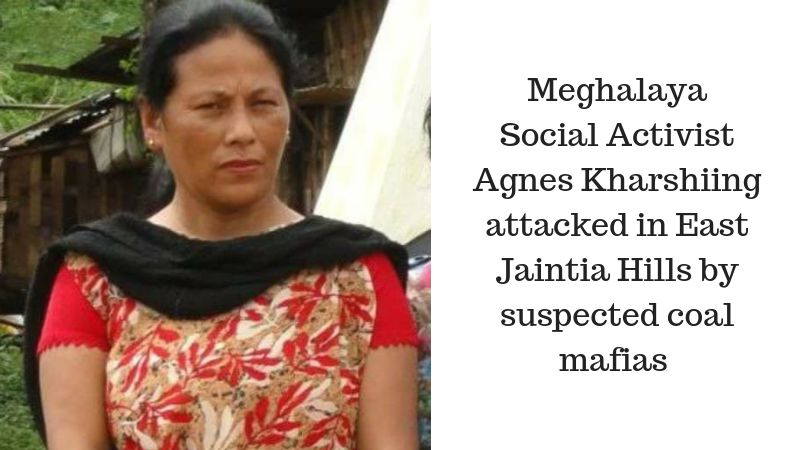 Confirming the incident, police sources informed that Kharshiing was attacked on the head and is in a very serious condition. She was shifted to Ialong Civil Hospital but later rushed to NEIGRIHMS hospital in Shillong.
The incident happened a day after Kharshiing lodged a complaint on coal-laden trucks parked at Mawiong rim in Shillong, which were later seized by the police. Kharshiing has been very vocal against coal mining activities in the state since the NGT ban. In the past, she had exposed rampant mining and transportation of coal despite the ban across the Khasi and Jaintia Hills.

In March this year, in another shocking incident, Poipynhun Majaw, President of JYF (Jaintia Youth Federation) has been killed and his body has been found in Khliehriat in East Jaintia Hills District. He succumbed to his head injuries after being hit by a hard object, possibly an iron rod.The CSWO President and RTI activist Agnes Kharshiing has strongly condemned this incident and said, "We strongly condemn his killing and demand Immediate arrests of those responsible."
Police informed that the CSWO president had gone to Tuber to follow up on the Nov 7 incident at Mawiong rim. She along with another member, A Sangma were attacked and dragged and left in a jungle. It was informed that Sangma managed to crawl her way to the road and sought for help.
Kharshiing was later found in the near-by jungle in an unconscious state. She was said to have suffered severe head injuries. The incident happened around 2.30 pm today.
Interestingly, the driver who drove the duo to Jaintia Hills was left unharmed and allowed to flee. Police are yet to record his statement.
When asked whether the two women were assaulted before being left in the jungle, police said they are yet to receive the medical reports but confirmed that both of them were hit on the head with a hard object.

Sources informed that moments before Kharshiing was to leave for Tuber, a man visited her at her residence in Laitumkhrah, Shillong and offered her money, asking her to take back the case. However, Kharshiing refused the offer and decided to go to Tuber.
It may be mentioned that this is the second instance where a social activist was attacked in East Jaintia Hills. In the month of March, the president of Jaintia Youth Federation (JYF) Poipynhun Majaw was found murdered at Khliehriat. Majaw was one of the active NGO leaders in Jaintia Hills and had on several occasions demanded closure of cement plants for violating the norms in Jaintia hills.