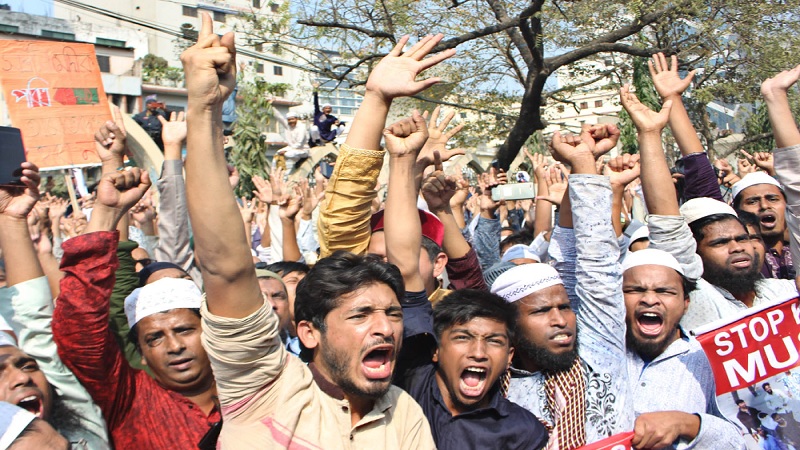 Image Courtesy:benarnews.org
International media have begun to report that civil society protests against the impending Bangladesh visit of India's Prime Minister Narenda Modi. The Prime Minister's Office has said that PM Modi is visiting Bangladesh on the invitation of Prime Minister Sheikh Hasina. He will be in Bangladesh on March 26 and 27, 2021 in connection with the commemoration of "three epochal events – Mujib Borsho, the birth centenary of Sheikh Mujibur Rahman; 50 years of the establishment of diplomatic ties between India and Bangladesh; and 50 years of Bangladesh's war of liberation" stated PMO.
Prime Minister Modi had last visited Bangladesh in 2015, and now will be the guest of honour at the National Day programme on March 26. He is also expected to hold bilateral consultations with Prime Minister Sheikh Hasina, and call on the President Md. Abdul Hamid. According to news reports PM Modi is also scheduled to visit "a place outside Dhaka that is sacred to the Matua community of India's West Bengal state." Matua is a Hindu religious sect that according to news reports may have an impact on "at least seven constituencies" in West Bengal's Assembly elections next month.
While India has stated that the PM's choosing Bangladesh as the first visit to a foreign country since the outbreak of the Covid pandemic "highlights the priority India attaches to Bangladesh" a section of citizens of the neighbouring country differ.
A group of citizens, and student activists rallied in Bangladesh's capital on Friday to "denounce the upcoming visit of Indian Prime Minister Narendra Modi to join the celebration of the country's 50th anniversary of independence" reported the Dawn. According to the news report, after Friday prayers, about 500 Muslims marched onto the streets outside the country's main Baitul Mokarram Mosque in downtown Dhaka amid tight security. The protesters carried no banners and did not declare if they have any allegiance to any political parties. However, "they took their shoes in their hands to show disrespect to Modi and chanted anti-India and anti-Modi slogans, asking him not to come to Dhaka," stated the news report.
Another group of "about 200 left-leaning student activists marched through streets on Dhaka University campus where they called Modi "the butcher of Gujarat" it was reported by Dawn. Here some protesters carried posters reading "Go Back Modi, Go Back India" etc. The protesters also criticised Bangladeshi Prime Minister Sheikh Hasina for inviting Modi, saying the two countries had many disputed issues. According to the news reports protesters said "Modi and his Hindu-nationalist party oppressed Muslims in India" and they "also criticised the killings of Bangladeshis by Indian border guards".
Ahead of the visit India's Khadi and Village Industries Commission (KVIC) has supplied 100 custom-designed "Mujib Jackets" that will be the attire of dignitaries during the visit of the Prime Minister announced the Press Information Bureau. "Mujib Jacket" is the signature garment worn by Bangabandhu Sheikh Mujibur Rahman, hailed as Bangladesh's Father of the Nation. According to PIB, as Bangladesh celebrates "Mujib Borsho", the birth centenary of Sheikh Mujibur Rahman, Indira Gandhi Cultural Centre of the Indian High Commission in Dhaka, had placed an order for 100 Mujib Jackets, ahead of the PM's visit.
RELATED
Hindu houses attacked in Bangladesh, two cases registered, hundreds sued
What will become of Jammu's Rohingya refugees?
Baul Singers of Bangladesh Struggle to Survive Amid Onslaught By Muslim