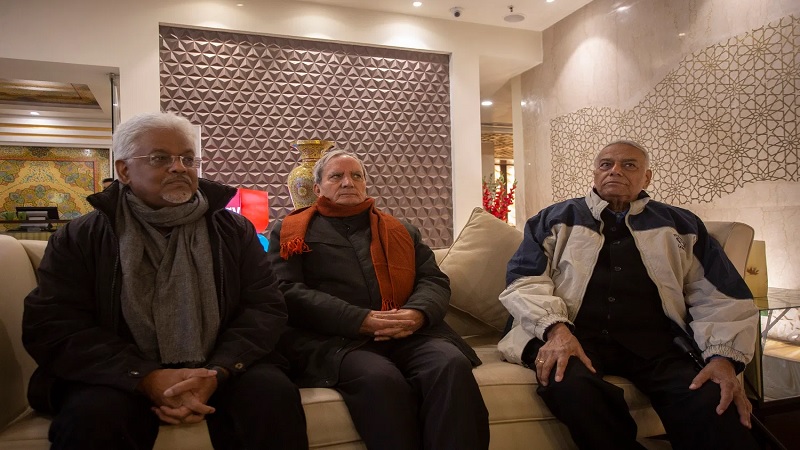 Image Courtesy:kashmirobserver.net
Address the sense of defeat and anger amongst Kashmiris by opening up democratic spaces for people, said the Concerned Citizens' Group (CCG) on April 15, 2021 after its eighth visit to the Valley.
Following a short visit to the region between March 30 and April 2, members Yashwant Sinha, Sushobha Barve, Wajahat Habibullah and others reported on Kashmir's condition in their eighth report about Kashmir. In it, the CCG noted Kashmiris do not have a space to express their dissent or criticism of government policies or police action on any platform.
"Journalism has been virtually criminalised. No protests by civil society are allowed, nor are rallies by political parties permitted. The police do not hesitate to summon journalists and ordinary citizens and even lock them up under the Public Safety Act," said the report.
An intellectual speaking to CCG members said that the population that felt no ill-will towards India is "non-existent" nowadays. People said they were wary of news coming in from Delhi. Members said they have never previously heard so many people expressing hatred of Delhi, and the Indian state as openly as during the last visit.
Following the Covid-19 pandemic and the abrogation of Article 370 on August 5, 2019, the former state has been in a double lockdown. Locals believe that the pandemic that has not caused Kashmir-specific problems will eventually pass. Businesses are slowly recovering as the tourism industry revives, although small businesses still struggle to stay afloat.
However, Kashmiris still question the Modi-government's move of altering the relationship between India and Jammu and Kashmir.
"Since August 2019 there have been changes in the administrative structure of the bifurcated Jammu and Kashmir. Old political parties are sought to be dismantled and the formation of new ones is being facilitated by Delhi. It is not clear whether Kashmir will resist the changes being imposed on it or accept them with resignation. The local political leadership is either silent or being forced into silence for fear of the Indian state," said the report.
Moreover, locals expressed an overwhelming sense of despondency that there are no significant voices in India who can speak for them or offer resistance to what has happened to them. They also told CCG members that they felt powerless when considering the strength of those who brought about these changes in Jammu and Kashmir. Citizens also hesitated to speak about other major protests in the country such as the farmers' agitation or the anti-Citizenship Amendment Act protests because they feel that their issues will get drowned in the larger ones encompassing India.
"We don't have leaders just as India does not have leaders who have a well thought out critique of the RSS and the BJP and who can lead the people against their designs," a Kashmiri public intellectual summed up the dilemma.
A business leader in the area also told CCG, Kashmiris were carefully watching communal tensions and conflagrations in mainland India such as the treatment of Muslims to understand their own plight. Beef-related lynching, cow politics and the so-called 'Love Jihad' laws, police violence on Jamia Millia Islamia and Aligarh Muslim University campuses, anti-Citizenship Amendment Act protests and the wanton use of NSA against protestors made Kashmiris cautious about Indian democracy.
To allay some of these concerns, the CCG recommended that civil society organisations be allowed to hold meetings, seminars, and discussions giving people a platform to vent their emotions and relieve the psychological pressure on them. It also suggested that the Indian government not impose artificial political processes on Kashmiris that are bereft of any democratic muscle. The CCG said national Opposition political parties should be able to visit Kashmir, move around freely and meet local political leaders and civil society actors.
The local political collective People's Alliance for Gupkar Declaration (PAGD) already expressed difficulties in organising a full-fledged Secretariat and a multi-layered structure, both of which are necessary to strengthen its foundational objectives. At the district-level, the CCG observed that people were moved by PAGD's resolve to protect the special status of Jammu and Kashmir.
During District Development Councils (DDC) elections, people supported the collective. However, meeting with DDC Chairman Mohammed Afzal Parray at the Chowalgam Rest House in Kulgam on April 1 revealed that security personnel prevented Elected Councillors from meeting the public. They were all kept cooped up in a local hotel and repeatedly humiliated by officials for facilities like transport and security, which they were assured was to be provided by the Police Control Room (PCR). Meanwhile, the public, including Councillors, were expected to pay the full fee for electricity connections, although supply was uncertain and erratic.
"The DDC members could offer nothing to the youth, except the prospect of jail. Many stood arrested, amongst whom many remained untraced with Councillors given no assistance in tracing their whereabouts. All felt unsafe," said Parray.
In response to this, the CCG demanded that DDC members be allowed to visit their constituencies and that the district bureaucracy be made accountable to the DDC. Further, the Delimitation Commission offices should be shifted to Jammu and Kashmir from Delhi so that people can easily access the place.
Moreover, the CCG observed that the government needs to pay special attention to the physical safety and economic well-being of Kashmir's minorities, especially the non-migrant Kashmiri Pandits, Sikhs and Shias who have lived peacefully in the Valley for centuries. Kashmiri Pandits pointed out that although they were continuously ignored from government plans, the Bharatiya Janata Party (BJP) repeatedly uses their plight as an election argument.
Other persisting issues such as ceasefire along the LOC, friction between non-Kashmiri security officers and local communities and drug addiction worsen the situation in the valley. Support for militancy grows as security forces continue to blow up houses where militants are suspected to take shelter, even during severe winters.
CCG members said that the Indian government should restore the earlier policy of restraint and preventing 'collateral damage' during counter-insurgency operations by security forces. However, despite such "balm to wound" suggestions, members observed that the Kashmiri youth hate India, having witnessed violent protests on streets for the past decade and brutal action by police and security forces.
"When they see no options, they are willing to take up the gun. Even if they do not have access to guns as of now, locals point out, they have militancy on their mind," said the report.
Members also noted that many youngsters considered the Indian flag atop government buildings as a sign of provocation while parents preferred to send their child abroad rather than to other parts of India.
"To bring about peace and restore the identity and honour of the people of Jammu and Kashmir, the central government would have to restore its statehood and start a dialogue for a fresh distribution of powers between the Centre and the State, keeping in mind the special history of the region's accession to India," concluded the report.
The entire report may be viewed here:
Related:
Veteran Human rights lawyer IA Rehman passes away in Lahore
The 'middle' ground in Kashmir has been completely wiped out: Yashwant Sinha
In Kashmir, even ordinary citizens now speaking language of militants and separatists
Handling of electronic evidence by agencies a perversion of criminal justice: CCG