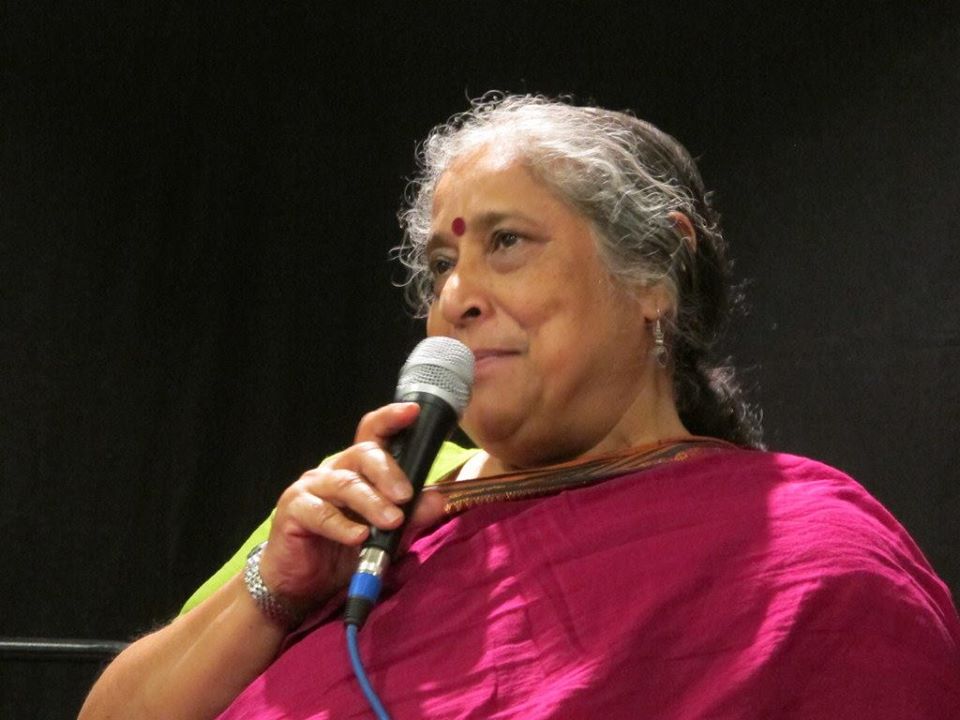 Image: Syed Amir Rizvi
Ilina Sen,wife of Dr. Binayak Sen, who passed away yesterday at the age of 69 leaves behind a void. Ilina's painful demise came after her battle with cancer for the last few years. Ilina passed away in Kolkata at around 7 p.m. on August 9. Her last rites were performed at Keoratala crematorium (in Kolkata) at 6 a.m. today. She is survived by her husband, Dr Binayak Sen, and two daughters, Prahnita and Aparajita.
Ilina was a doyen of feminist politics, blending it with indigenous community perspectives and that of the trade union movement of Chhattisgarh – a rare blend and perspective that brought the depth of inter-sectionality to her work. It also gave her both the analytical strength and practical vision of taking on the state, patriarchy, communal forces, employer companies and corporations that indiscriminately grabbed Adivasi land and forest resources. In one way or the other, her convictions and activism made her known to every sector of the people's movements of South Asia. Along with her husband, Sen was a powerful voice against Salwa Judum and setting up of civil vigilante groups called the Koya Commandos in Chhattisgarh.
In 2007, Binayak, a medical practitioner and also a human rights activist, was arrested on charges of being a "courier" for Maoists. He was later convicted by a Raipur sessions court on charges of sedition and under the stringent Unlawful Activities (Prevention) Act and Chhattisgarh Public Safety Act. Ilina spearheaded the legal battle for his release and also campaigned against the wrongful arrest of several young men from the Adivasi community in central India. In 2011, he was granted bail by the Supreme Court, which observed that no case of sedition was made out against him.
As soon as the news of Ilina's death was announced, several rights activists and academics took to social media to express their grief. Mumbai-based writer and journalist Dilip D'souza wrote, "Dismayed to hear of Ilina Sen's death. She was an endless source of material, common sense and inspiration when I was writing my book about her husband, Binayak Sen, and also later. Her own book, "Inside Chhattisgarh: A Political Memoir" was an eye-opener. Go well, Ilina."
A member of the Pak India Forum for Peace and Democracy (PIPFPD) for more than two decades and an integral part of many of our national and joint conventions, Ilina reminded the Forum constantly about the need to go outside the middle class activist space and establish lively relationships with ground movements – peoples organisations as well as trade unions. Her two books, Inside Chhattisgarh: A Political Memoir, as well as Sukhavasin: The Migrant Woman of Chhattisgarh are among her more known written contributions to the progressive movement. As critically and highly regarded are the number of times her articles, concept notes and criticisms have challenged different movements. She taught at Mahatma Gandhi International Hindi University in Maharashtra after her stint at TISS, Mumbai. Ilina Sen continued her lifelong association with Chhattisgarh Mukti Morcha, People's Union for Civil Liberties and many other feminist groups, public health movement and workers unions, even as her health worsened. She was also a former President of the Indian Association of Women's Studies.
The void that Ilina leaves behind is huge for the human rights movement overall and more so for the immediate family.
Ilina Sen spent the late 1970s and early 80s studying at Jawaharlal Nehru University and had actively participated in protests against dowry deaths and the Mathura rape case.
Ilina worked closely with Dr Binayak Sen, her husband on healthcare in remote tribal regions, mostly in central India. The couple spent several years working in rural Madhya Pradesh and were associated with the Chattisgarh Mines Shramik Sangatan (CMSS), an independent union of workers in the iron ore mining belt of Madhya Pradesh, in Dalli Rajhara (now in Chattisgarh). The couple eventually worked with the Shaheed hospital of the CMSS, created to provide healthcare within a working class movement.
They also set up an NGO named Rupantar, which focused on gender issues and trainings, as well as agrobiodiversity. At Rupantar, the couple started documenting the different indigenous strains of rice and seed banks Chhattisgarh had, and in one interview Ilina said that the efforts were to preserve several indigenous strains of food grain that were being ignored.
Related:
Sexual Violence As Tool of State-Repression: Chhatisgarh's Unending Tale of Injustice
Dr. Binayak Sen making a plea for restraint and Justice
Citizens Condemn RSS' Hounding of Outlook, Attack on Press Freedom