After being slapped with a 72 hour ban from campaigning, UP CM Adityanath decided to make a "personal visit" to Ayodhya. But the visit was far cry from being quiet or personal.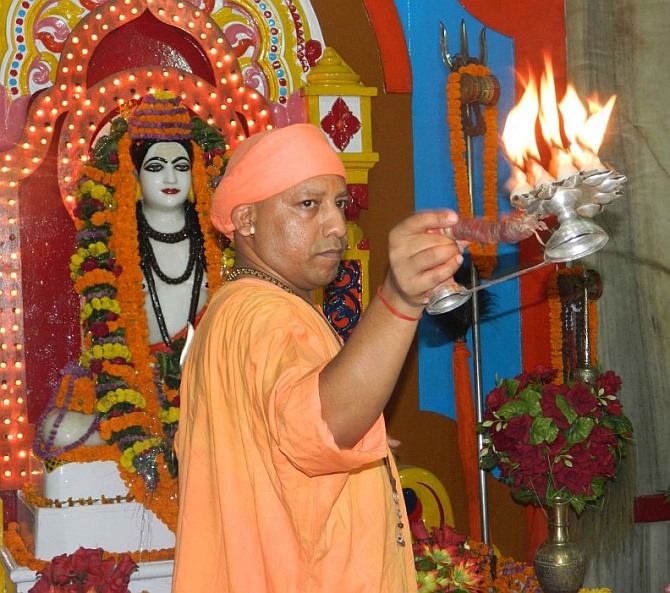 On Monday April 15, the Election Commission barred Yogi Adityanath from campaigning for 72 hours starting 6 am on Tuesday. This was in wake of his highly communal remark about Ali and Bajrangbali during a campaign rally in Meerut. The remark was seen as a clear violation of the provisions of the Election Model Code of Conduct (EMCoC) that prohibits asking for votes in the name of religion.
The provision states: "No party or candidate shall include in any activity which may aggravate existing differences or create mutual hatred or cause tension between different castes and communities, religious or linguistic."
After being barred from campaigning though Adityanath decided to go temple hopping and engaged in multiple photo-ops and activities such as dining with a Dalit, meeting a Muslim woman survivor of triple talaq and also meeting visually challenged young women. Most importantly he visited Ayodhya, specifically the disputed site where the saffron combine hopes to build a grand Ram temple someday. Adityanath's activities are therefore being seen as a veiled campaign by many.
In fact, according to the EMCoC, "Mosques, Churches, Temples or other places of worship shall not be used as forum for election propaganda." Adityanath's actions have therefore attracted questions and criticism.
Here's a blow by blow account of Adityanath's itinerary since the ban:
Tuesday, April 16: Adityanath offered prayers at Lucknow's famous Hanuman Setu temple. He reportedly recited the Hanuman Chalisa here.
Wednesday, April 17: Adityanath travelled to Gonda where he met a Muslim woman who said she was a victim of instant triple talaq. He then took a detour and went to visit differently abled children at Lucknow's Mohan Road. He met visually impaired girls here before leaving for Ayodhya. He went to the disputed site where he met seers including Ram Janmabhoomi Nyas Samiti chairman Nritya Gopal Das. He also held discussions with seers at the Digambar Akhada. He then stopped to have a meal with a Dalit family before proceeding to offer prayers at the Hanuman Garhi temple. He spent the night a Devi Patan Shaktipeeth temple.
Thursday, April 18: As the second phase of the general elections commenced, Adityanath maintained a low profile, not addressing the media and bidding his time till the ban was lifted.
Try as hard as he might, Adityanath is fooling nobody and it remains to be seen if he will once again be hauled up by the EC.