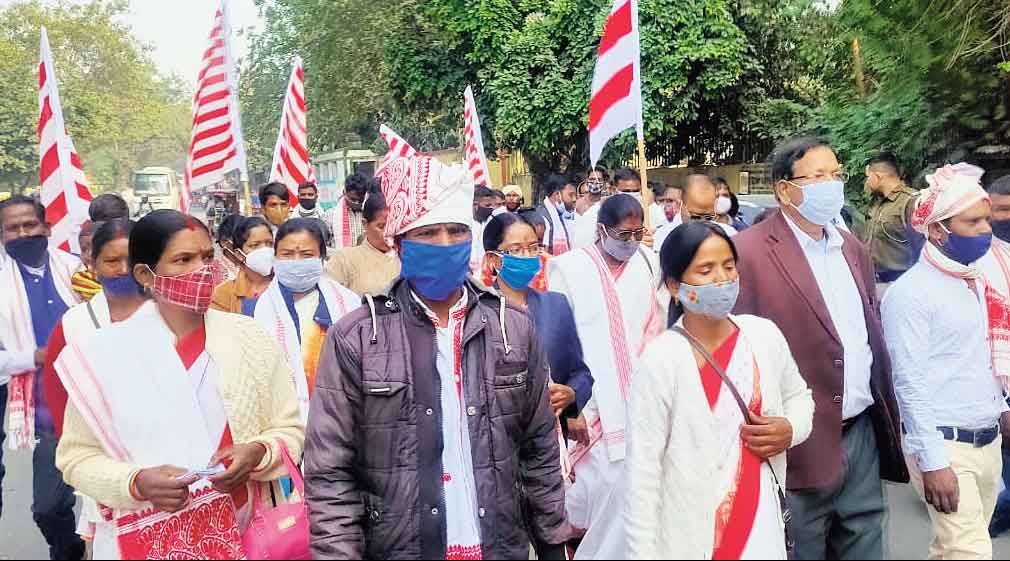 Adivasis in at least five states are planning to hold a Rail Roko (block railways) protest on November 30 to demand inclusion of the Sarna Code in the Census. As per a report in The Telegraph, the protest is being spearheaded by Adivasi Sengel Abhiyan, a tribal organisation having a presence in Jharkhand, Odisha, Bengal, Bihar and Assam.
The group is led by Salkhan Mumru who is a former Member of Parliament from Mayurbhanj in Odisha, and is currently based out of Jamshedpur in Jharkhand. Mumru told the publication, "We have a significant number of our members in these five states and they would be mobilised for the rail roko agitation. We are ready to withdraw the agitation if the Centre calls us for talks or agrees to include Sarna in the religion column of the next census."
It is noteworthy that the states where the agitation is planned are all associated with mining activity, and therefore depend heavily on railways for transportation of the extracted ore.
Adivasi Sengel Abhiyan plans to spend the next two months mobilizing tribals for the Rail Roko protest and also hold smaller peaceful protests. Mumru had in August met with President Draupadi Mumru and communicated the demand for inclusion of the Sarna Code in the Census to her as well.
Is Sarna a separate religion?
Sarna literally means a grove of trees, and followers of the Sarna religion hold groves of Sal trees, indigenous to the Chota Nagpur Plateau region, to be sacred. Sarna is an animist religion followed by a vast majority of Adivasis of indigenous tribal people of India residing in the states of Bihar, Chhattisgarh, Jharkhand and even some in West Bengal and Assam. They insist that despite being essentially nature worshipers, and even having festivals dedicated to ancestor worship, their religion is distinct from Hinduism. Sarna followers have therefore been demanding that it be recognised as a separate code in the Census, so that they can identify officially as non-Hindus.
In a December 2020 interview to Down to Earth, Sonajharia Minz, Vice Chancellor, Sido Kanhu Murmu University, explained, "According to the tribal ethos, community is part of an ecosystem and not the master of it. The tribal religion is different from Hinduism as it does not have a figure of god." She further said, "There is a supreme spirit that does not have a name and is worshipped. There is reverence for nature in the form of trees, mountains and rivers, as they are seen as the manifestation of that supreme spirit. The denial of this identity distorts the census figures."
In the same article[1] titled Sarna Dharam Code: Of Adivasi identity and eco-nationalism, Ambika Aiyadurai, Anthropologist, Assistant Professor, IIT Gandhinagar, offered another take on the importance of including the Sarna Code in the Census. She said, "Both Christianity and Hindutva groups (in northeast India) are competing with each other to bring the tribal communities under their respective folds. To resist this, there have been serious attempts to institutionalise the indigenous faith of the respective tribal communities, to create space for their own faith. Indigenous people are often caught up in a struggle to maintain their unique indigenous identity."
This is significant given how while on the one hand the continued presence of a variety of Christian missionaries in different tribal areas since before Independence had led many tribals to convert to Christianity, one the other Hindutva groups are trying to conflate the identity of all tribals with that of Hindus.
Since Census data plays a key role in development of policies related to Adivasis i.e people hailing from indigenous communities and tribes, followers of Sarna feel that assigning a separate code for Sarna religion in the Census would allow authorities to get an actual picture of just how many Sarna followers there are across the country and this in turn could help them in formulating better policies for tribals. When the tribal identity is conflated with that of Hindus or people of any other religion, their actual numbers are not represented properly. This impacts recognition of tribals and access to benefits related to reservations and welfare measures.
Recommendations and advocacy for inclusion of Sarna Code in Census
The National Commission for Scheduled Tribes (NCST) has recommended way back when the 2011 Census was to be conducted, that Sarna be assigned a separate religion code in the Census. Rameshwar Oraon who was the chairman of the NCST at that time was quoted by Times of India as saying, "Their demand deserves adequate attention and I would suggest independent religion code should be accorded to Sarna in the religion code of the Census."
According to Navbharat Times, when people were given the option to write Sarna in the 'other' column under religion, nearly 50 lakh people identified as Sarna followers, with 40 lakhs hailing from Jharkhand alone!
In fact, on November 11, 2020, the Jharkhand State Assembly passed a unanimous resolution to demand the inclusion of a separate Sarna Code in the 2021 Census. The proposal was tabled by Jharkhand Chief Minister Hemant Soren who had said previously at an online conference of Harvard University in February that year, "Tribals were never Hindus. They have a distinct social and religious identity. They are nature worshippers and yet efforts have been made to club them with Hindus." At that time, Soren had attracted much flak for this assertion, mainly from right-wing Hindutva groups who have long held the belief that all tribals are Hindus.
Salkhan Mumru, while reiterating this demand for a separate Sarna Code in the Census, told The Telegraph, "We are surprised as tribals, who are mostly nature worshippers, are denied this recognition. The 50-lakh tribal people, who had put their religion as Sarna in the 2011 census, although it was not a recognised code, are more than the Jains and Buddhists. The Adivasis are not Hindus, Muslims and Christians."
In December 2021, over 500 tribals had held a sit-in protest at Jantar Mantar under the aegis of Rashtriya Adivasi Samaj Sarna Dharma Raksha Abhiyan. The four-hour long protest culminated with memoranda being given to then President Ram Nath Kovind, Prime Minister Narendra Modi, Union home minister Amit Shah, Union tribal affairs minister Arjun Munda and registrar general and census commissioner of India Vivek Joshi.
Karma Oraon, who is the former head of anthropology department in Ranchi University and advisor, Rashtriya Adivasi Samaj Sarna Dharma Raksha Abhiyan, was quoted by The Telegraph as saying, "The inclusion of separate Sarna religion code would help in the preservation of separate tribal identity both culturally and in terms of religion."
---
[1] https://www.downtoearth.org.in/news/governance/sarna-dharam-code-of-adivasi-identity-and-eco-nationalism-74569
Related:
Sarna code, a possible headache for right-wing supporters?
Sarna code: More than just a political tactic