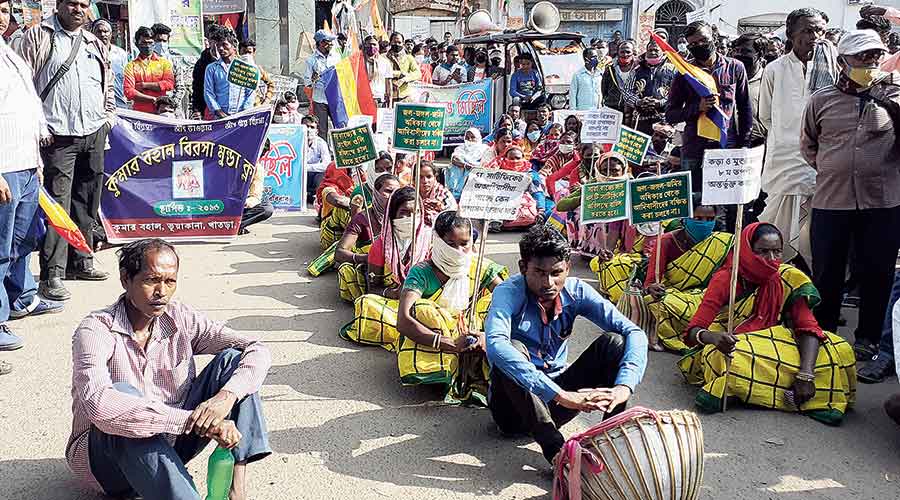 Image: The Telegraph
On Sunday, over 1,000 Adivasis took to the streets of Bankura in West Bengal to protest the recent 'insult' to Adivasi warrior and freedom fighter Birsa Munda. On November 5, during his recent visit to West Bengal, Union Home Minister Amit Shah ended up offering 'floral tributes' to a picture of Birsa Munda that was placed at the foot of a generic statue of a tribal warrior.
What had happened was that Bharatiya Janata Party (BJP) members had at first misidentified the statue itself as that of Birsa Munda, a man many Adivasis consider akin to god. But when they discovered their mistake, they just placed a picture of Munda at the foot of the statue and the ceremony just went on.
At the protest by Adivasis on Sunday, over 1,000 people belonging to different tribal communities participated in a rally from Lalbazaar to Machantala protesting how Shah's actions had "undermined" Birsa Munda. The rally ended just before West Bengal Chief Minister Mamata Banerjee reached Bankura.
Sunil Kumar Mandi, the district president of the All-India Adivasi Bikash Parishad told The Telegraph, "We tried to get the attention of our chief minister through our protest rally as she reached the district today (Sunday). The protest is against the move to humiliate our hero, Birsa Munda, as Amit Shah paid tribute to a hunter's statue and garlanded a photograph of Munda kept by the feet of the statue."
The statue fiasco just shows how little Amit Shah or his party members know about the history and contributions of this legendary Adivasi leader who valiantly organised the first Adivasi rebellion against the British and was killed in June 1900, at the age of just 25!
Shah was visiting Bankura, an Adivasi dominated district as a part of preparations for the upcoming state assembly elections next year. The tribal vote is critical for the party, which is why a crash course in Adivasi history and some homework would have helped the BJP. But instead of expressing regret at his mistake, Shah tweeted the embarrassing photos of the event!
Paid floral tributes to legendary tribal leader Bhagwan Birsa Munda ji in Bankura, West Bengal today.

Birsa Munda ji's life was dedicated towards the rights and upliftment of our tribal sisters & brothers. His courage, struggles and sacrifices continue to inspire all of us. pic.twitter.com/1PYgKiyDuY

— Amit Shah (@AmitShah) November 5, 2020
This understandably rubbed the state's significant Adivasi population the wrong way., and the Trinamool Congress wasted no time in pointing out how BJP will always be a party of 'outsiders'.
'Bohiragato' are at it again!

Union Home Minister @AmitShah is so ignorant of Bengal's culture that he insulted Bhagwan Birsa Munda by garlanding a wrong idol & placed his photo at someone else's foot. Will he ever respect Bengal?#BengalAsksAmitShahhttps://t.co/045lw50TV2

— All India Trinamool Congress (@AITCofficial) November 6, 2020
The Telegraph reported that last week the TMC in Bankura had decided to flood Shah's letterbox with 50,000 postcards written by tribal residents of Jungle Mahal districts, seeking his apology. A statue of Birsa Munda was also being planned in the area, for which land had already been identified.
This is the second time when the BJP has had an embarrassing encounter with the statue of a respected icon in West Bengal. It may be recalled that in May 2019, during a rally by Amit Shah in Kolkata, party workers of the BJP vandalised a statue of Ishwarchandra Vidyasagar, an intellectual and social reformer known best for his campaign for Hindu widow remarriage.
Related:
Amit Shah's epic faux pas in West Bengal!
Vidyasagar Statue Row: Kolkata tense as Videos emerge showing BJP cadres desecrating statue
Violent clashes in Kolkata at Amit Shah's Roadshow
When a War against Oppression First Began: The Santhal Rebellion