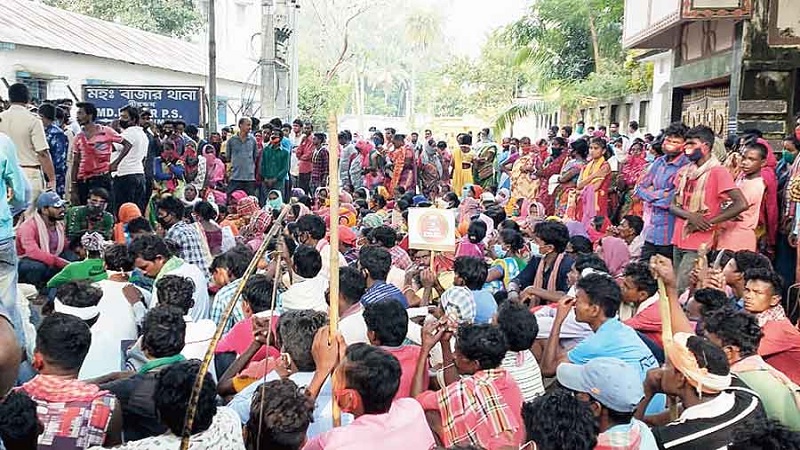 Image Courtesy:telegraphindia.com
In a bid to save their homeland, around 1,000 Adivasis held a protest against the Deocha-Pachami coal mining project that could result in the destruction of tribal settlements. The protest was held in front of Mohammad Bazar police station for nearly three hours on September 9, 2020, Telegraph India on Thursday.
The protest was led by Birbhum Adivasi Gaonta, a platform of tribal people opposing the proposed coal mine. 40 other areas across India have been proposed for coal mining and have met similar opposition from locals who fear loss of livelihood and land. However, both the Central government and the West Bengal government are keen on starting mining by early next year.
One of the protestors present on Wednesday said that his people do not wish to be evicted from their land at any cost. He said Adivasis don't want a coal mine in the area as their livelihood is already facing a crisis because of pre-existing stone mines and crushers.
District officials assure that affected families will receive appropriate compensations but fail to gain the trust of tribal folk.
On July 9 2020, government officials including Chief Secretary Rajiva Sinha had held a meeting with stakeholders and landowners expressing the government's desire to start mining soon. The meeting also claimed to address the concerns of locals. There, Chief Minister Mamata Banerjee said "all queries by relevant stakeholders have been addressed" and that the State government intends to create a "model for India" by effectively executing the Deocha-Pachima coal mine project.
Chief Secretary Shri Rajiva Sinha ji, other senior state & district officials have held detailed consultation with the people of Md. Bazar Block at Deocha. The entire coal mining project was explained at length & all queries by the relevant stakeholders were addressed. (1/2)

— Mamata Banerjee (@MamataOfficial) July 9, 2020
We will create a model for India to execute large projects like Deocha Pachami Coal Block. This shall be done in phases & with full public support by adopting best mining practices in a time bound manner. Wheels of development in Bengal won't stop even in times of crises. (2/2)

— Mamata Banerjee (@MamataOfficial) July 9, 2020
However, according to Convener of the Birbhum Adivasi Gaonta, Sunil Soren, the original stakeholders were not allowed to take part in the July 9 meeting. He said local Trinamool Congress leaders produced some people to discuss the issue of rehabilitation. Soren emphasised that the locals don't support setting up of the coal mine at any cost.
The group had submitted a deputation to the police that detailed their demands including an end to police atrocities and the illegal stone crushers and mines.
Meanwhile, the government is deeply invested in the Deocha-Pachami coal block in Birbhum's Mohammedbazar. The coal block is spread over 11,222 acres with an estimated coal reserve of around 2.2 billion tonnes. Government figures claim that the project can generate jobs for at least 1.5 lakh people and has the potential to boost economic growth for the entire area of south Bengal.
District officials, however, said the government was planning to start the work of the coal mine from around 40 acres of land vested with it.
Related:
Unmindful mining will bring permanent pandemic
NAPM demands that Centre immediately revoke the commercial auction of 41 coal blocks
Commercial Mining, not a boon but a curse: Jharkhand & Central India