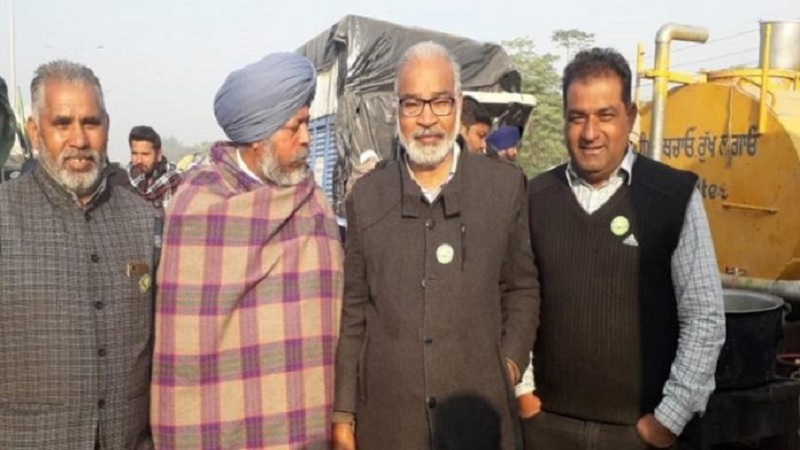 Image Courtesy:theprint.in
A lawyer from Punjab died by suicide on December 27, 2020 at the Tikri border, one of the farmers' protest sites, to offer himself as a "sacrifice" for the farmers' cause, said The Tribune. This is at least the third such incident where a person took extreme measures for the success of the farmers' struggle.
The person identified as an advocate Amarjit Singh from Fazilka city was taken to Rohtak's Post Graduate Institute of Medical Sciences. However, he was declared dead at the hospital, leaving behind only a suicide note titled "Letter To Modi, the Dictator."
The letter dated December 18, read:
"The General Public of India has given you absolute majority, power and faith for saving and prospering their life. But with great sorrow and pains, I have to write that you have become the Prime Minister of special groups like Ambani and Adani etc… In order to feed some capitalists you have destroyed the common people and agriculture which is the backbone of India."
He further appealed to Prime Minister Narendra Modi not snatch livelihood from the peasantry and asked him to listen to the voice of people and God.
A fellow protester, Jaspreet Singh from Jalalabad, said Singh stayed at a camp in his neighbourhood near Pakoda Chowk in Bahadurgarh for a fortnight before his death.
Earlier, a 65-year-old priest at a Gurudwara and a 22-year-old farmer had resorted to similar steps to support farmers. Farmer leaders paid their respects to these and many such martyrs on December 20.
They also resolved to intensify protests to oppose the Farmers (Empowerment and Protection) Agreement on Price Assurance & Farm Services Act, the Farmer's Produce Trade and Commerce (Promotion and Facilitation) Act, the Essential Commodities (Amendment) Act.
Despite everything, they also invited protesting farmers and citizens of Delhi to come together on New Year's Eve and celebrate and live through the end of 2020 together. The move would also symbolise citizen's support for the struggle.
To support people suffering through troubled times, NGOs such as AASRA offer a 24×7 helpline number, 91-9820466726 in both English and Hindi while another helpline available is 915298782.
Related:
Sikh priest's suicide exposes double speak of the ruling BJP and its apologists
Talking down to farmers is the worst way to engage with them
SC advice to government seen as moral victory for farmers
Farmers protest intensifies: Delhi-Noida Link Road closed
Stop defaming peasant movement: Farmers reject latest gov't proposal
Farmers are being misled about agriculture reforms: PM
15 farmers die in two weeks, the central government continues to refuse farmers' demands
Are the new farm laws constitutional?