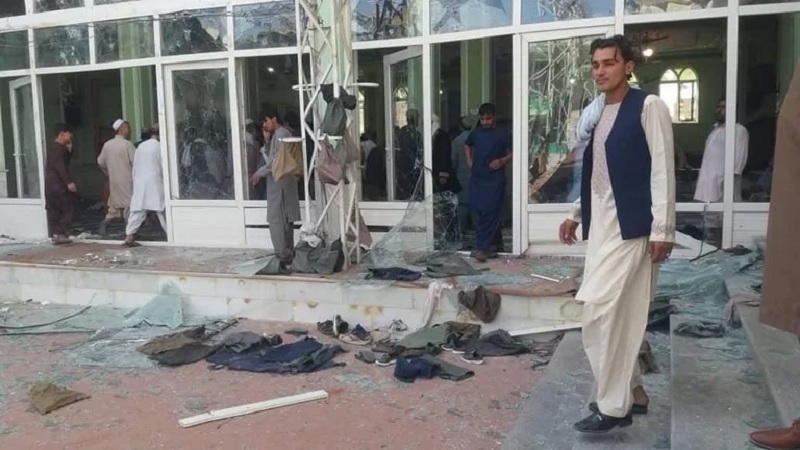 Image Courtesy:freepressjournal.in
A massive bomb blast ripped through a Shiite mosque in Kandahar, a city in the southern part of Afghanistan. The targeted blast took place during Friday prayers, and has so far killed around 32 people and injured 53 others.
According to a report carried by NDTV, a doctor at the city's central Mirwais hospital said, "Thirty-two bodies and 53 wounded people have been brought to our hospital so far." While the cause of the explosions was not immediately clear, there seems to be a pattern of targeting the Shiite community with such attacks.
Last Friday at least a 100 people were killed in a bomb attack on a Shia mosque in Kunduz city of Afghanistan. That attack on the community was called the "bloodiest assault since US forces left the country." The Taliban spokesman Zabihullah Mujahid had then said an unknown number of people had been killed and injured when "an explosion took place in a mosque of our Shiite compatriots" in Kunduz.
This Friday, the community has been targeted again, and various news reports are hinting at a high death toll, adding that the ambulances were rushing to and from the scene and that "the mosque's Facebook account made an appeal for blood donations."
According to Afghanistan's Tolo News, "Three back-to-back explosions hit the mosque, one of the biggest in Kandahar city." Friday is a day of the busiest congregational prayers. Though no group has reportedly claimed responsibility yet, last week ISIS-K (Khorasan faction) claimed responsibility for the Kunduz mosque attack.
Local officials told TOLOnews that 16 people were killed and nearly 40 others were injured in today's bombing attack on the Kandahar mosque.#TOLOnews pic.twitter.com/s5slQpGxMJ

— TOLOnews (@TOLOnews) October 15, 2021
According to AFP, an eyewitness said he heard "three explosions, one at the main door of the mosque, another at a southern area, and a third where worshippers wash before their prayers." A Twitter handle reportedly belonging to Taliban-ruled Afghanistan's interior ministry spokesman Qari Sayed Khosti stated, "We are saddened to learn that an explosion took place in a mosque of the Shiite Brotherhood in the first district of Kandahar city in which a number of our compatriots were martyred and wounded. Special forces of the Islamic Emirate have arrived in the area to determine the nature of the incident and bring the perpetrators to justice."
په خواشینی سره مو خبر ترلاسه کړ چې د کندهار ښار په اوله حوزه کې د اهل تشیع وروڼو په یوه مسجد کې چاودنه شوې چې زموږ یو شمیر هيوادوال پکې شهیدان او ټپیان شوي.
د اسلامي امارت ځانګړي ځواکونه سيمې ته رسيدلي ترڅو د پيښې نوعیت معلوم کړي او مجرمين د قانون منګولو ته وسپارل شي. pic.twitter.com/46gwjwg9PI

— Qari sayed khosti f/ قاري سعید خوستی م (@qari_sayed) October 15, 2021
Related
Afghanistan: Bomb attack kills at least 100 at Shia mosque in Kunduz
Mundra Adani Port: NDPS court orders probe into heroin seizure
A tribute to Danish Siddiqui (May 19, 1983 – July 16, 2021)
We do not recognise a Taliban govt: Afghan students in Pune
Journalists for Afghanistan: A fundraiser for colleagues targeted by Taliban