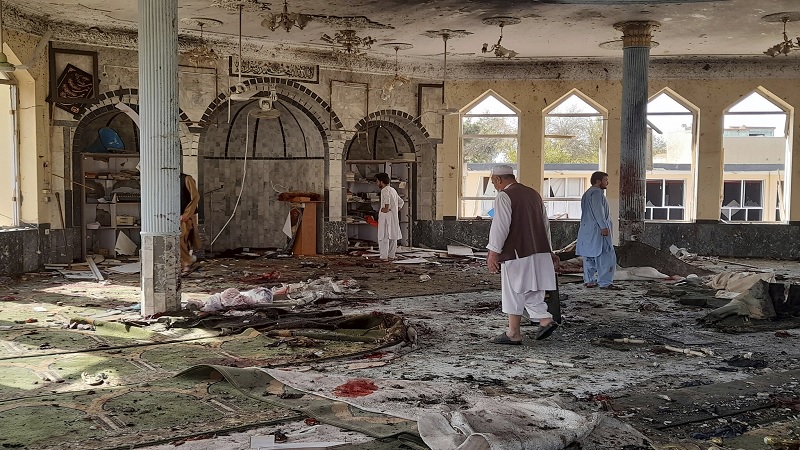 Image Courtesy:timesofisrael.com
At least a 100 people were killed in a bomb attack on a Shia mosque in Kunduz city of Afghanistan on Friday. This attack on worshipers is being called the "bloodiest assault since US forces left the country." According to news reports, Taliban spokesman Zabihullah Mujahid had earlier said an unknown number of people had been killed and injured when "an explosion took place in a mosque of our Shiite compatriots" in Kunduz.
A bomb attack at an Afghanistan mosque killed at least 100 people during Friday prayers, says the UN. There were no immediate claims of responsibility.

The Kunduz attack targeted a mosque used by the Shia community, most of whom belong to the persecuted ethnic Hazara people. pic.twitter.com/TS031MDOkc

— AJ+ (@ajplus) October 8, 2021
According to a report in Reuters, a suicide bomber attacked a mosque in Afghanistan's northeastern Kunduz province on Friday. This, stated the report is the "third attack this week on a religious institution", adding that Islamic State had claimed responsibility for the attack. Social media images have shown disturbing sights of dead bodies and debris inside the minority Shi'ite Muslim community's mosque. News reports have highlighted that "Shiite Muslims have suffered some of Afghanistan's most violent assaults, with rallies bombed, hospitals targeted and commuters ambushed" and the community is around 20% of the Afghan population. Many of them are Hazara, an ethnic group that has been heavily persecuted in Afghanistan for decades.
The United Nations Office of the High Commissioner for Human Rights (OHCHR), had in a 2019 report, detailed how Hazaras of Afghanistan have suffered even before the Taliban took over. "Almost all suicide and orchestrated attacks along with various target killing, beheading and kidnapping have been proclaimed by the Taliban and Islamic State-Khorasan Province (IS-PK)" stated the report that may be read here.
India's Army Chief Gen MM Naravane says "Afghan-origin foreign terrorists" may attempt to "infiltrate"
India's Chief of Army Staff (COAS) Gen MM Naravane has said that it is possible that "Afghan-origin foreign terrorists" may attempt to infiltrate into Jammu and Kashmir once the situation stabilises in Afghanistan. However, Gen Naravane added that the Indian armed forces are "prepared to deal with any eventuality" as they have "strong mechanisms to check infiltration and terrorist activities". The COAS was responding to questions at the India Today conclave.
When asked if there was any connection between the recent killings of civilians in Kashmir and the Taliban's takeover in Afghanistan, Gen Naravane said, "Definitely, there has been a spurt in activities (in Jammu and Kashmir) but whether they can be directly linked to what is happening in or happened in Afghanistan, we really cannot say," adding, "But what we can say and learn from the past is that when the previous Taliban regime was in power, that time definitely we had foreign terrorists of Afghan origin in Jammu and Kashmir. So there are reasons to believe that the same thing might happen once again that once the situation in Afghanistan stabilises, then we could see an inflow of these fighters from Afghanistan to Jammu and Kashmir."
The General's words gain importance as news reports have regularly flagged security concerns after the Taliban took over power in Afghanistan.
Related:
Mundra Adani Port: NDPS court orders probe into heroin seizure
A tribute to Danish Siddiqui (May 19, 1983 – July 16, 2021)
We do not recognise a Taliban govt: Afghan students in Pune
Journalists for Afghanistan: A fundraiser for colleagues targeted by Taliban