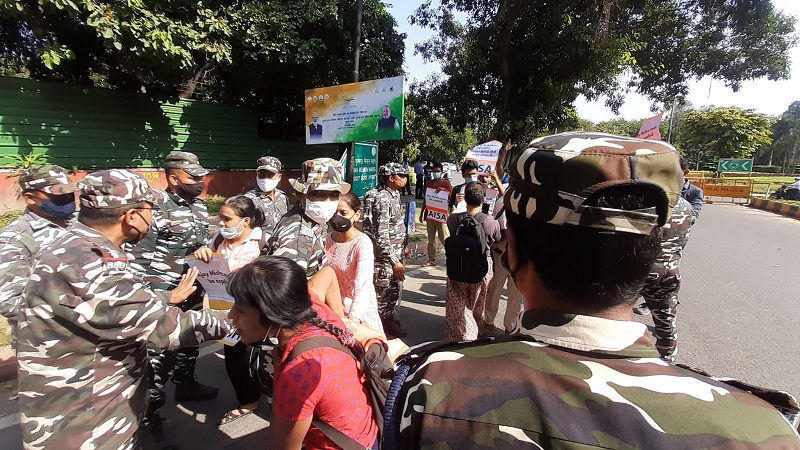 Image Courtesy:twitter
Students condemning Lakhimpur Kheri killings in solidarity with India's protesting farmers have reported severe mistreatment by police officials over the last week. While on October 10, 2021 Delhi students claimed physical abuse by police, as many as five Varanasi students now face FIR charges.
On Sunday, All India Students' Association (AISA) students protested outside Union Home Minister Amit Shah's house. They demanded the immediate dismissal of Minister of State for Home Affairs Ajay Mishra, whose son is the main accused in the killing of four farmers and journalist Raman Kashyap.
Students said Delhi police abused and detained students as soon as protesters arrived outside Shah's residence. AISA officials said that they were severely beaten and women protesters were injured and harassed. Around 15 to 20 people were taken to the Mandir Marg police station in three buses. Members alleged that women constables in one of the buses ferrying women protesters continued to beat and harass students.
Inside the police station, AISA Delhi Secretary Neha said, "While a Union Minister, whose son has massacred farmers, still remains in power, the government has sought to unleash terror on students and people's movements. Despite whatever violence police inflict on us, our demand for expulsion of Ajay Mishra stands strong."
Students were later released at 6 PM after police filed FIRs against them all.
#SOSDelhi
Students protesting lakhimpur massacre at Home minister's house have been Brutally detained and 3 female Comrades have been detained separately and are being subjected to physical Violence and sexual harrasment!
We are being taken to Mandir Marg station ! pic.twitter.com/Yn1zpdy9jU

— AISA – Delhi University (@aisa_du) October 10, 2021
In Varanasi, Prime Minister Narendra Modi's own constituency, five Banaras Hindu University (BHU) students faced FIR charges for protesting in solidarity with Lakhimpur Kheri farmers outside the Malviya entrance gate on October 4.
Shortly after the Sunday incident, the Samyukta Kisan Morcha (SKM) called for nationwide demonstrations. People from various sections of society came forward to condemn the event. This included around 8 to 10 BHU students including Nitish Kumar, Aakanksha Azad, Bhuval Yadav, Raj Abhishek Singh and one unknown individual.
Protesters reiterated the demand for Mishra's dismissal from his ministerial position as Minister of State for Home Affairs to ensure a fair trial against all those accused in the case. In response, the Varanasi police lodged FIRs against the five aforementioned students for not wearing masks, and blocking roads without seeking police permission.
While none of the charged have been arrested so far, student organisations have condemned the local police for filing FIRs against peacefully protesting students. Socialist People's Council General Secretary Aflatoon appealed to the police to withdraw the charges against the students.
Meanwhile, Uttar Pradesh police have barricaded roads leading to Lakhimpur Kheri. Organisations like the All India Kisan Mazdoor Sangathan (AIKMS) reported that leaders were illegally detained in Bara, Prayagraj district to prevent grassroot-level protests.
"Reports indicate that the state government is deploying police and paramilitary forces in anticipation of farmers' protests as per the SKM's call of action," said SKM leaders in a joint statement. SKM has called for prayer meetings at the ground-level in memory of martyred farmers. Citizens who cannot leave their house are requested to light five candles for the Lakhimpur Kheri deaths.
Related:
Maharashtra Bandh: Traffic halts as protesters pay respects to farmer martyrs
Lakhimpur Kheri: Accused Ashish Mishra arrested on Saturday
Lakhimpur Kheri farmer deaths: SKM announces a slew of protests from Oct 12
Lakhimpur Kheri: How does a journalist's death not make it to the headlines?