After being squarely trounced in the Jawaharlal Nehru University Student Union (JNUSU) election, members of the Akhil Bharatiya Vidyarthi Parishad (ABVP) have reportedly resorted to multiple acts of violence on the JNU campus in New Delhi. Large mobs of ABVP members have reportedly attacked many student leaders including some of the newly elected office bearers of the students union.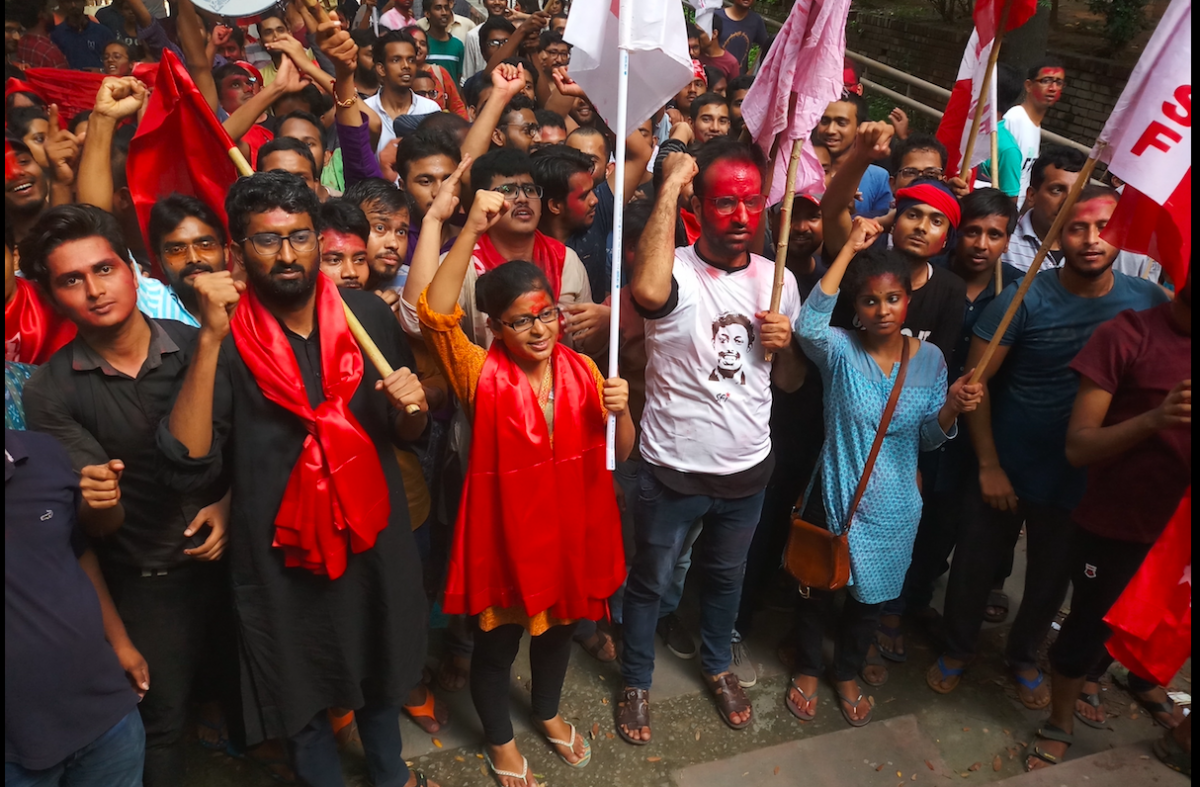 JNUSU ex-president Geeta Kumari who witnessed the attacks said, "Today our comrades Pawan Kaushik and Ashutosh Abhinay were brutally beaten up by ABVP members," adding that the attack looked like a "mob lynching". She said she was also attacked by an ABVP member when she tried to help her friends. "While I was trying to save Abhinay I was also attacked by Saurabh Sharma", she said adding that Sharma pulled her hand and pushed her, causing her to fall on the road near the Jhelum Hostel gate.

According to Geeta Kumari, when another student Jyoti tried to record the incident on video, she too was allegedly manhandled. But this did not stop Geeta and she tried to help the newly elected JNUSU President, N Sai Balaji, as he was being mercilessly beaten. She said, "When they attacked N Sai Balaji, I tried to stop them, but he (Sharma) threatened me saying that he would cut my neck off!"

Video : https://www.facebook.com/nsai.balaji/videos/pcb.10211072779529598/10211072673926958/?type=3
Earlier, ABVP had also allegedly disrupted the counting process after the elections took place. However, once counting resumed, the Left Unity, a coalition of All India Students' Association (AISA), Students' Federation of India (SFI), Democratic Students' Federation (DSF) and All India Students' Federation (AISF), swept all 4 key seats in JNUSU. N Sai Balaji was elected as the President, Sarika Chaudhary as the Vice President, Aejaz Ahmed Rather as the General Secretary and Amutha Jayadeep as the Joint Secretary.

After the JNUSU election results came out, the frustration of the ABVP became visible. The voter turn-out in the current election was 67.8%, which is being seen as the highest in the recent years with over 5000 students casting their vote. Students were rejoicing the victory of Left and defeat of ABVP in the elections.

https://www.facebook.com/nsai.balaji/videos/pcb.10211072779529598/10211072745648751/?type=3
Commenting on the fresh bout of violence that reportedly began after midnight, N. Sai Balaji said, "Today ABVP students randomly attacked students. I was called to the scene at Sutjel (hostel). As elected JNUSU President I went to ensure Pawan Meena's safety who was attacked by ABVP students with sticks. Upon reaching what I saw was mayhem. The mob led by Saurabh Sharma was baying for blood of any student they thought a friend of Pawan Meena and were attacking students with sticks."

He confirmed being thretened by the ABVP members saying, "They openly threatened me, Geeta and other students present there with dire consequences if we intervened to stop the violence." In his words, Abhinay was "almost lynched". Sai Balaji ran with other students to save him. But Abhinay lost consciousness after the brutal attack. Sai Balaji then took him to the ambulance so he could get medical aid.
However, it did not stop there. He added, "What happened next was terrifying. I was again threatened by the mob and fearing my safety some students asked me to sit inside the PCR (police) vehicle. However the mob led by Ashutosh Mishra and Saurabh Sharma stopped the PCR vehicle and got an ABVP student to sit beside me. These two students were repeatedly stopping the PCR and threatening me. To my surprise Saurabh Sharma stopped the PCR between Jhelum and Sutlej and the ABVP student sitting inside the PCR van opened the door. Upon opening more threats were given to me and I was physically assaulted inside the PCR van by ABVP students."

In a state of shock and fearing his own safety, Sai Balaji asked the PCR to take him to Vasant Kunj Police station. However, there his health deteriorated and he had to come back to hostel to take medication. But he plans to lodge the FIR soon.

After this incident, reportedly, the ABVP members led mobs to different parts of the JNU campus, including Sutlej, Mahi Mandavi and Damodar to "create a fear psychosis in the atmosphere". Over a dozen faculty members who had gone to the police station to ensure that no harm came to the students who had gone there to report the incident, now found themselves in the ABVP's crosshairs. Over 50 people allegedly blocked both gates to the police station and are allegedly pointing out various faculty members to others in the mob. This may lead to targeted violence when they eventually leave the police station. Meanwhile, the police have allegedly taken no action to disperse the mob that is openly threatening the JNUSU office bearers.

The attacks on student activists and even ordinary students began last night and have continued during the day.