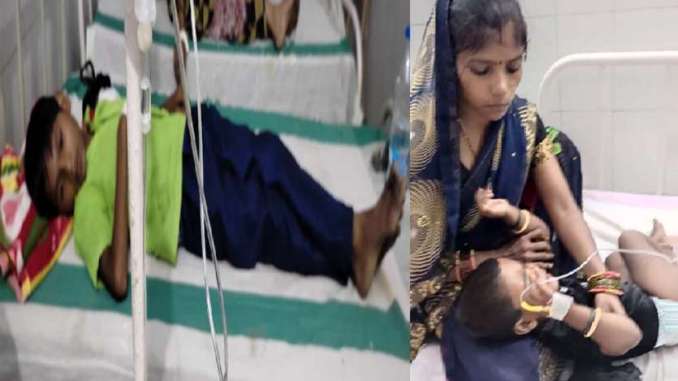 After the viral fever outbreak in Uttar Pradesh, the state's Azamgarh district has reported a rising number of diarrhea cases, reported Amar Ujala news.
On September 29, 2021 Mubarakpur recorded 300 diarrhea patients. Half the patients have been admitted to the district hospital and medical college. But the institutions require more manpower. Earlier, the cases were confined to Katra Balua and Saraiya wards of Mubarakpur municipality. Lack of effective preventive measures resulted in the disease spreading across the municipal jurisdiction by September 28. By September 27 evening, over 70 patients reached the community health centre.
Meanwhile, encephalitis cases continue to rise in Gorakhpur and adjoining districts. Within the last 10 days, BRD Medical college reported 40 new encephalitis cases and the deaths of three children, reported Gorakhpur News Line on Tuesday.
Despite administrative assurances that encephalitis has been eradicated in Purvanchal, local residents continue to report similar such cases. Further, the report stated that 29 children have died due to the disease out of the 370 minors admitted. One adult also succumbed to the same out of five affected adults.
The medical college has reported an average of three to four encephalitis cases in September. Between September 10 and September 25, as many as 84 children suffered encephalitis. At present, 32 children are admitted in the encephalitis ward.
Children from Gorakhpur, Deoria, Kushinagar, Maharajganj, Siddharthnagar, Sant Kabir Nagar, Basti, besides Azamgarh, Balrampur, Mau, Gonda, Ghazipur (in some cases even Bihar) are also arriving to the hospital to receive treatment for encephalitis.
Related:
Uttar Pradesh: Any neta taking notice of recent dengue, rain related deaths?
Allahabad HC stays second suspension order against Dr. Kafeel Khan
Dengue spreads in UP: Lucknow medical team arrives in Firozabad
Maharashtra: Is setting up medical institutes under public-private partnership a good route?