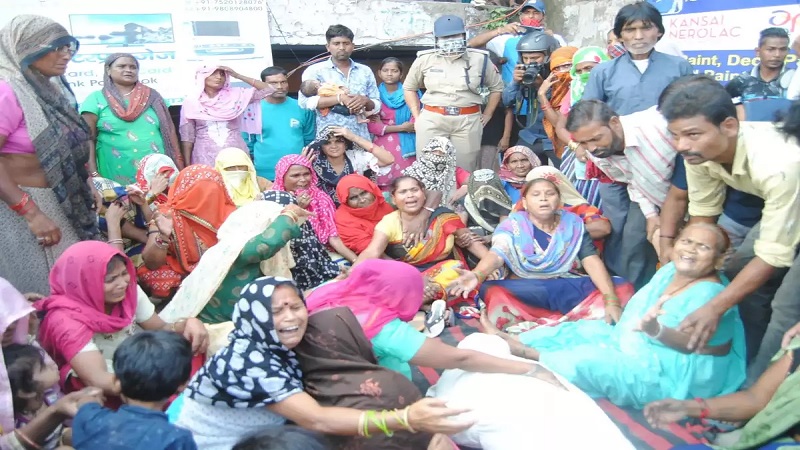 Image Courtesy:timesofindia.indiatimes.com
A sanitation worker identified as Arun Valmiki died in police custody at Agra, reportedly during interrogation. He had been accused of stealing Rs 25 lakh from the Jagdishpura police station, stated news reports. According to Senior Superintendent of Police (Agra) Muniraj G, Arun Valmiki fell ill "suddenly" on Tuesday night and was taken to a hospital where doctors declared him dead.
Arun was accused of "stealing the money on Saturday night from a storage house at police station, where confiscated items are kept" worked as a cleaner there stated the news report adding that according to SP Muniraj Rs 15 lakh were recovered when police raided his house.
However, Arun's family filed a complaint in connection with his death and members of the Valmiki community gathered at Arun's house and demanded a fair probe into his death. According to the FIR cited by Indian Express, "Arun was being questioned by the police in connection with the Jagdishpura theft. The police were carrying out search and recovery when Arun fell ill and died when he was rushed to the hospital. He was questioned aggressively by the police which led to his death." The FIR has been filed against unknown accused at Jagdishpura for alleged murder. According to reports, six police officials, including a station house officer, were suspended after Rs 25 lakh and pistols were stolen from the storage room of Jagdishpura Police Station on Sunday.
Priyanka Gandhi meets family, shares allegations of police turture
Congress leader Priyanka Gandhi was reportedly stopped by the police when she was on her way to Agra to meet Arun's family. According to Indian Express, she was reportedly detained by Lucknow police "after the Agra police had requested" that she be stopped "until the final rites of the man were completed." Congress leaders held a protest at the plaza she had been stopped at. And "when Priyanka refused to leave the area, she along with other leaders were taken to the Lucknow reserve police lines and kept there," reported IE. Lucknow police reportedly "allowed Priyanka and other Congress leaders to proceed after their Agra counterparts informed them that the worker's final rites had been completed."
Gandhi then spoke to the media sharing details after visiting the Valmiki family, demanding justice for the Valmiki family. She said the family told her the police were aggressive and attacked them too. "Around 17-18 people from the community were picked up on Sunday and taken to the police station and were beaten up. They have injuries. His wife said he was beaten, given electric shocks," said Gandhi adding, "I cannot even imagine this can be done, I can't even repeat all that they shared. They were kept at the police station for four days. His brother had even met him, and was later told he had died. The family was not present during the post mortem, they were not given the post mortem report. Their house has been ransacked, you can go and see".
अरुण वाल्मीकि के परिवार को न्याय दो। pic.twitter.com/z1J6sJJ3BK

— Priyanka Gandhi Vadra (@priyankagandhi) October 20, 2021
Related
Hate Watch: Muslim man assaulted in crowded train, no one intervene
Hate Watch: Teacher flogs Class 12 Dalit boy in class, video goes viral
Kundli murder: NCSC Chief writes to Punjab DGP over villagers denying last rites to Dalit
Hate Watch: Street play on "Love Jihad" gets Sudharshan TV excited