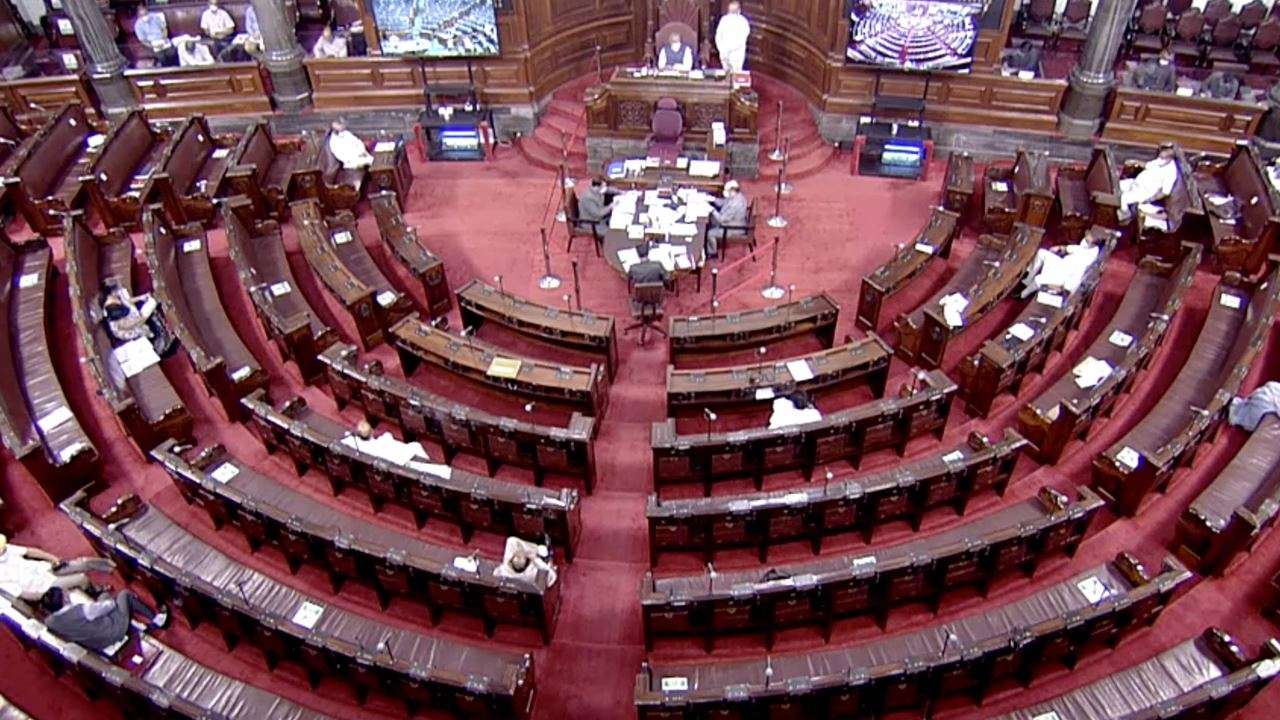 The Centre has decided to pass three controversial agricultural Bills in the Rajya Sabha despite lacking the required number of votes on September 20. This act of the ruling Bharatiya Janata Party (BJP) completely affronts the essence of democracy and disregards Parliamentary rule and procedure.Incidentally, the Ministry of Agriculture and Farmers Welfare had admitted to the agrarian crisis on September 18when it said that more than 10,000 farmers, cultivators had died by suicide in 2019. This is part of the staggering 42,000 suicide deaths in the informal sector in that year. With the new "reforms" things are likely to just get worse.
RS MP, Derek Brien of the Trinamool Congress took to twitter to express his outrage.
UPDATE

MPs from opposition parties now sitting in dharna INSIDE Rajya Sabha. The opposition wanted a vote (division) on #FarmBills Govt pushed bills denying Oppn legit right

Here is video #2 pic.twitter.com/GOru0l7oQZ

— Derek O'Brien | ডেরেক ও'ব্রায়েন (@derekobrienmp) September 20, 2020
The Telangana Rashtra Samithi's (TRS) President K. Chandrashekhar Rao had, along with other MPs from his party vehemently opposed the "anti-farmer" dubbed Bills. However, the Centre called for a voice-vote amid loud protests and despite lacking the required quorum, and went on to pass the Bill/Act. That too on a session called on Sunday! Worse, the proceedings of the official Rajya Sabha TV station were silenced so Indians, in a democracy could not hear or see the proceedings that took place in the Upper House.
Modi did not have the numbers in Rajya Sabha to pass Agriculture Bills. He passed it through a voice vote where the only voice that was audible was – chants of – Tanashahi nahi chalegi…

Dy. Chair asked MPs to raise their hands & say – Yes – did not even look up & passed Bills

— Adv. Manoj (@RURALINDIA) September 20, 2020
In a true farm friendly parliamentary democracy, there would be a special session on farm reforms and state of the kisan. Why would a Sunday morning under Covid shadow become a moment to push through farm bills without a vote/Division? Think about it!?

— Rajdeep Sardesai (@sardesairajdeep) September 20, 2020
"Today is the black day of Indian Parliament for passing the death warrant to Indian farmers by adopting three anti farmers bill breaking all rules and Procedures.No voting was allowed. Modi is the purohit [priest] of this last rites of Indian peasantry. Now all democratic secular people should rise againstthis anti-people anti-farmers anti-national conspiracy and defeat the demon," said AIKSCC's General Secretary Hannan Mollah.
The three Bills in question are the Farmers Produce Trade and Commerce (Promotion and Facilitation) Bill, the Farmers (Empowerment and Protection) Agreement on Price Assurance and Farm Services and the Essential Commodities (Amendment) Bill which had received widespread condemnation from farmer's Unions for their pro-corporate policies.
The world over, in all countries, barring one, price security for farmers' produce is always provided for by Government, not by companies, which only buy cheap to sell dear and earn huge profits.
#FarmBills | Rajya Sabha TV mutes the audio telecast of the proceedings as protests continue#AgricultureBill #farmersbill #farmersbill pic.twitter.com/0HguPrKYEP

— CNBC-TV18 (@CNBCTV18Live) September 20, 2020
In retaliation to the government decision, the All India Kisan Sangharsh Coordination Committeehas called for an all-India farmers'protest on September 25. The organisation intends to launch a massive resistance against the three Bills/Acts, the New Power Bill 2020 and the steep hike in Diesel and Petrol prices. Moreover, they also demanded that the Central Government pass the two Bills proposed by AIKSCC for "Karja Mukti, Poora Daam" (Debt relief, Full Price.)
Similarly, the All India Agricultural Workers Union (AIAWU) said it would participate in the All India Protest Day day as well. They said various resistance actions such as Rasta Roko, Rail Roko will be organized throughout the country against the destructive legislations promulgated by the Centre. Moreover, the AIAWU said it would observe bandhs in Punjab, Haryana and Uttar Pradesh as well.
According to the AIAWA's press release, "The aim of these three legislations is to abolish the APMC Mandis, Government's role in procurement at MSP, and to allow corporates the freedom for hoarding and black-marketing. At the same time, corporates are promoted in the agriculture sector through contract farming."
The press released pointed out that these laws would adversely affect the general public of India. The laws will affect the public distribution as well as prices of essential commodities that will hereon be dictated by the market.
"The Central Government which is hell-bent to serve the interests of the big corporates is exposing the lives of millions to danger by giving freedom to free-market forces in the agricultural sector, which is already in crisis, and farmers and agricultural workers are forced to commit suicides," it said.
Meanwhile, the AIKSCC also rubbished the Centre's claims of a pro-Minimum Support Price (MSP) attitude.
Sri Nadda's assurance dat MSP wil continue is a blatant lie as Shanta Kumar committee appointed by BJP govt declared that only 6% farmers enjoy benefit of MSP, that it should be wound up, that FCI and NAFED procurement shld stop n that food grain supply under PDS should stop.
6/N

— CPIM Maharashtra (@mahacpimspeak) September 20, 2020
This was in reference to a recent Parliament question and answer session wherein data presented by Minister of State For Ministry Of Consumer Affairs, Food & Public Distribution Danve Raosaheb Dadarao showed that the number of wheat farmers who availed MSPs doubled in the last five years, while the number of paddy farmers who availed MSPs increased by 70 percent in the same period.
In a press released, the AIKSCC said that price security for farmers' produce has always been provided by the Union governments and not by companies. The private sector would only buy cheap to sell dear and earn huge profits.
"Farmers' indebtedness has grown during BJP rule and is rising faster as input prices are being raised by the Government, as in Electricity and Diesel and by the Companies which will have freedom to contract peasant land and force farmers to buy dear under the new laws. Indian peasants and the landless are committing suicide in huge numbers, almost two every hour, but despite slogan of 'atmanirbharta', the Government is selling their interest to big companies," it said.
The Opposition, across the Board has opposed these moves of the Modi.2 government that is being clearly interpreted as a further bid to squeeze farmer interests and leave them to the mercy of large agro-corporates.
The major Opposition Party in Bihar, that goes to the polls within a month, the Rashtiya Janata Dal (RJD) was unequivocal:
हमारा देश कृषि प्रधान देश है!
कृषक हित ही प्रधान है,
प्रधानमंत्री का निरंकुश विधान नहीं!

किसान सिंहासन पर बिठा सकते हैं,
तो अनदेखी होने पर उतार भी सकते हैं!

— Rashtriya Janata Dal (@RJDforIndia) September 20, 2020
Punjab:
.@BJP4India led GoI has to rethink the anti-farmer laws that will completely undermine the last 65 years of sacrifice & hard work of Punjab farmers in making India food surplus. Their denials on MSP are also not to be trusted as these laws will pave the way for ending MSP & FCI. pic.twitter.com/xRwrMBIUya

— Capt.Amarinder Singh (@capt_amarinder) September 19, 2020
Tamil Nadu:
:இந்திய விவசாயத்தை அழித்து – கார்ப்பரேட் முதலாளிகளின் அடிமைகளாக விவசாயிகளை மாற்றும் பாஜக அரசின் சட்டங்களை கிழித்தெறிந்து திமுக உள்ளிட்ட கட்சிகள் போராட்டம்'#AntiFarmerBills#விவசாயிகளின்_விரோதி_அதிமுக pic.twitter.com/A7wURixpSH

— #DMK4TN (@DMK4TN) September 20, 2020
Related:
Amendments to agricultural laws, dangerous for farmers: National Unions
Harsimrat Kaur Badal's resignation, a public warning from Punjab farmers?
Over 42,000 workers from informal sector allegedly die by suicide
AIKS congratulates farmers on protests against anti-farmer ordinances issued by Centre