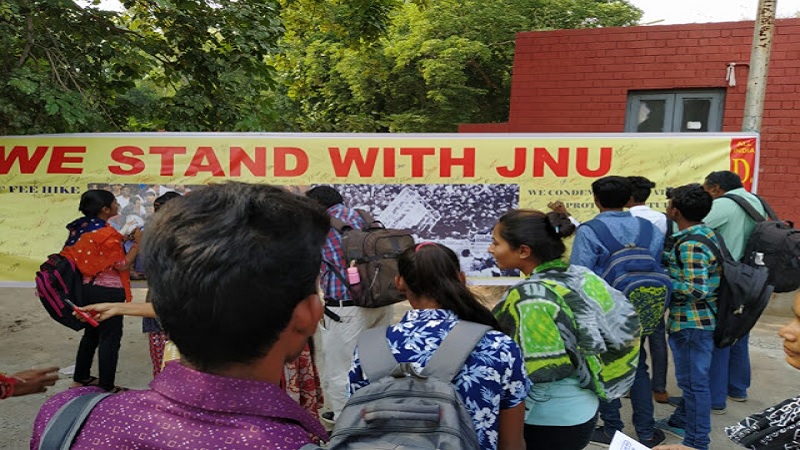 A left-wing students' union in Gujarat went in for a massive signature campaign in Ahmedabad in support of the anti-fee hike movement of Jawharlal Nehru University (JNU) students. The All-India Democratic Students' Organisation (AIDSO) organised the campaign near the main gate of the historic Gujarat College, whose students had made a major mark during Independence movement.
AIDSO secretary Rimmi Vaghela claimed, "In spite of University examinations going on, a large number of students supported the JNU students, signing up the huge banner, which will be sent to the JNU Students' Union."
Though the programme was taking place outside the campus of the Gujarat College, the college principal ordered removal the banner and threatened AIDSO activists that if they did not do it, he would call the police. "When we discussed this with matter him, he said he had received a phone from a government secretary, seeking his intervention, Vaghela said.
She added, "Surprisingly, just two days back a student committed suicide in the very premises of the college. But neither the principal nor the secretary are concerned about it. In the past, many programmes like garba, DJ, etc. have been organised, but the administration felt only this peaceful and democratic signature campaign should be removed."
Commented Vaghela, "This incident shows the attitude of the administration of the Gujarat state towards the JNU movement in particular and students' movement in general."
Courtesy: counterview.net