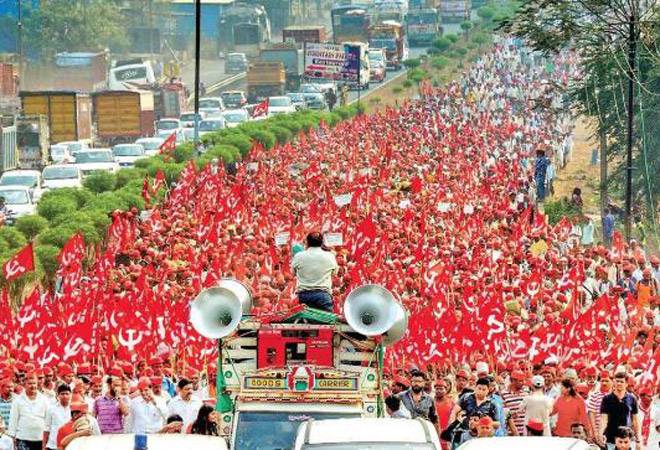 While farmers across protest sites in India commemorated the 100 days of India's recent farmer struggle, the All India Kisan Sabha (AIKS) celebrated the third anniversary of the Kisan Long March of March 6, 2018 when over 40,000 farmers from Nashik to Mumbai came together to demand loan waiver for peasants, higher remunerative prices, drought relief and land rights under the Forest Rights Act for indigenous farmers.
The march was a result of continued struggles in Maharashtra for many years such as the coffin rally in 2016, the gherao of the Tribal Development Minister in 2016, and the whipcord rally in 2017. The organisation published an essay titled The Kisan Long March in Maharashtra to document the persevered struggle by farmers that resulted in one of the first unique, united protests by farmers.
According to AIKS President Ashok Dhawale, the march between March 6 and March 12, 2018 coincidentally occurred on the same anniversary as the beginning of the Dandi March led by Mahatma Gandhi in 1930. Now the same date is also celebrated by farmers across India to commemorate the long battle against the Centre's anti-farmer-dubbed laws: the Farmers (Empowerment and Protection) Agreement on Price Assurance & Farm Services Act, the Farmer's Produce Trade and Commerce (Promotion and Facilitation) Act, the Essential Commodities (Amendment) Act.
"March 6 also marks the completion of 100 days of the unprecedented struggle by lakhs of farmers at Delhi borders and all over India against the three hated farm laws brought in by the BJP-RSS regime led by Modi and Shah, and for a law to guarantee a fair MSP," said Dhawale.
AIKS acknowledged the 250 and more farmers who have been martyred in this struggle. It saluted the participants of the ongoing struggle and those farmers in the Kisan Long March three years ago. The organisation vowed to take all efforts to bring the present farmers' struggle to victory, said Dhawale.
Related:
Delhi Police allegedly detain 25 women and a toddler
Karnataka farmers ask: Where is MSP Modi ji?
India's farmers and workers to commemorate Anti-Privatisation Day on March 15
Labour activist Shiv Kumar granted bail by Haryana court
Nodeep Kaur case: NHRC seeks report from Haryana Police over alleged custodial torture
IT raids, govt's desperate attempt to attack farmer supporters: SKM
Farmers focus on assembly election stating "govt only understands votes"
2020-2021: The historic farmers agitation and its significance