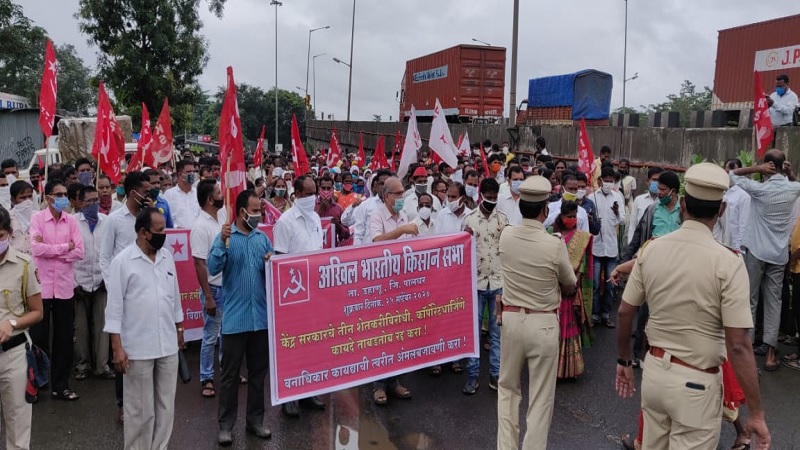 A nationwide rasta roko protest will take place on December 3, 2020 for the immediate repeal of anti-farmer farm Acts and withdrawal Electricity Bill 2020 said the All India Kisan Sabha (AIKS.)
During this protest farmers will demand the withdrawal of the the Farmers' Produce Trade and Commerce (Promotion and Facilitation) Act 2020, the Farmers (Empowerment and Protection) Agreement on Price Assurance and Farm Services Act 2020 and the Essential Commodities (Amendment) Act 2020 along with the Electricity Bill.
Further the farmers organisation declared a pan-India solidarity week from December 3 to December 10. On Thursday, road blockades will continue for one or two hours in every district and tehsil of India.
"Throughout this week, actions like burning the effigy of the Prime Minister, 24 hour sit in dharnas, demonstrations, rallies, Jathas, public meetings will be organised in as many places as possible," said the AIKS in a press release.
The blockade intends to express solidarity with agitations being organized by farmers of Punjab, Haryana, Uttar Pradesh and Uttarakhand. The organisation said that as of December 1, about 2 lakhs agitating farmers from Punjab, Haryana with thousands of tractors and vehicles reached various borders of Delhi while braving through water cannons, lathis and tear gas shells of police.
"We also condemn the efforts by the central government and BJP-ruled states to crush and suppress the farmers' agitations by using police. Efforts to make a malicious campaign against the movement and divisive tactics employed by the BJP Government will be countered unitedly," they said.
Earlier the All India Kisan Sangharsh Coordination Committee (AIKSCC) condemned the Prime Minister Narendra Modi's deliberate misinterpretation of farmers' demand as Opposition-led misinformation.
"The Prime Minister's pleading that opportunities for farmers will increase, alternatives will come in, that there is nothing barring old systems from operating, are blatant lies. The Acts clearly mention that trading will be done by private corporations and the crop rates will be decided by online exchanges, not MSP rates, which is the old system. These laws give corporations opportunities, make them the alternative in dictating terms of farming, purchase, processing, storage and marketing of food," said the AIKSCC.
Accordingly, they asked Modi to stop his "pretentious sloganeering" that "Annadata Aatmanirbhar Bharat ki Aguai Karega" [Annadata will lead an independent India] because current laws and policies push them towards "Annadata Companiyon ka Gulam Banega" [Annadata will become slaves for companies.]
Moreover, the Working Group of AIKSCC appealed to the Delhi AAP-led government to immediately withdraw its notification of the New Mandi Bypass Act and come clean on whether it supports farmers.
Related:
Delhi gov't quietly notifies one of the laws opposed by farmers!
Will the Agriculture Minister try to convince farmers to suspend their protest?
Intentions as pure as Gangajal: PM to farmers
Residents of Jamia Nagar and left organisations voice their solidarity with India's farmers
Canada will always be there to defend the right of peaceful protest: Justin Trudeau
Delhi police detain Shaheen Bagh's Bilkis daadi