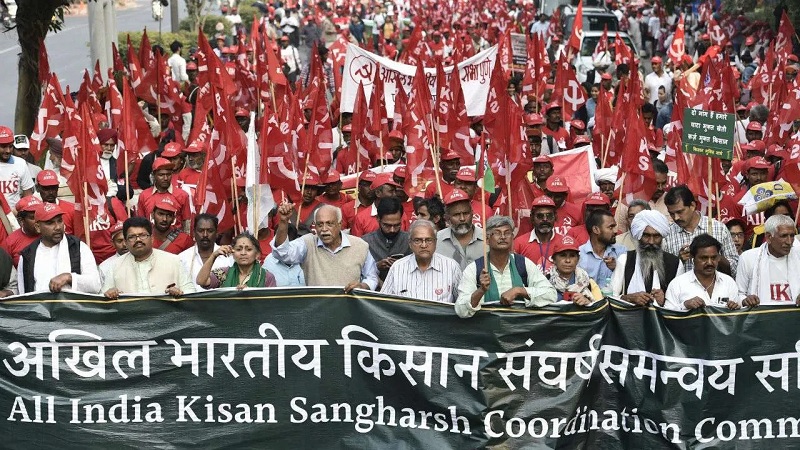 Image Courtesy:sanhati-india.in
Working Group members of the All India Kisan Sangharsh Coordination Committee (AIKSCC) on December 12, 2020 disassociated and condemned a statement by AIKSCC Convener V M Singh, clarifying that his claim was not authorised by the organisation.
"The National Working Group of AIKSCC, its highest decision-making body, disassociates itself from a statement made to the media by Singh. The statement did not follow protocols of decision-making by the Working Group," they said in a press release.
Members reaffirmed that they firmly stand with agitating farmers in their demand for the repeal of three anti-farmer Acts and legal guarantee of Minimum Support Price (MSP) stating that these agendas are "non- negotiable."
"We stand shoulder to shoulder with the farmers movement. Any attempt to hold parallel negotiations with the government. amounts to sabotaging a historic movement of the farmers," they said.
Earlier, the farmer leader told media persons during a press conference that farmers simply want an assurance on MSP and a guarantee of produce purchase. Further he said farmers would benefit from the MSP Guarantee Bill.
The organisation warned that the anti-farmer regime was resorting to desperate diversionary and divisive attempts to break the unity of farmers across India. Accordingly, they appealed to all farmer leaders to unite and repulse all such divide-and-rule tactics.
The farmers' movement will continue on December 13 as thousands of farmers from Rajasthan will travel towards Delhi on tractors via the Jaipur-Delhi highway to decry the Farmers (Empowerment and Protection) Agreement on Price Assurance & Farm Services Act, the Farmer's Produce Trade and Commerce (Promotion and Facilitation) Act and the Essential Commodities (Amendment).
Related:
Ode to Kisan: Artists pay homage to India's farmers
Rajasthan farmers riding tractors to head towards Delhi on the eve of pan-India protest
Tolls freed! Government bows down to farmers' strength
My conscience doesn't allow me to receive this award: Dr Virendra Pal Singh
Rain, cold wave, congestion, the farmers brave it all!
15 farmers die in two weeks, the central government continues to refuse farmers' demands