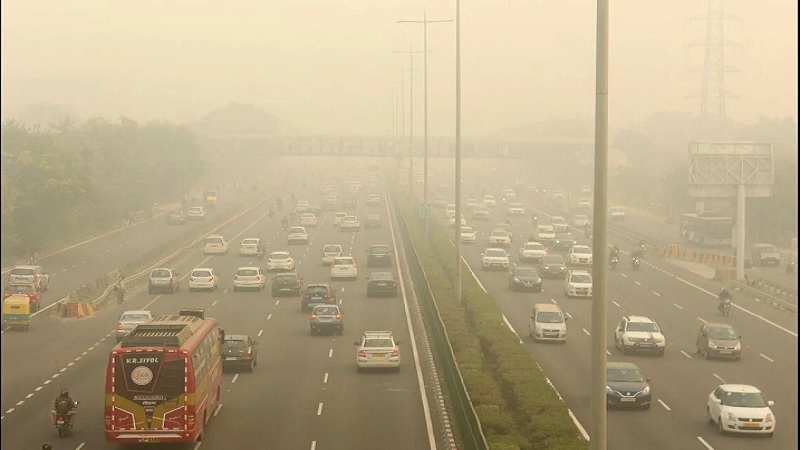 Image Courtesy:mid-day.com
The Supreme Court has observed that it is "dust, heavy vehicular traffic and industries," that are the big cause of pollution in Delhi. The Centre told the court that pollution can be kept to manageable levels with measures such as "an odd-even scheme for vehicular movement and a ban on the entry of trucks into the capital." If those do not work, then a lockdown may be considered.
A special Bench comprising Chief Justice of India NV Ramana, and Justices DY Chandrachud and Surya Kant, was hearing a plea by 17-year-old Delhi student Aditya Dubey concerning rising levels of air pollution in the Capital, reported Bar and Bench. The Central government's suggestions came in response to the Bench's assertion that urgent measures were required to reduce pollution levels.
According to Solicitor General of India Tushar Mehta, stubble burning was not the major cause of pollution and was only contributing to just about 10%. He said, "Dust control measures be taken at the construction site. We have suggested that diesel generating sets be stopped unless needed like in hospitals. Advise people with respiratory issues to avoid venturing out. Fines for ones indulging in garbage burning." According to the news report, Justice Kant asked, "Are you agreeing in principle that stubble burning is not the major cause and has no scientific basis? Why not apply ban on entry of all vehicles to and from Delhi?"
Senior Advocate Vikas Singh had submitted that the Centre's affidavit showed an increase in stubble and paddy burning in Punjab and Haryana, to which the CJI responded, "You want farmers to be blamed or what?" The SC has asked the executive committee to create and decide how an action plan can be implemented by Tuesday evening, CJI Ramana was quoted saying,"Please decide which industries can be stopped, which vehicles can be prevented from plying and which power plants can be stopped and how you can provide alternative power by then."
The SC pulled up the Delhi government for "lame excuses" and "passing the buck", reported NDTV. The SC insisting on urgent measures rather than long-term goals, the Supreme Court said the capital's air pollution was a "crisis".
In an affidavit filed before the hearing, the Delhi government told the court that it was ready to "implement a complete lockdown to fight air pollution though it will have a limited effect". However, similar restrictions will be needed for the neighbouring areas of Delhi too, as they are a part of the National Capital Region (NCR), it said. Delhi government's advocate Rahul Mehra, said that a "lockdown may be imposed but due to lack of air boundaries, the entire NCR would need to be locked down as a whole." So far, the Delhi government has ordered that schools be shut and only online classes are held this week, all government officials have been told to work from home, the same advice has been given to private offices. Construction work has been suspended for three days.
The SC has directed the Centre and Air Quality Monitoring Commission to meet with Chief secretaries of Punjab, Haryana, Delhi, and UP. According to the news report, CJI Ramana said, "We direct the Centre to have an emergency meeting tomorrow and take into account points cited by us. We direct the Centre and States of NCR region to impose work from home for the meantime." The next hearing is on Wednesday. Meanwhile, Delhi's average air quality index (AQI) stands at a staggering 330, still in the 'very poor' category. But a little better than the 471 AQI of Friday.
It was on Sunday, a day before the SC hearing, that Delhi Government announced that all schools be shut and its offices, corporations, autonomous agencies to remain closed till November 17th; only essential services like health, power, police, PWD, DPCC, district administration and others were exempted. These decisions were taken after an Emergency Meeting on pollution. Chief Minister Arvind Kejriwal chaired the emergency meeting with cabinet ministers and officials at the Delhi Secretariat. The meeting reiterated that "Delhi is suffering from two kinds of pollution – One, which is Delhi's own, i.e., sourced from within Delhi like vehicular emissions, construction site fumes, waste burning, etc. And two, the incoming pollution as a result of stubble burning from other states."
The Environment Department issued orders under the Environment Protection Act of 1986. Schools, colleges, skill development centres, educational institutions will remain closed till November 20.
Delhi's Environment Minister Gopal Rai had also held a meeting with the concerned departments on November 9, which decided that "an anti open burning campaign will be run from November 11 to December 11 to reduce the pollution inside Delhi. Apart from this, the concerned departments have been directed to shut down diesel gensets and coal kilns in Delhi, increase parking fees, increase the frequency of metro and bus and provide heaters to guards from Resident Welfare Associations (RWAs). The second phase of the Anti Dust Campaign is being run from November 12 to December 12 in Delhi." The Delhi government has also claimed that by November 20, it will "complete the work of spraying bio-decomposer solution for stubble decomposition in 4,000 acres of fields."
Copy will be updated with the order.
Related:
Delhi skies 50 shades of grey, AQI over 500
Mass fish deaths in Airoli's holding ponds!
Dilution of environmental laws, a persistent tactic: AIUFWP
UN resolution calls right to clean, healthy and sustainable environment a Human Right